SMALL BUSINESS SNAPSHOT: Spartan Smoothies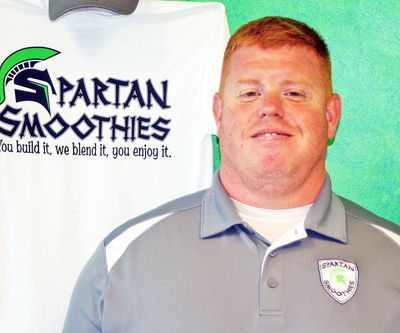 Michael Pearson, owner of Spartan Smoothies, answers the questions for today's Small Business Snapshot.
What is the primary purpose of your business?
To provide Rome and Floyd County with a healthy choice for a meal replacement, a place to get very good protein smoothies, with a pre-workout or post-workout boost, or just a really good smoothie. You can come in and make it however you would like. There are thousands of options to choose from.
What is your business background?
I have worked in Special Education in the Floyd County School System for the past eight years. I have a Bachelor's degree in Psychology and Social Science with a concentration on education, and finishing up a master's degree in special education
Why did you start this particular business?
I felt like Rome needed another option for a healthy meal replacement and a good smoothie bar. The smoothie industry has grown by leaps and bounds in the last five years and after talking with many Romans, it was a very wanted store.
What makes your business unique?
The main thing that makes our smoothie bar unique is that we offer all fresh produce. I go out every morning and pick up fresh fruits and vegetables and whatever else we may need for the day. We have many choices to choose from and our motto is, "You Build it, We Blend It, and You Enjoy It." You can make a smoothie with whatever we have in stock and or go with something we have on the menu. The options are endless. We want to make sure everyone can make what they want or get as close to it as possible.
What do you enjoy most about your chosen profession?
I love working with the general public and trying to give people what they want. That can be challenging at times, but at the end of the day I want the customers to leave with a great product and have had the best customer service they can get
What has been the most interesting challenge to overcome as a small business owner?
The entire process! There were so many unknowns from the right type of ceiling tiles to the color of ink I use when signing a document. I spent a lot of time praying that I was making the right moves and adding or taking away the right things. One day everything goes right and the next all the right things were wrong. I have to say keeping my faith through all of this has kept me grounded and my sanity. The entire process has been a big interesting challenge to overcome. We have the doors open now and our customer base is growing daily and loving the product.
Is there anything else you'd like to share with our readers ?
At Spartan Smoothies, you can come in and build whatever kind of smoothie you want; from a PowerBlendz fruit smoothie, to a green smoothie, to a fresh fruit smoothie. We want to make it as good as you do at home. In the very near future we are also looking to deliver to the hospitals and put in a salad bar. Neither of those are definite yet, but the possibilities are very good.
Hours: Monday –Thursday 7 a.m. –8:30 p.m., Friday 7 a.m. – 9 p.m., Saturday 10:30 a.m.-9 p.m., Sunday Noon – 6 p.m.