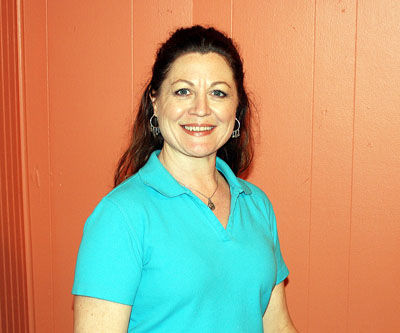 Michelle Simpson, LMT, BCTMB, owner of Michelle Simpson Massage, answers the questions for today's Small Business Snapshot:
What is the primary purpose of your business?              
My purpose is to provide clients with relief from muscle soreness and chronic pain, aid in healing their injuries, and to support their holistic wellness through massage therapy. I combine a variety of massage techniques and modalities to provide customized massage based on the individual's needs and preferences in a relaxing, professional environment.
How long have you operated here? Iworked from my home in Polk County since 2012 and contracted at a day spa in Rome for the past two and half years. I moved my home to Rome in May 2016 and opened my private practice location in January 2017.
What is your business background?
I graduated from the esteemed Atlanta School of Massage in April 2011, completed my Georgia licensing, and began practicing in Atlanta. After moving to Polk County in 2012, I began building my practice by contracting with chiropractors and other massage businesses while also building my own clientele. After building my massage expertise and clientele for five years, I was ready to move forward with my self-employment goal. I leased an office suite where I could provide the level of service and care that clients deserve.
Massage is my second and more-carefully-chosen career. Until 2010, I was in the investments field and worked in operations and compliance for 15 years. Although successful in financial services, I never felt a passion for it. During that stressful career, I began to get massages regularly to combat the pain in my body from countless hours at a computer or auditing client files as well as the stress from the pressures of the job.
When faced with a severance package and a choice in 2010, I decided to do something that both benefits my health and ignites my passion. One month later I enrolled at Atlanta School of Massage and have been living more happily ever since.
Why did you start this particular business?
I wanted to provide others with the physical and emotional benefits of massage therapy that I have experienced. Operating my own practice allows me to provide the best possible service to my clients by ensuring ample time between appointments, maintaining a relaxing and professional environment and keeping records of progress toward each client's goals.
What makes your business unique?
Quality of service combined with listening to my clients. When doing massage, it's important to stay present and engaged during each session. Communicating with the client before and during the massage about their sensations and experience, allows me to adjust my pressure and technique to provide the best possible experience and outcome for each client. Also, as a sole proprietor, I am able to reserve ample time to discuss the client's needs and goals before the session, let them relax on the table for a few minutes before and after the session, and provide wellness suggestions or referrals. This approach helps clients reap the full benefit of their massage session.
What do you enjoy most about your chosen profession?
Seeing relief from stress and pain when a client walks out of their massage is the best reward. I love to use my knowledge, skills and intention to help each client reach their goals for the massage session. Whether they come for help with physical pain or emotional stress, I love to hear how my work provided relief and how their lives were positively impacted by massage.  
What has been the biggest challenge to overcome as a small business owner?
The biggest challenge so far was the decision to transition to renting my own space and taking over responsibility for marketing. I am a little shy, so meeting potential clients, talking about my work, and asking for business is very intimidating to me. Once I get a new client, they usually rebook and many have sent their friends and family. However, building a new clientele after relocating to Rome remains my biggest challenge.
Owner: Michelle Simpson LMT, BCTMB
Location: 8 E. Fourth Ave., Rome GA 30161
Hours: Call ahead or book online. Tuesday-Thursday 11 a.m. – 7 p.m. Friday:    10 a.m. – 6 p.m., Saturday: 10 a.m. – 4 p.m.