HIGHLIGHTING HELPING HANDS: Compassionate Paws Inc.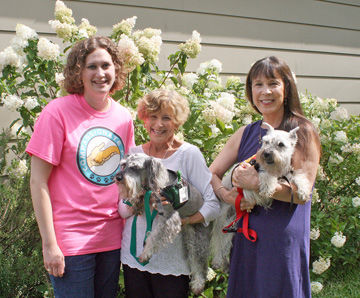 What is the purpose of your organization? Our mission statement is "To provide comfort, presence, joy and learning within the context of the human-animal companion bond." This is often accomplished by amplifying simplicity and elevating the ordinary. Animals very powerfully invite us into the present moment. Being in the present is where life is and when Pet Partners are visiting there is an invitation to be present; that in and of itself is healing. It is the expansion of oneself that is transcended by the human and animal presence. This is much of what Compassionate Paws stand for.
How is the organization funded? We are funded by individual donations and grants.
How were you chosen as president? I was elected president by the Board of Compassionate Paws, Inc.
What do you enjoy most as head of this organization? I enjoy watching this organization grow and expand and touch the lives of people. I also like working with the people and animals involved in this organization. The types of people that work with animals are usually very warm, kind-hearted individuals.
What is your group's biggest challenge? Our biggest challenge is finding enough Pet Partners. The demand for Pet Partners far exceeds the number of Pet Partners we have, which is currently 55.
Do you use volunteers? Everyone that works with Compassionate Paws is a volunteer. We have no paid staff. Volunteers are our lifeblood.
What do your volunteers do? A Pet Partner is a team. The person is referred to as the handler. The handler is a partner with either a dog, cat, minihorse, llama, etc. The person has to take an eight-hour workshop and the animal must be of the right temperament and have gone through obedience training. Then the team takes a test with an approved evaluator. If they pass this test, they become a Pet Partner. Every two years the teams have to retest to be sure their skills are current.
Tell us more about what the Pet Partners do:
Compassionate Paws Pet Partners have come to the aid of grieving children in the community. When two teachers at Glenwood School were killed in a car accident, Pet Partners were at the school to greet the children when they returned to school. The dogs were there to comfort, hold and nurture the children. Several of the dogs were familiar to the children since some of the teams go to Glenwood and other schools each week to have children read to the dogs in R.E.A.D. (Reading Education Assistance Dogs) program. The R.E.A.D. program is designed to help children with literacy problems because when they read to a dog that is nonjudgmental their reading skills improve over time. We also offer the R.E.A.D. program to area libraries.
Pet Partner teams help de-stress college students during finals at area colleges. They attend military family events, visit hospitals, nursing homes, assisted living facilities, hospice, funeral homes, Harbin Cancer Center, Vacation Bible School, Hartsfield-Jackson International Airport and work with Summit Quest children. We go where we are called.
So our volunteers, person and animal, go into a variety of different settings depending on what the interests are of the person and the animal.
Is there anything else you'd like to make our readers aware of? Often our influence is never known. We may hear from some family member long after a visit and then realize we have made a difference in the life of one of their family members. We have visited a few individuals who had not spoken a word in several years but in contact with the dog began talking again. We have visited with a patient in a coma that in contact with a dog began to come out of the coma. It is important not to under estimate the power of the human animal bond.
We are always in need of more Pet Partners. We need you if you are interested in becoming a Pet Partner.
Serves: Floyd, Polk, Chattooga, Bartow, Cobb, Douglas, Paulding, Fulton, Gordon, Carroll and Lumpkin Counties.