Emergency Drycleaning Restoration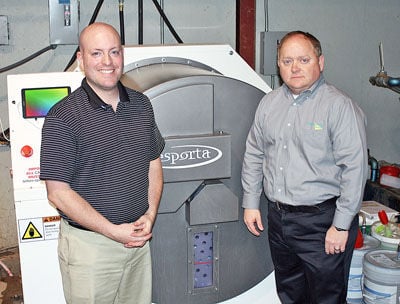 Chris Lodge, Operations Manager of Emergency Drycleaning Restoration, answers the questions for today's Small Business Snapshot.
What is the primary purpose of your business? Similar to mitigation companies, Emergency Drycleaning Restoration (EDR) exists to assist in crises such as fire, smoke, water, sewage, mold or odor.  EDR specializes in the treatment of soft goods or textiles affected by those occasions in both residences and commercial settings.  Such goods include drapes, bedding, pillows, linens, towels, laundry, clothing, shoes, purses, rugs, small pieces of luggage, and even sports equipment such as helmets and shoulder pads.  Not only do we serve private customers, but also public servants.  Our machines are able to thoroughly clean fireman turn out gear – removing soil and carcinogens, police uniforms – biohazards or bodily fluids, and EMT uniforms or jump bags.
What is the business background of the owners?  Larry and Barry Alford have been in business as entrepreneurs for the last 20 years.  They are the owners of several local businesses.
Why did they start this particular business?  Most mitigation companies are set up for addressing residential and commercial structures that are impacted by fire, water and mold.  They are also skilled in cleaning furniture affected by those damaging sources.  However, most do not have the equipment or expertise to properly address soft goods.  In the insurance industry, soft goods represent about 25 percent of any given claim.  Most of these items are simply thrown away by the customer and the insurance company has to provide a replacement cost.  EDR steps in to reduce the cost to insurance companies and restore soft goods and textiles that have emotional importance to the customer.  Emergency Drycleaning Restoration has a 85-90% success rate at cleaning and restoring items that would otherwise be discarded.
What makes the business unique?  EDR is a division of Rome Cleaners.  As such, it benefits from the largest dry-cleaning plant in Rome.  Among its many pieces of equipment, EDR owns one of the few Esporta Wash Systems in Georgia.  This specialized washing machine is "smart," being connected to the internet.  Job costing can be managed, supplies can be ordered, training can be received and implemented, and troubleshooting can take place with a technician over Skype – all of which is available right at the machine.  Along with this innovative machine comes groundbreaking technology that decreases wear on the fabric being washed while ensuring a more thorough cleaning.  Lastly, proprietary detergents provide a four stage cleaning process that can even take sewage affected items and cleanse them to food grade clean. You simply will not find a more thorough cleaning and deodorization from any other machine or company.  Couple that quality with our customer service ethic and you have an excellent experience even amidst a crisis. 
What do you enjoy most about your chosen profession?  It is a joy to meet a customer on one of the most difficult days of their life and to transport them to a better day.
What has been the most interesting challenge to overcome as a small business owner?  Soft Goods Mitigation is a niche service.  It is an interesting challenge to get our services to the end consumer.  Really, it takes partnership on a grand yet relational scale.  EDR creates relationships with insurance agents, adjusters, customers, and other mitigation/restoration companies.  As we gain trust and show the quality of cleaning and customer service, we garner referral business.  We are a small, but growing business and there aren't many competitors in this field.
Is there anything else you'd like to share with our readers?  If you have a loss take place in your home or business, please allow us to take care of your soft goods and textiles.
Owners: Larry and Barry Alford
Location: 3 Hillindale Drive, Rome, GA  30161