Cave Spring Animal Hospital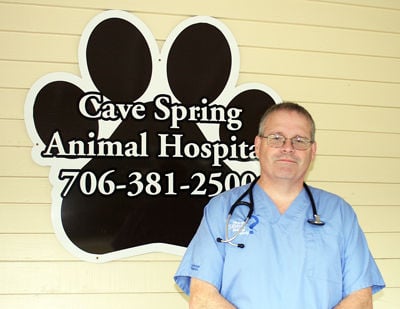 Dr. Daniel Todd DVM, PhD, owner of Cave Spring Animal Hospital, is the focus of today's Small Business Snapshot:
What is the primary purpose of your business?
Helping people by providing for the medical needs of their pets.
What is your business background?
Dr. Todd and his wife, Donna, own Cave Spring Animal Hospital and Mount Berry Animal Hospital. Both veterinary practices are complete care veterinary facilities offering services ranging from yearly exams and vaccines to treatment of ill pets and surgical procedures. Three doctors – Dr. Todd, Dr. Abby White and Dr. Lars Cook – will rotate duty at the two offices.
Why did you start this particular business?
 Donna and I visited Cave Spring shortly after moving to Rome in 2005 and fell in love with the small town atmosphere. We always felt that Cave Spring would offer a perfect location for a satellite veterinary clinic. There are no other clinics located within 10 miles and this new clinic also offers residents of Rome, Cedartown, Centre, Ala. and the Coosa area a short, pleasant drive to get veterinary care.
What makes your business unique?
Cave Spring is a classic American small town containing one traffic signal, town square, public park, community pool and businesses utilizing the original "home town" buildings. To fit in, we acquired a location that was originally built in 1912, restored it to its former glory but redesigned it to serve as a medical office. There are few veterinary clinics today with heart of pine hardwood floors, 12-foot ceilings, transom windows and original coal burning fireplaces. However, we went ultra-high tech in how we treat your furry family members. We offer digital x-rays, in-house blood testing, high end surgical monitors, the newest low reaction vaccines and a complete in-house pharmacy with the newest drugs including oral chewable flea, tick and heartworm medications. In addition, we also see after hours emergency visits for our current clients. This allows us to have the pet's medical records to help make better medical decisions and the clients the consistency of always being able to see the same group doctors day or night.
What do you enjoy most about your chosen profession?
Seeing the joyful and heartfelt smiles of people, especially children, after we help a family pet through a life and death situation. Plus people pay me to look at puppies and kittens – what could be better?
What has been the biggest challenge to overcome as a small business owner?
Probably the biggest challenge is "Dr. Google" – when people self-diagnose conditions. Another difficulty to overcome is preconceived notions or myths about the treatment of a pet's medical condition. For example, just because you keep your dog inside doesn't mean it can't get heartworms (all dogs need heartworm preventative) or burnt motor oil kills mange (not true). The hardest part of veterinary medicine is when we know we can help a pet but the cost is prohibitive for the owner.
Is there anything else you'd like to share with our readers?
Cave Spring is a great place. Load up your pets and come visit us. We'll help you keep them healthy or make them better if they're not. In addition, if things go well we hope to bring on help with large animals in the next couple years.
Business Age: Opened July 2016
Owner: Dr. Daniel Todd, DVM, PhD
Business location: 19 Alabama St., Cave Spring
Hours:Tues., Thur., Fri. 7:45-5:30 and Saturday 7:45-12