Shaw prepares land for new Adairsville carpet tile plant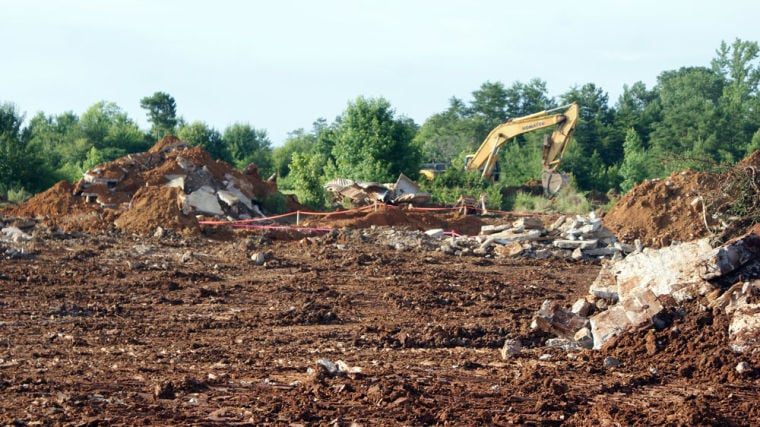 Northwest Georgia Paving crews out of Calhoun are preparing a site in Adairsville for a massive new Shaw carpet tile plant.
Chuck Dobbins, director of corporate assets for Shaw, confirmed grading is expected to take about six months and the plant could open by the middle of 2016.
James Jarrett, director of group contract manufacturing for Shaw, said the first phase of construction will encompass between 600,000 and 700,000 square feet under one roof with a second phase of between 200,000 and 300,000 square feet programmed for an undetermined date in the future.
"With multiple expansion possibilities on that site, we'll be grading the entire site," Jarrett said.
Jarrett said the company could not speculate about the timetable of a possible second phase.
The plant represents an $85 million investment by Shaw, according to earlier news reports. "The growth rate will depend on commercial market growth in the U.S. and other parts of our hemisphere that plant will serve," Jarrett said.
When plans for the plant were announced last August, Shaw officials indicated that they expected to employ at least 500 people within five years of opening.
Shaw went through a lengthy process of choosing a site for the new carpet tile plant, Dobbins said.
Key criteria included proximity to logistics, the existence of rail service, the readiness of a site and access to a labor pool the company could develop and retain.
The 118-acre Adairsville site, at the intersection of Hall Station Road and Ga. 140, met all of the criteria.
Shaw is working with the Georgia Department of Transportation as it relates to the widening of Ga. 140, which will pass directly in front of the plant, Dobbins said. Shaw will also construct a rail spur off a rail line that runs nearby.
The rail spur and other infrastructure related issues would be tackled during the initial grading and site prep work. Dobbins said the company would use rail to bring a lot of raw product to the plant. Much of that raw product will be extruded plastic. The carpet tile manufactured in Adairsville will be made from 100 percent synthetic fiber. "We do recycle a lot of plastic but there is a lot of plastic out there to be recycled," Jarrett said. "The numbers are staggering."
Dobbins said that the final design of the plant still has not been finished.
While M.B. Kahn out of Columbia, South Carolina, is the general contractor for the project, much of the architectural and engineering contracts for the plant went to firms in North Georgia.
KRH Architects Inc. of Dalton got the design contract, Southland Engineering of Cartersville is the civil engineering firm, William J. Peltier and Associates of Lawrenceville is the structural engineering contractor, Conway & Owen of Alpharetta got mechanical, plumbing and electrical contract; and Mondo LP+D of Woodstock is doing the landscape design.