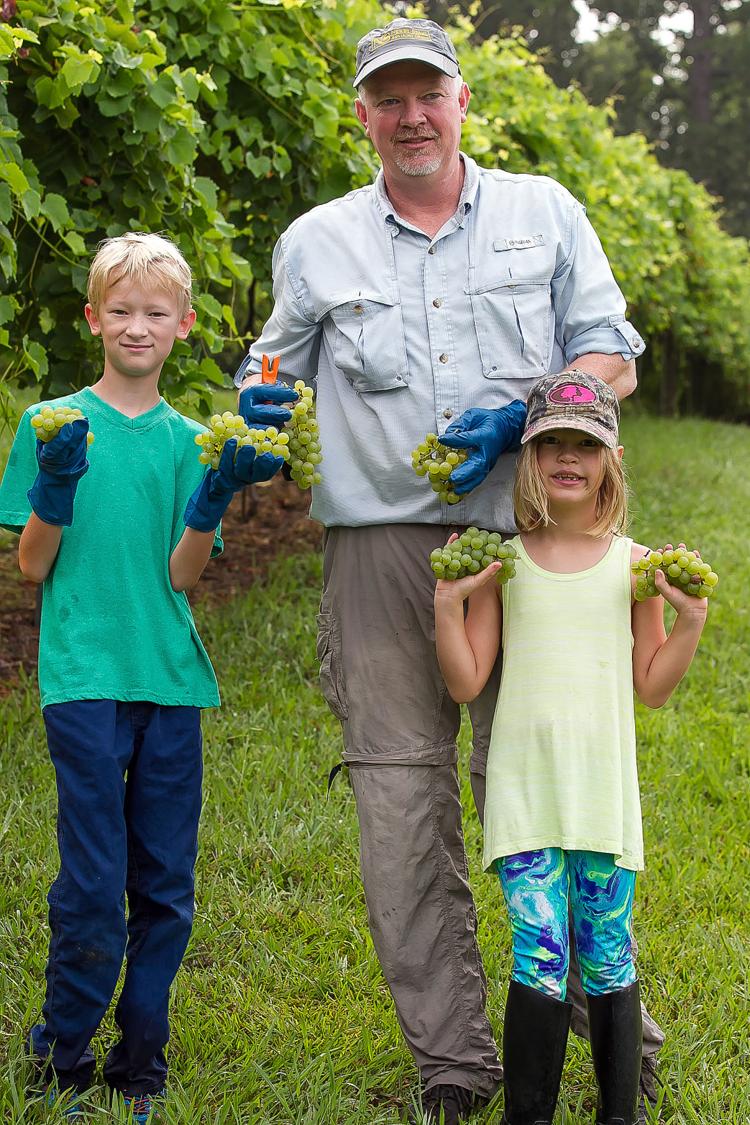 "Wine sales overall have been going up and you have younger demographics drinking more wine," Newby said. "It used to be mom and dad were drinking wine and you were drinking whatever cheap swill you could find. That's changing now. The major growth is in the smaller craft stuff."
Newby Farm and Vineyard started with the planting of about 300 vines in 2014, and has been growing steadily since then. There have been setbacks, probably the most serious being the deer who ate 80 percent of his first vines. He's got them figured out now and just last week he harvested three and a half tons of grapes. He expects to pick that many again in the next week or so.
Ultimately, Newby said that as his vines mature, he anticipates being able to harvest about 25 tons of grapes annually, enough to create about 19,000 bottles of wine annually.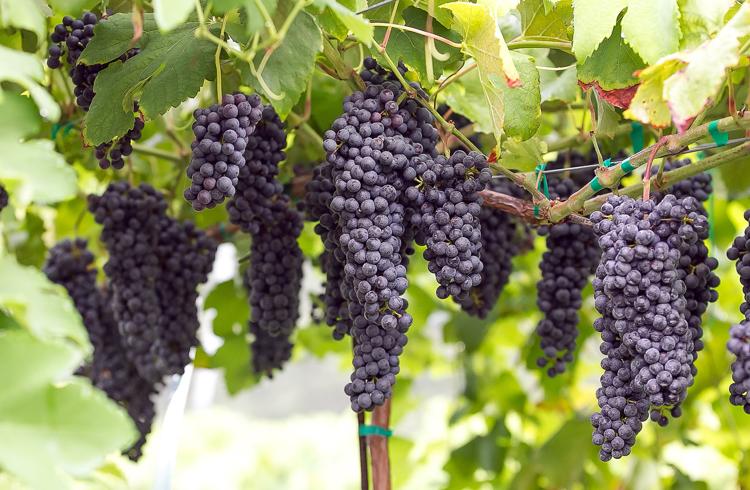 For the time being, he's selling his grapes to Little Vine Vineyards in Villa Rica and Trillium Vineyard in Bremen, but is ready to start the paperwork to build his own winery here in Rome. He said the paperwork alone would take almost a year before he could ever start any kind of construction.
A great-uncle of Newby's bought the farm in West Rome after returning to Georgia from the Navy. At one point, the 61-acre property was used to raise horses. Over the years, it was passed through the family. Newby decided about five years ago that he needed to do something with the land as opposed to just continuing to bush hog the grass, and started batting around the idea of growing grapes. Newby currently utilizes about 4.5 acres for his vineyards.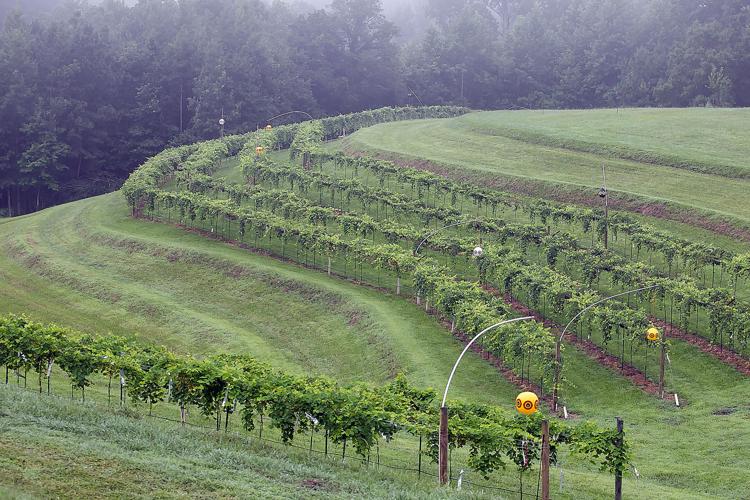 A friend, Scott Bentley, encouraged Newby to attend a wine symposium in Carrollton, which is where the seed firmly took root. After hiring the consultant, Newby planted another 100 vines in 2015, then took a year off to take care of the vines before adding additional acreage in 2017.
Newby is growing five different varieties of grapes: The Lenoir, the Chambourcin and the America, all used in red wines, as well as the Dillard Blanc and Blanc Du Bois, used in white wines. He chose those varieties based on his own research and recommendations from a Texas consultant who tested the soil at his farm.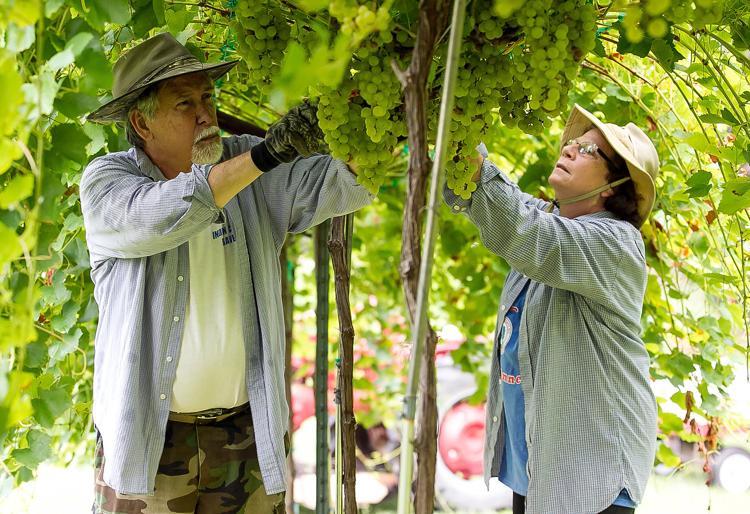 "Georgia is much like Texas as far as the growing environment," Newby said. A high susceptibility to Pierce's disease prevents Newby from growing Chardonay and Merlot grapes.
"The vines will grow for a few years and then get infected and die, because its carried by the sharpshooter bug. The varieties he is growing are generally resistant to the Pierce's disease."
Chambourcin is not 100 percent resistant to Pierce's disease, but he went ahead and planted some vines because that is a grape and wine of his own liking.
Newby said he has made close contact with several other vineyard growers in the area, including Rodney Alldredge and Ray Parker of Big Door Vineyards between Cartersville and Canton.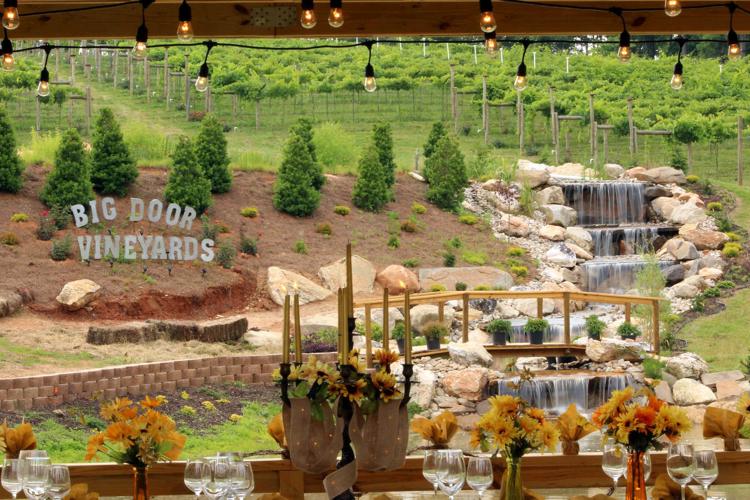 Alldredge has a 16-acre farm in Sutallee and has about 10 acres planted in grapes. He hopes to harvest about 12 tons this year and is putting the finishing touches on his winery, which should be open in two weeks to a month. At this time he's just waiting on variance licenses.
Like Newby, Alldredge started producing grapes in 2014.
"The concept just kept getting bigger and bigger and we found out its potential when we figured out we would be one of the closest wineries to Atlanta," Alldredge said. "The wedding industry has really been asking for this, so we decided to put a little effort and money into it and we're growing in a big way."
It's not an altogether bad time for small domestic producers to be getting into the wine business. Globally, wine production slumped to a more than 50-year low in 2017 after big dog producers in France, Spain and Italy suffered from weather-related issues during both the summer and winter months.
Newby hopes to have his own farm winery operating in about two years. He explained that some issues related to roadwork may result in having the winery at the farm but a tasting room somewhere in town. "That would work pretty well," Newby said, "but you wouldn't get that whole vineyard experience."
There will always be room for the Lancasters and the Gallos, just as there is still room in the market for Budweiser and Coors, but for the time being, the trend has been to the hometown, craft beverages.
The plan for growth ultimately includes developing his own distribution network.
"What happens is, you go to a distributor and they decline you because a big distributor is not going to take you because we're only producing 1,500 to 1,600 cases of wine," Newby said. The big distributors want a lot more wine.
"Once you're rejected you can apply to be your own wine distributor," he said. "Most of the smaller wineries you might see (them sell) in a couple of local stores or local restaurants, but most of them are selling everything they can produce either online or right there at the winery."
Once the winery is developed, it opens up a whole new set of opportunities from wedding receptions to parties and whatever.
"We're planning to do that at some point," Newby said.