HPG has submitted the TAD application payment to the city and has started a process to get the actual proposal back before the city redevelopment committee. "We hope to expedite that and get it done sooner rather than later, Mulherin said.
Rome City Manager Sammy Rich said HPG is asking for $1,146,378 in assistance, however a time period for that aid has not been determined to this point.When a Tax Allocation District is created, property values for tax purposes are set at a base level. As properties within the district are developed and increase in value, the amount of property tax above the baseline is returned to the owner to help offset development costs over a specific number of years.
The Rome Redevelopment Agency approved the establishment of a new Tax Allocation District map to serve the mall area last December. It includes nine parcels. At that time HPG officials indicated the company was planning to invest more than $8 million toward the redevelopment of the mall. More than $800,000 was earmarked for demolition, almost $380,000 was allocated for exterior façade work, almost a million for road work and more than $6 million for out-parcel development. The remainder was set aside for fees and contingencies.
Rich said his plan is to send the official TAD financing request to the Redevelopment Agency first, then the city's Redevelopment committee before it goes to the full City and County commissions.
"I'm anxious to take a look at the application," said Rome Commissioner Bill Collins who chairs the Redevelopment committee.
The Sears end of the building has been vacant since March 2016 and Hull has not been able to find any other tenant willing to take that much space in its current configuration. Mulherin said removing the unleasable spaces does a couple of things for the ownership group. It created a pad-ready site for another future tenant who might be interested in a different configuration.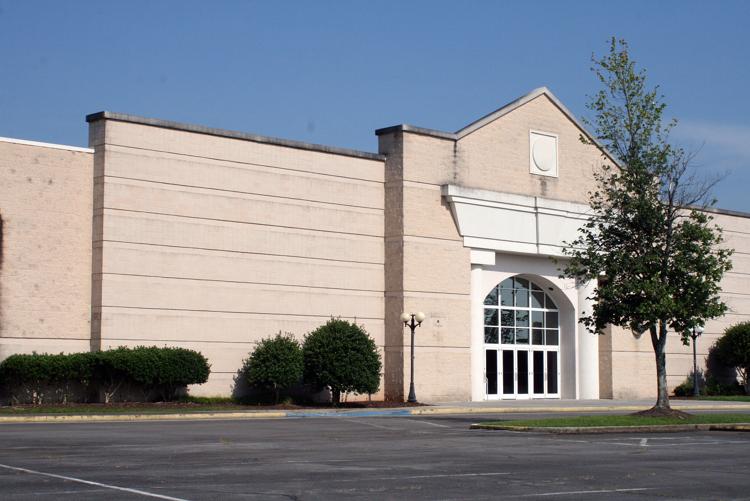 "That's no different than an industrial park with a pad-ready site," Mulherin said.
The second thing removal of the empty space does is reduce the vacancy rate in the overall mall, which brings that number more in line with where it would ideally be for attracting new tenants and perhaps, even more important, keeping existing tenants.
The interior work will involve some changes to the sheetrock work that covers existing vacancies.
"We will come in and completely redo the interior of the mall, with — we think — a much cleaner look," Mulherin said. For example, some of the older vacant store fronts protruded into the corridor of the mall and Mulherin said the plan would be to take those back and create a more even, streamlined work.
"Again, we're talking about a sacrificial investment, then we'll come in an put in new lighting, and then in the center common area we're going to take stage out and redo the tile work in the food court," Mulherin said.
Exterior work, including a new electronic display sign at the Martha Berry Highway entrance to the mall, has been complete for about a year.
"The key is we need to do everything in our power to maintain the tenants and the sales that we have in the property. This will give us the opportunity to attract additional tenants as the market demands," said Mulherin.
Work is designed to hold on to tenants
Because retailers are under such pressure today, the HPG feels compelled to make an investment to help keep the existing stores alive and as busy as possible.
Mulherin said you name the brand and they've probably got thousands of stores nationwide.
"Because of pressures coming from online they have to close 200 stores in 2018-2019. For us, what we've got to do is make sure we stay off that list of 200," Mulherin said. He said that's most likely to occur in secondary and tertiary markets like Rome and Dalton and many of the markets HPG has malls in. "We feel like the sacrificial investments that we're making keep us at number 201 or 202 and keep us off that list."
What is the 'real' future
Mulherin said the industry has made frequent references to a "retail apocalypse."
"There is just too much space and not enough tenants," Mulherin said. "We have seven times the retail space as they do in China and Europe and you add the advent of online shopping and the changing shopping patterns of Americans, and it compounds the too much space problem."
Study after study shows that more Americans are shopping online and enjoying the convenience of having something delivered straight to the customer's door.
Mulherin and the Hull Property Group believe that malls have to be repurposed into some other space, if the market demands it. It could be multi-family use, office space or whatever. The malls in the HPG portfolio typically don't have that kind of demand for alternative space.
"You have to be very creative with what you do," Mulherin said. "We're still buying malls and we still believe in the need for physicality."
He said millenials like the experience of touch and feel shopping but the challenge is making certain that the experience being offered matches the needs and expectations of the customer base.
The HPG model for malls is what Mulherin calls a "value-added" model.
"We're privately held, our investment horizon is totally different than someone who has to answer to Wall Street, a quarterly earnings statement or annual investors meeting," Mulherin said. "Our return on the investment can be seen over a much longer period of time. We've never sold a mall property. I can't stress that enough."
Hull Property Group has 30 malls in 13 states and 13 retail shopping centers across four states.
It's that capacity to view property over the long haul that allows HPG to tear down perfectly good buildings with a perfectly good roof and perfectly good HVAC systems.
Connecting to Rome Tennis Center
Mulherin said that tearing down the Sears' end of the building certainly facilitates a direct connection to the Rome Tennis Center.
"We're willing to deed over the necessary land to make that happen and make that connection," Mulherin said. "If we took the other approach, where we are not willing to make an investment in the property, it would eventually evolve into a blight and that's not what they want on their front door step."
The city was to apply for an Appalachian Regional Grant to help fund a road to connect directly to the mall. The extension was originally proposed as a two lane road with sidewalks on both sides of the street for a cost estimated at $1.2 million. After reviewing the cost estimates, City Manager Sammy Rich suggested back in September of 2017 that the city not proceed with the grant application.
Rich now says he'd be interested in some sort of sidewalk or cart path connection to the mall where people would be shuttled back and forth for additional parking and access to the mall between matches during major tournaments.
"It is a reasonable project," Rich said. "In the grand scheme of things it's not a huge project. I think it's pretty feasible and a pretty low-key project."