Sue Gray's adventure in international retail sales actually began in a pasture. After purchasing a horse with white hair on its muzzle some years ago, she realized she had to protect the underlying pink skin in a sustainable way.
"I've had horses my entire life. I never realized it (pink skin) was a problem," she says.
The Kingston resident was at her wit's end after having tried sunscreen that ended up in a scum on top of her animals' water trough.
"I had to go back out and put it on all the time, and you could see a film in the water," she says. She struggled to find adequate coverage and UV protection in the mass-produced equine face masks she purchased.
"I told my husband that I needed something to work," she recalls.
The experiment
She began experimenting by attaching burlap to halters and found that it blocked the sun adequately. Her horse's skin stopped burning during turnout.
"His nose turned baby bottom pink," she recalls.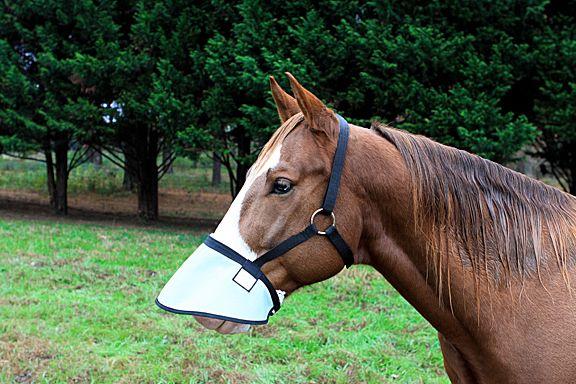 She was happy with the fabric's sun-blocking qualities, but she realized attaching it to a halter for turnout wasn't safe owing to the fact that horses can catch these headstalls on objects in a pasture or paddock and injure themselves while trying to break free. She wanted to upgrade her design and her materials, so she found a 90% UV-blocking mesh and a pattern for an equine face mask.
She got her website, www.naghorseranch.com, up and running in early 2011, and the sales began rolling in. It turned out other equestrians had run across the same problem with their white-faced horses.
"It happened right away," she says. "It just took off."
It wasn't long before she had sold Nag Horse Ranch products to customers in all 50 states, and then the requests began rolling in from France and the United Kingdom. Now, she sends products to a total of 40 countries with a recent uptick in sales from Australia and New Zealand.
"I can't keep track," Gray says. "It's all the internet, and it's all because it's such a niche."
Although Gray's online presence has been overwhelmingly influential to the company's growth, she also credits recommendations from veterinarians. Gray attended an American Association of Equine Practitioners event a few years back, and she's still reaping the benefits of that networking endeavor.
"Getting vets to know about me is the biggest thing, but once they know about me, it's great," she says. "And it's grown every year."
Vets have more of a vested interest than just preventing sunburn and discomfort when recommending the heightened protection Nag Horse Ranch products provide.
Repeated sunburn on pink skin often leads to instances of squamous cell carcinoma, particularly in the area of the eyes.
Surgery is expensive and time consuming, and after having their animals treated, many horse owners seek to prevent the animals' cancer from appearing again.
"I've got a lot of customers with horses who've had surgeries," Gray says.
Supply and demand
Gray says she's made all of her products in response to customer requests: nose shades, sun visors, a mask-and-cup system that allows for medical treatment of eye injuries. And, of course, there are the eye shades. The most basic model covers only the horse's eye area with protective fleece around the edges of the mask for comfortable wear. There are 10 variations available on the website with offerings like attached nose shades and ear covers.
She keeps emails from people requesting new products, and when she gets enough interest, she makes them. She recently constructed an equine withers cover which protects the area of the shoulders that gets the most sun exposure.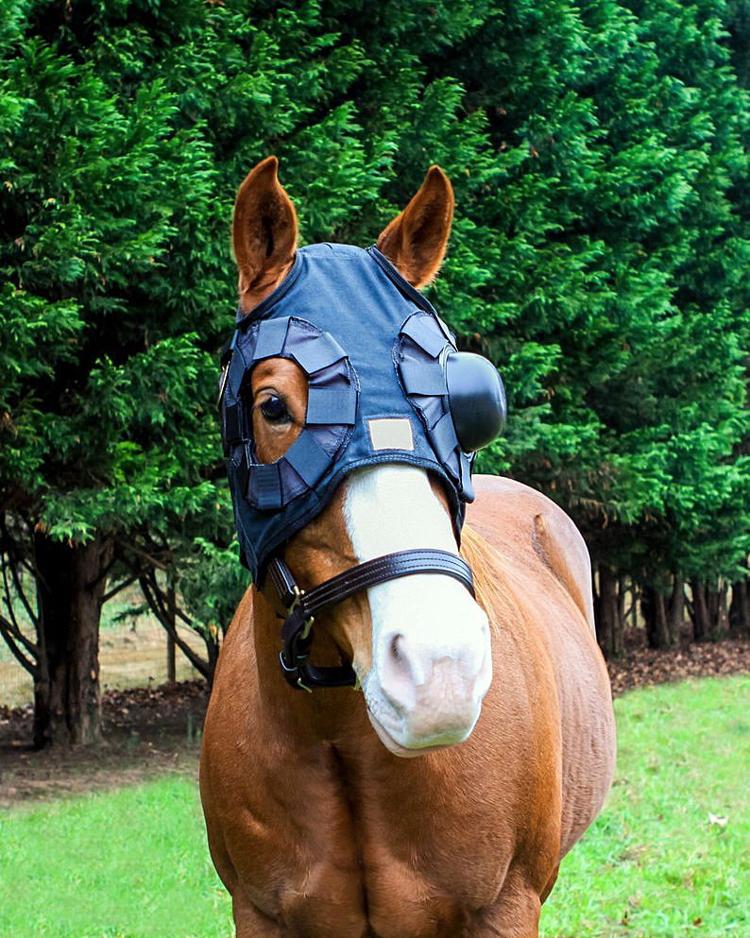 Requests for help with sun protection haven't been limited to horses. Gray has fielded correspondence from owners of alpacas, cows and dogs, among other species.
Thin hair over pink skin is the main issue Gray hears about.
"Where there's a coat of hair, it's not a problem," she says.
A home-based endeavor
When Gray began, she worked with the space she had to make her products. She did and still does all her own manufacturing. She started in her residence at the time, and she eventually moved to a shop outside her home.
"It started in our garage and in our bonus room, but I got too many products, and I grew out of the garage," she says. She and her husband, Norman Gray, bought their home in the Kingston area four years ago, and they decided to put their five industrial sewing machines in their basement, which still serves as base camp for Nag Horse Ranch. Norman, who makes a living building 12-foot tunnels for waterways, lends his expertise in making things for the shop and helping Sue design products.
"He's very scientific," Sue says. "He helped a lot with some of these patterns in the beginning."
The couple enjoys taking care of their barn and small farm, which is home to a mini horse, mini mule and their reining horses. Sue began showing reiners a few years back, and then Norman joined her, and now they travel to shows together.
When it comes to their main equine endeavor, Gray understands that the notion of sun protection can take some getting used to. After all, horses are outdoor animals. She likens the awakening process to her own understanding of how much damage too much time in the sun can do.
"I grew up in Florida," she explains. "I was a sun worshiper. I guess you're clueless that you're ever going to get older and have a problem. It is a real thing."