From textiles, to automotive and advanced technology
Retiring Rome Floyd Chamber President Al Hodge has been in the marketing business virtually his whole life. Stepping away from his day-to-day duties at the Chamber isn't likely to change that. Hodge will remain on the Chamber payroll through his previously announced retirement date of April 19, but Jeanne Krueger took over day-to-day duties as leader of the Chamber staff Friday.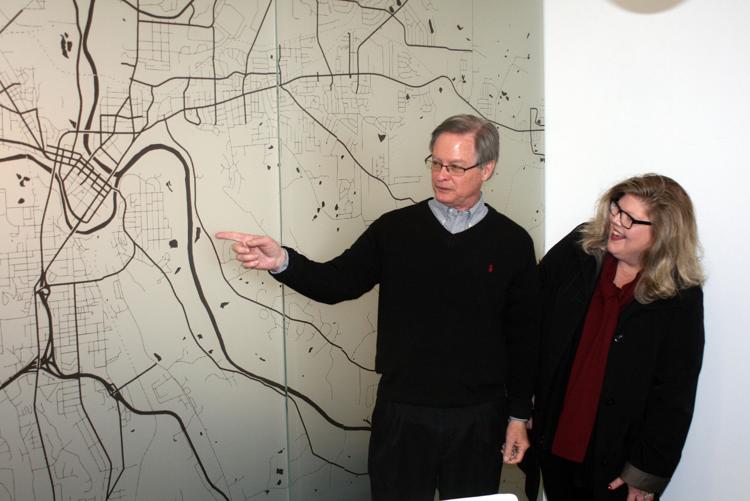 You might say Hodge got his start as a small business man delivering the Savannah Evening Press as a youngster. He remembers riding his bike along his route to serve customers in homes and the occasional apartment building.
For the last two decades, Hodge has been selling Rome and Floyd County around the world. Airplanes have replaced the bike and skyscrapers from New York to Montreal, Tokyo and Berlin have taken the place of those old apartment dwellings.
While not necessarily sure of what's on his plate in the immediate future, Hodge said he has relished the past 21 years in Rome and will continue to make Rome his home, along with his wife Cheryl Hodge.
Hodge remembers getting a call about the job in Rome and taking a red-eye flight back from a presentation in San Francisco to come to Rome for his interview.
Hodge said he was sold on the community, and the challenge to take on a new Chamber was appealing.
"The search committee asked good — and the right kind of probing — questions," Hodge said.
Those first few years were tremendously successful with Pirelli, Neaton, F&P Georgia and Suzuki all making decisions to put manufacturing plants in Rome.
When Hodge announced plans to retire a couple of months ago, Chamber Board Chairman Pete McDonald quickly thanked Hodge for his efforts, which have produced more than $1.2 billion in direct investments by primary employers and the creation and retention of over 7,000 new primary jobs, not including commercial, service and other types of jobs.
Hodge is quick to point out that the successes were not his, but rather a reflection of the efforts of the entire team, Chamber staff, and city and county leaders. The teamwork approach to his job has been a hallmark of Hodge's leadership at the Chamber throughout the years.
Asked if those early successes perhaps created a scenario that has proven to be a hard act to follow, Hodge said that those "Big Four" industries actually proved out an early shift in the direction of industrial recruitment away from the textile sector toward the automotive sector. All four of those companies have expanded numerous times since locating in Rome.
"It proved to our community that this level of investment could be done and initiated more opportunities going forward," Hodge said. He pointed out that F&P has expanded five times and is now one of the largest manufacturers in Floyd County.
John Bennett, former Rome city manager, said he always enjoyed working on projects with Hodge.
"He handled himself with a high level of integrity, and in that business there are those who are not quite that way at times," Bennett said. "The Rome Floyd team had a lot of successes with him."
"Rome wouldn't be what it is today without Al Hodge," said John Quinlivan, president and CEO of Redmond Regional Medical Center, who was chairman of the board in 2017.
"He's a high-energy, day, nights, weekends kind of guy. Al is always on and looking for opportunities that are right for the community."
Over the course of Hodge's two decades in Rome, the workplace has not only shifted away from the historic textile base to the automotive sector, which has blown up all over the South, and now to an "All Things Digital" atmosphere, which the Chamber has targeted in the last couple of years.
The slow transition to a service-based economy and advanced technology has been fueled in large part by the annual Confluence conference hosted by the Chamber. The event was initially known as the Spectrum of Technology Symposium, or Spec Tech.
Yes, big manufacturers are still possible, according to Hodge.
"Is it more difficult? It is," Hodge said. Over the last couple of years, Hodge said his staff has been seeking companies of that scale, companies that must pay a higher wage to attract more people into the community.
"We have more people commuting in than commuting out," Hodge said.
"We've had good prospective employer activity. 2018 was a truly solid year for the number of site-selection consultants that have been here, along with direct prospective employers," Hodge said. "Some of these are larger employers. The potential is very strong."
In terms of attracting new companies to a community, incentives have become much larger players in recent years.
"What states and communities should look at, we certainly do, is what is the return on investment," Hodge said.
Just as it was when he came to Rome, Hodge said the community itself is Rome's best selling point.
David Newby, division president of Profile Custom Extrusions in Rome and chairman of the Chamber board in 2009, likened Hodge to the pebble that gets tossed into the lake and creates ripples. Newby said Hodge will be tough to replace because he knows so much about the inner workings not only of Rome, but the entire state.
"My involvement in the community all these years is because of Al Hodge. He got me connected even before I was chairman of the Chamber," Newby said.
Over the past 20 years, Hodge has served on the Georgia State Board of Education, rising to vice chairman. He also continues to serve on the Georgia Department of Community Affairs Board of Directors, where he has previously served as chairman.
Bennett said Hodge used those bully pulpits, and others, to promote Rome to people all over the state of Georgia.
"Around the state he's the face of Rome, really," said attorney Bob Berry, who presided over a mini-roast of Hodge at the Chamber annual meeting Thursday night. "His character and sincerity and creative way have probably done more for Rome statewide than it has locally."
Hodge has been recognized by his peers on multiple occasions over nearly four decades in Chamber work, including the Kent Lawrence Award for Professional of the Year by the Georgia Association of Chamber of Commerce Executives and the Wiley Award for Professional of the Year by the Georgia Economic Developers Association.
"I'm happy for Jeanne Krueger and the team to move forward," Hodge said. "We've made a number of changes over the years, introduced new programs. As recently as the past two years we've rebranded and completed a major renovation of the interior of the building."
As for the future, Hodge said he was humbled by the number of people who have at least inquired about his plans. For now, Hodge and his wife Cheryl expect to be able to continue to call Rome home, and also spend a lot more time with their two grandchildren.