Hillyer House in Oakdene on the block again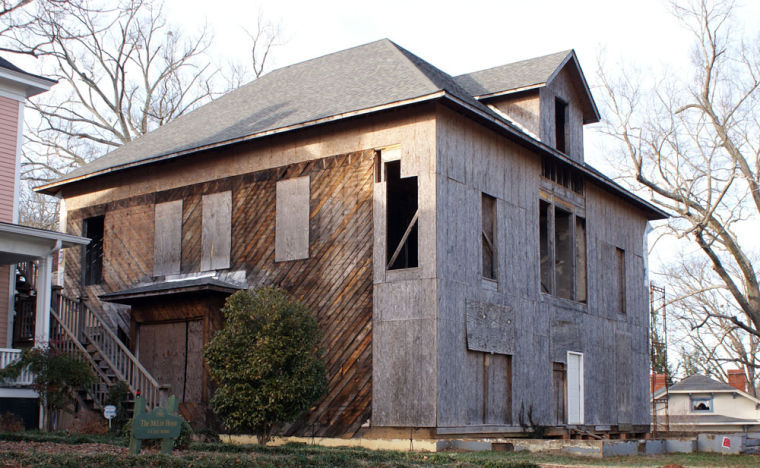 The historic Hillyer House in the Oakdene Place subdivision is back on the market and city officials are concerned about its future.
Randall and Kaylea Welborn bought the building in 2011 and convinced city officials to give them time to restore the old home, but that has been a painfully slow process.
On Tuesday, Mary Hardin Thornton, director of the new sustainable neighborhoods program for the city of Rome, reported that the Welborns are apparently planning to relocate and put the house on the market.
The historic house was constructed in the late 1800s as the home for local Judge Junius Hillyer.
City Commissioner Buzz Wachsteter and City Manager John Bennett recalled that the city had at one time been prepared to demolish the hold home, which was a bed and breakfast that was gutted by a fatal fire in November 2005. Jill Andrews of Houston, 25, was killed in the fire.
"It's the centerpiece of the community and it's the eyesore of the community," said Thornton in a report to the city's community development committee Tuesday afternoon.
Committee members are concerned the city may have to re-condemn the structure because of its poor condition.
The committee also learned that the Northwest Regional Commission could act as early as next week on a proposal to make demolition a qualified activity for use of Neighborhood Stabilization Program funds.
The city and South Rome Redevelopment Corporation hope to access approximately $260,000 for the acquisition and demolition of the old McCall Apartments on South Broad Street to be replaced with new housing.
Community Development Director Bekki Fox told the panel that even if demolition is considered a qualified activity for funding through the NSP, the city would have to get the project itself approved for funding and the work would have to be completed by March 9 to meet the deadline for use of NSP funds.
The city has already put out bids for the demolition, bids that are scheduled to be opened Jan. 16 at 3 p.m. and will be ready to move on the project if it is funded. Fox said Plan A for the property is for the South Rome organization to partner with a North Carolina developer to seek tax-credit funding for redevelopment.