7hills Makerspace continuing to evolve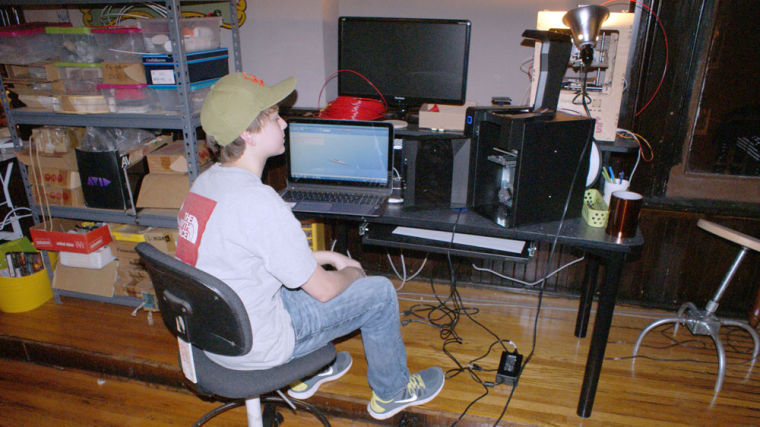 Editor's Note: This story was published in our 2014 Review and Forecast: Making a Difference in Northwest Georgia edition published on March 4.
Greg Richardson came to Rome with the consulting business, Civitium, which was involved with providers who were rolling out fiber networks.
Like so many others who have found their way to Rome, Richardson came here on a job and loved the community so much that he decided to stay.
"I came here to work on the Appalachian Valley Fiber Network, the big one that David Parker's FiberNet team did about three years ago," Richardson said. "We did grant compliance. We did network engineering. We did some policy work and we're actually just closing that project out now with audits."
Richardson's consulting business usually involves projects that typically have some connection to economic development.
"The AVFN was a public-private partnership with the regional commission and the state," Richardson said. "We're really exploring and investigating some of the trends that are going on in economic development and one of the things that caught our eye was the development of these maker spaces."
You ask what's a makerspace?
"It's really been sort of hard to define and they are self defined," Richardson said. "They vary a lot. If you go to one space you'll get a certain definition. Culturally, the makeup may be different and the goals different."
In general, Richardson said a makerspace involves people with a different sort of do-it-yourself ethic. There's very much an idea that makers are all about what they can make instead of what they can buy.
"The way I started describing it recently is that in communities you have spaces for most of the things that people do. You have a church where people worship, you have a park where people engage in recreation and you have civic places like City Hall," Richardson said. "But in most communities there's not really a place to innovate there's not really a place that is designed for people to get together and share and collaborate and do things like that."
Richardson calls a makerspace a central location where people who want to tinker and experiment and create can do their thing.
So, Richardson created the 7hills Makerspace in the old Cherokee Masonic Lodge building at the corner of Broad Street and Fourth Avenue.
Contrary to his original thoughts related to economic development, there's not really an entrepreneurial goal. Most of the folks who are involved in a makerspace do it more for art rather than trying to create a commercial product.
Richardson and Tricia Steele, founder of SAI Digital in Rome, joined forces to create a Makervillage on Clock Tower Hill. "We realized that inevitably, entrepreneurial things will grow out of makerspaces," Richardson said. "The Makervillage project is about providing resources for entrepreneurs to help them get a business of the ground."
In fact, Richardson and Steele started a new business — Crowd Fiber — that's now housed in the Makervillage, is called Crowd Fiber. "It's a good example of how these kinds of things tend to produce new businesses that weren't really a goal," Richardson said.
The 7hills Makerspace is the second of its kind in Georgia. The first one developed, where else, but in Atlanta. Richardson and Steele participated in a Georgia Municipal Association Mayors Day program, talking about the makerspace concept and were surprised to have close to 50 people attend their session.
Richardson said he finds it intriguing that the maker space movement started as sort of a subculture.
"People weren't really interested in scaling and weren't interested in commercializing and all of those kinds of things," Richardson said. "If you look at how the Internet developed, first for academic and research organizations, and all of a sudden the masses showed up."