The U.S. Bureau of Economic Analysis produced prototype county-by-county gross domestic product numbers last week which showed that Floyd County emerged from the recession slowly during the period of time covering 2012 through 2015. The output of local goods and services increased from $3.24 billion in 2012 to $3.41 billion in 2015.
In a market that is dominated by the healthcare industry, it is no surprise that the production of services far outpaces the actual production of goods in the private sector. GDP in the service sector was up 6.8 percent from $2.04 billion in 2012 to $2.18 billion in 2015. The actual production of goods was up 2.4 percent from $790 million to $809 million.
Healthcare alone does not account for the growth in the service sector. Jobs across the technological spectrum, particularly the information technology sector, have long been a point of focus for the Rome Floyd Chamber.
Chamber President Al Hodge said a prime example of the groundwork that has been laid in that area was the targeting of broadband accessibility for the entire community.
"We literally lobbied in Washington on connectivity for Parker Fiber Systems. David Parker was willing to put (up) private-sector money and that was matched with federal dollars that brought broadband to the community, which has enabled existing employers to use it, such as Harbin Clinic, and it has allowed newer employers, such as Advanced Tax Solutions Co.," Hodge said.
The chamber president said that the Confluence Conference was launched years back to encourage start-ups in the technology sectors and other types of innovation to come to Rome.
"The reason for the launch of 'All Things Digital' was this very topic. What else could and should we do as a community to encourage and enable technology-based and technology-enabled companies to start up here, come here and grow here," Hodge said.
Forbes magazine ranks Rome at No. 131 (out of 200) in terms of best small cities for business and careers. That's ahead of communities like Dalton, at 138 and Albany, No. 167. It is also well in front of places like Gadsden, No. 184 and Anniston, No. 187, in Alabama.
Rome ranks No. 62 for cost of doing business and interestingly, No. 81 for job growth.
Commercial real estate agent Craig McDaniel, a Rome city commissioner, said, "Service industries, warehousing and distribution jobs are good jobs, but they don't pay what a manufacturing job would pay." He pointed out that so much of manufacturing jobs are automated today.
"Workers are primarily technicians now. That's why you have to be able to interface with a computer," McDaniel said.
One of the keys to any kind of growth in retail or industrial jobs and output is the availability of a skilled workforce. Hodge calls that "critical mass" in terms of real numbers. Some companies just are not going to look at a community with a population the size of Rome and Floyd County, which is one reason that Hodge doesn't always look at geographic lines on a map when discussing the workforce.
There are a lot of people who live in adjacent counties, and many who live several counties away from Rome, who make the drive to Rome to work every day.
Workforce analytics reports done by Georgia Power for the year 2015 show that nearly 47 percent of the people who work in Floyd County commute into the county. Polk County residents constitute a slight majority of that group, with 5.9 percent of those employed in Rome and Floyd County. Bartow County was second at 5.7 percent, followed by Chattooga at 3.7 percent and Gordon County at 2.9 percent. Cherokee County, Alabama, residents made up 2.2 percent of those employed in Greater Rome.
The data also shows a statistically significant number of Cobb, Paulding, Fulton and Whitfield county residents also commute to work in Rome.
The growth of the service sector is even more apparent in two adjacent communities. GDP growth in the services sector in Gordon County increased 11.6 percent from 2012 to 2015, growing from $693.9 million to more than $774.8 million. In Bartow County, the service sector was up 21.5 percent from $1.96 billion to more than $2.3 billion over the same period of time.
Actual production of goods has decreased in Gordon County, from $815.6 million in 2012, to $804.5 million in 2015. In Bartow, physical goods did show a 14 percent increase from $1.14 billion in 2012 to $1.30 billion in 2015.
Floyd County College and Career Academy CEO/Principal Eric Waters said he is sensing a slight shift in the interest of students toward production-type programs.
"I think we see an increase in the production-type programs as evidenced by an increase in students in welding, robotics and engineering, in animation and digital media and creative technologies," Waters said. "But healthcare is our largest program, and it should be because we're the healthcare center of Northwest Georgia."
Ethan Perry, a student from Armuchee High School, is one of the growing number of students who have entered the welding program at the FCCCA.
"I like it because once you shut the shield you can be yourself and nothing can really get to you in there," Perry said. He understands that the number of jobs in welding, along with a lot of other industrial blue-collar positions, is steadily growing as the Baby Boomer generation tries to retire.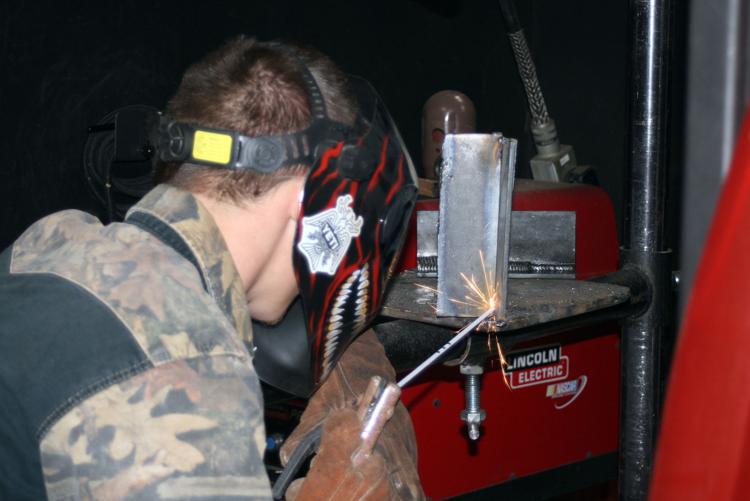 "I think there is recognition that there are excellent jobs in the skill-based areas, and students have learned that they can have fantastic careers in welding or computer technology, robotics and engineering, so we're starting to see more interest in trade-related profession," Waters said.
Waters said 20 percent of the students go to major flagship colleges and universities, 60 percent may stay locally at Georgia Northwestern Technical College, Georgia Highlands College or the regional universities such as West Georgia or Kennesaw State, while another 20 percent are going straight into the workforce.
The gap between service-related output in Rome and the manufacturing sector is only likely to widen in the future.
Much of the emphasis on job creation for the last decade or so has been focused on jobs related to information technology and related fields.
City Commissioner Wendy Davis summed that theme up in prepared remarks during a joint meeting with Floyd County commissioners earlier this month. She suggested, during talk about a new job recruiter once Hodge retires next April, that the community focus on entrepreneurship — ideally someone with a strong background in technology, biotech or research and development.
"We should be spending some of our time and resources searching for companies that are less reliant on moving a product," Davis said.