Downtown merchants briefed on International Festival, sidewalk work at Coffee Break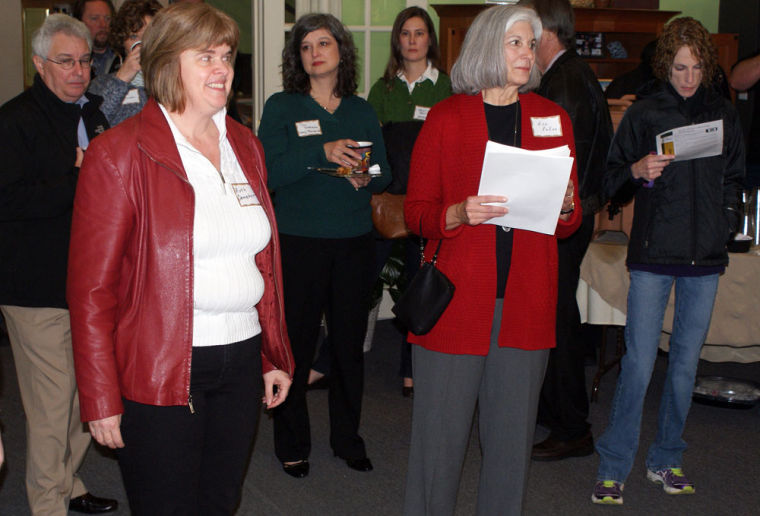 Downtown merchants got a briefing Friday on the 11th annual Rome International Festival, scheduled for March 29 at Bridgepoint Plaza.
Ann Pullen told the Downtown Development Coffee Break crowd that the festival is an outgrowth of a student exchange between Rome and Kumamoto, Japan, that began in 1995. The exchange kind of fell apart after 9/11, Pullen said. The festival was created in an effort to bring together Romans and residents from foreign nations.
Pullen said the student exchange resumed in 2007. A delegation from Kumamoto will arrive in Rome on March 24 and will remain here through the festival, which will take place at Bridgepoint Plaza.
Ruth Demeter said representatives from nine different nationalities or ethnic groups have already signed up to have booths at the festival. She estimated the number could increase to 15. There is no admission fee for people to attend the festival.
The festival participants will have samples of their native food, along with examples of art and culture. A number of live performances will take place at the plaza between 11 a.m. and 3 p.m. March 29.
"We've tried to make it a more active event," Demeter said.
In other news, Street scape sidewalk improvements in the 400 and 500 blocks of Broad Street could be completed before summer, according to Rome Street Department Director Chris Jenkins. He told downtown merchants work on the 400 block will resume Monday, weather permitting.
"We hope to get done before the summer block parties," Jenkins said. The initial First Friday Block party is scheduled for May 2. "I know it disrupts a lot of walking on Broad Street, but we try to put it back as fast as we can," Jenkins told the downtown business leaders.
Jenkins explained that the ideal weather for pouring concrete is a constant 55 degrees. "As long as we don't got thunderstorms or more snow, we ought to be able to finish the 400 block in four to five weeks," said Jenkins.