Crowd expected for Eastman Gun Show this weekend at The Forum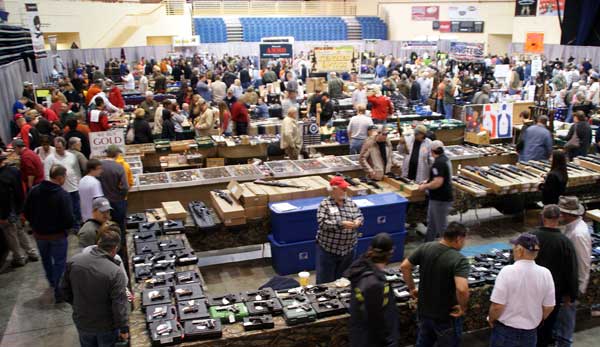 The Eastman Gun Show returns to The Forum this weekend, and Brent Poplin, manager of the downtown Rome venue, said he is expecting a big crowd.
"We've worked two or three shows per year with Eastman, and they have been very successful," Poplin said. "These shows are very good for us, for Eastman and the vendors. This show features vendors from across the state and gives them a great opportunity to showcase their products."
Guns, knives, ammunition, accessories such as scopes and cases, and some hunting equipment will be available, Poplin said.
"There will also be an opportunity for private citizens to bring in their personal guns to trade or sell or swap," he added. "This is all part of the event."
This event is one of Poplin's favorites, he said.
"Once you've been to an Eastman Gun Show, all others pale in comparison," he explained. "I'm glad to have it back. The dealers and the quality of the merchandise and the safety standards are the best I've seen."
Any weapons brought into the show are checked by on-duty police officers to make sure the weapons are not loaded and to provide the most safe surroundings for patrons and vendors, he said.
"Eastman is a real stickler for safety," said Poplin. "Matt Eastman runs a tight ship."
The Forum provides security, with two Floyd County police officers doing the checks at the door. Weapons must be empty of all ammunition, and firing pins are tied down.
"You feel very safe in here," Poplin said. "They want you to be able to enjoy the show and feel safe. You can't show with Eastman unless you have strict safety rules and procedures in place."
"People can come to the show and just enjoy themselves," he said. "This is really important, because some of the guns that are brought to this show, the craftsmanship is really just amazing. Basically, they are works of art."
Raymond Johns, partner of Matt Eastman, is looking forward to the show as well.
"We've had a lot of positive feedback from the Rome shows," Johns said.
Johns also explained that buyers at the show should make sure they bring identification.
"Our federal firearm licensed-dealers do the same background checks they do in their stores," he said. "You show your Georgia driver's license, and there is an instant background check, and you can take your purchase home that day."
Out-of-state buyers are allowed to buy guns as well, but they must have the gun shipped to a licensed dealer in their state and pick it up from that dealer.
The Eastman Gun Show opens Saturday at The Forum from 9 a.m. to 5 p.m. and continues Sunday from 10 a.m. to 5 p.m. Admission is $8 for adults. Children younger than 12 will be admitted free with a paying adult.