CounterPoint noise sparks flood of 911 calls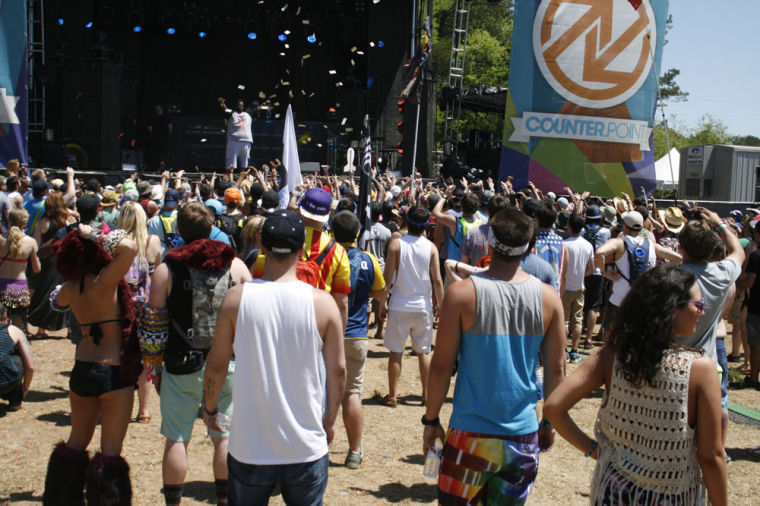 By the time Outkast closed out the three-day CounterPoint Music Festival early Monday morning, residents of eastern Floyd County and western Bartow County had just about had enough.
Floyd County 911 Assistant Director Phillip Wheeler said emergency dispatchers had gotten 78 calls from people complaining about the
noise from the outdoor concert at Kingston Downs.
"It was over the entire weekend," Wheeler said. "Most of it was about the bass music. That sound traveled right up the river."
Wheeler said his agency referred all of the callers to Bartow County.
"They were referring them all to their county commissioner. They were giving his number out left and right," Wheeler said.
Bartow sole Commissioner Steve Taylor said that was not an exaggeration.
"They've been lighting my phones up this morning," Taylor said Monday.
Part of the problem is that there was essentially nothing that could be done about it, Taylor said, because Bartow County does not have a noise ordinance.
Bartow County 911 officials did not return calls to the Rome News-Tribune regarding the number of complaints they fielded.
Taylor said most of the complaints he received were about the late-night music.
"They ran until 2 a.m. and we probably should have shut it down at midnight (each night)," he said. "Then the decibel level was obviously too high. They could hear it from five to seven miles away."
Floyd County does have a noise ordinance, but County Manager Jamie McCord said it's very subjective.
"The police department has the ability to go in and determine if it's a disturbance of the peace," McCord said.
Taylor said he thinks the noise issue is something that needs to be addressed by Bartow and Floyd officials before another event like that takes place at Kingston Downs.
McCord suggested a post-event meeting with officials from both counties and the Counterpoint promoters to see what went right and what went wrong.
"I will assure you that these CounterPoint folks will address it. They are professional," he said.
Too many nights?
Floyd County had to deal with a similar situation in October 2013. During the Outskirts 53 concert weekend in Shannon, authorities got 54 calls related to noise from that event.
Similarly, the Counterpoint festival disturbed even people who enjoyed the music, McCord said.
He referenced an email he got from a woman in her 30s who said she's used to staying up late, but "2 a.m. on Sunday night was a problem because she had to go to work and only got a couple of hours of sleep."
Ben Winkleman's family farm is across the river from Kingston Downs in the Reynolds Bend community. He voiced several complaints on Monday.
"One night or two nights could have been all right, but four days of that mess until Monday at two in the morning — it was about ridiculous," he said.
Winkelman said someone pulled a camper through the gate of his farm one night and camped on the river. They were gone the next morning — leaving an unattended fire in a fire ring — before anyone could get a tag number.
He also said Counterpoint attendees were swimming the river and coming up on people's farms. When he approached them they said that since they had wristbands for the concert, they thought they could go just about anywhere.
"I was good for a couple of nights, but by then I'd had a full plate of that crap," Winkelman said.
Calls to several CounterPoint organizers were not returned Monday.
One positive aftermath of the concert:
Rome music promoter Jay Shell, whose River Jam event has been moved from Ridge Ferry Park to the Coosa Valley Fairgounds, posted on his Facebook page a promise to shut down the music at his May 24 event by 11:30 p.m.