City, county collecting less sales tax each year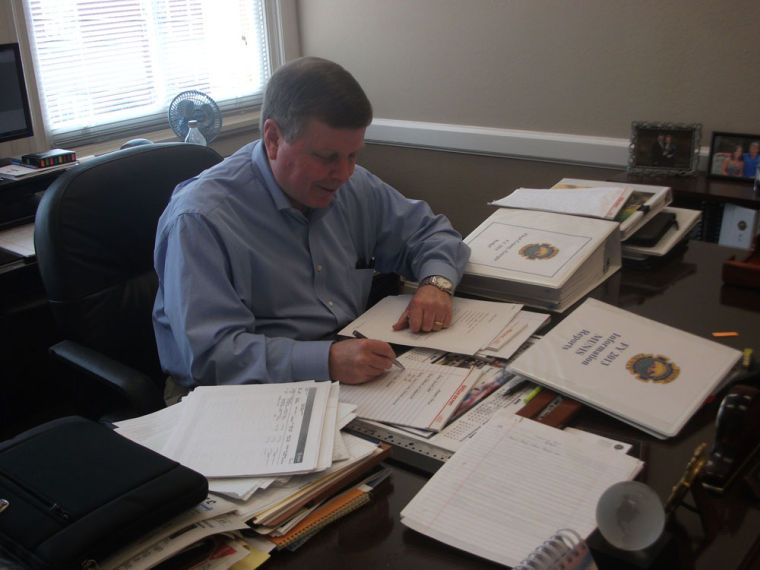 Sales tax collections for the city and county used to grow each year, helping the governments dole out raises and build a nest egg.
Those days are gone, though, and officials don't know when, or if, they'll return.
"There are several factors that play into it," said Gary Burkhalter, the county's finance director.
According to Burkhalter, county revenues have dropped since 2008. It collected $900,000 less in 2013 than the year before — an 11-percent drop.
There's a $1.4 million difference in collections when 2008 and 2013 are compared. The county received $9 million from sales tax in 2008. It got $7.6 million last year.
The city finds itself in a similar situation. Rome collected about $5.59 million last year in sales tax — a 10-percent reduction from the previous year.
Rome collected about $6.6 million in 2008, said Toni Rhinehart, the city's assistant finance director.
Local businesses collect 6 cents on every dollar for tax purposes.
Four cents go to state coffers, 1 cent goes to the local option sales tax, and the final cent goes to an education local option sales tax. A 1-cent special purpose, local option sales tax begins April 1, raising the sales tax to 7 percent.
Lower revenues led the County Commission to make several cuts in its 2014 budget. The Rome-Floyd County Library and Rome-Floyd County Parks and Recreation Authority both took hits, as did nonprofits that get county funding.
It's difficult for officials at either local government to pinpoint precise reasons for the revenue drop.
"Some of these things are ongoing," Burkhalter said. "We don't know how much a role the (national) economy plays in our local economy."
City and county officials, however, have some good guesses at what's making a difference in their sales tax collections.
The loss of excise tax is one culprit. Last year the state exempted energy manufacturers from sales tax. Local governments have the option of reinstating that tax, though the county and city opted against it.
Officials also are concerned about the Title Ad Valorem Tax. The TAVT, enacted last year, is a new method of taxing vehicle license tags. Drivers who buy cars after March 2013 and drivers transferring a tag into Georgia pay a one-time fee the first time they get their tag instead of an annual fee on their birthday.
Both city and county leaders have voiced their concerns about the TAVT to state legislators. Bennett said some newcomers to the state are calling it a "Welcome to Georgia" tax.
Local leaders also point to the Georgia Agriculture Tax Exemption, or GATE, cards.
Officials worry that the restrictions are loose, and that it's too easy to obtain the cards.
Additionally, City Manager John Bennett has pointed to a drop in building permits over the past several years. They're currently 20 percent of their 2007 levels.
Officials can't put their fingers on definite reasons for decline because they don't have the right information.
Getting that information has led to a struggle between local governments across the state and Georgia's Department of Revenue. Both Burkhalter and Assistant City Manager Sammy Rich point to information held by the revenue department that would help them identify where they're losing sales tax revenue.
State coffers are filling up, while Rome and Floyd County's bank accounts are shrinking. That causes local leaders consternation because they don't know why and can't get the revenue department numbers that would tell them.
"That is an ongoing struggle," Rich said. "It's hard to know what's missing, what's changed, what's happening."
According to Rich, the revenue department opposes releasing specific data about business tax collections because it's proprietary.
He'd like to see the data categorized by what type of business and not necessarily by each individual business.
"Even that would be good," Rich said.