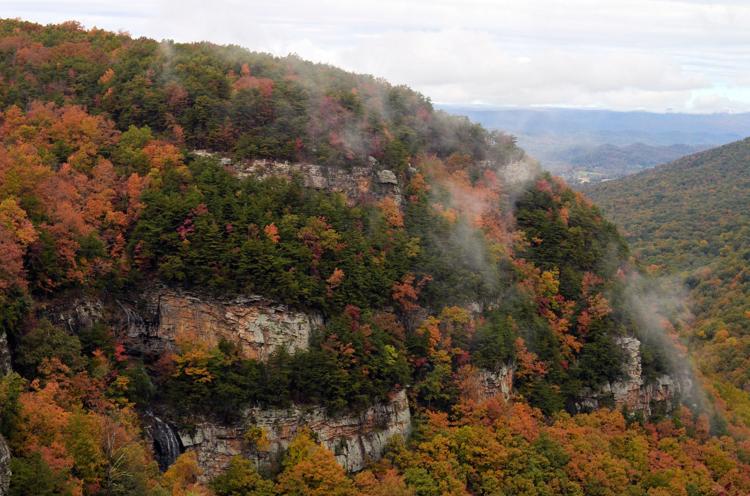 The tapestry of color in the mountains draws people from metropolitan Atlanta and all across the Southeast for weekend getaways, whether it be for primitive camping in a state park to a day-trip across the northern tier of the state.
Kim Hatcher, communications manager for the State Parks and Historic Sites division of the Georgia Department of Natural Resources, said, "Leaf season, October and November, generates 17 percent (1.6 million) of our annual statewide revenue." She said the summer season actually does generate a higher percentage because visitors usually are able to stay for a week or two at a time as opposed to the fall day or weekend trips.
Camping occupancy is much higher during the fall months, with a typical occupancy rate of 56 percent during the month of October as compared to 44 percent average for the year as a whole.
"People start asking questions about when to visit in September, it's amazing," Hatcher said. If one waits until September to make reservations for a cabin space in October or November, they're quite likely to get shut out. Cabins become available 13 months to the day from when an individual or family wants to make a reservation. If one wanted a cabin at Sloppy Floyd the first Saturday in November in 2019, they could, and should, have made that call the first Saturday in October of this year.
Hatcher said it's not unusual for families to ask for the same cabin, or same camping pad on the same weekend year after year after year. "I have run into the same family two Octobers in a row on the same weekend at Vogel," Hatcher said.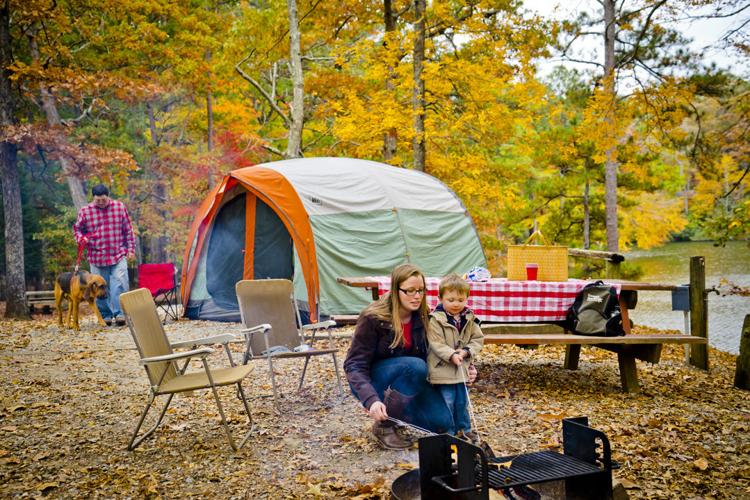 And it's not all related to the parks. Melissa Cummings, a communications officer with the Department of Natural Resources Game Management division, said that hunters and anglers contribute mightily to the success of all of the outdoor programming through the purchase of their licenses along with ammunition, tackle and all of the accouterments necessary for a weekend in the wild. In fact, 41 percent of the DNR budget comes from the return of excise taxes on outdoor equipment via the Pittman-Robertson Act and the Dingell-Johnson Act.
Cummings said every time a hunter or angler makes a purchase in any town, at a convenience store, grocery store, hotel, restaurant, wherever, they are contributing to the economy of that city or county.
Cummings could not break down the data by season but said that clearly deer hunters make up the lion's share of the hunters and all of that occurs during the final third of the year.
Hunters account for $977 million in retail sales in Georgia annually, up half a billion dollars over the last decade. Hunting is responsible for almost 24,000 jobs in Georgia, $600 million in salaries or wages, more than $145 million in federal tax revenue and $106 million in state and local tax revenue.
Fishing is responsible for $1.3 billion in retail sales, more than 15,600 jobs, $622 million in salaries and wages along with $147 million in federal tax revenue and $109 million in state and local tax revenue.
Steve Bekkerus, a public affairs officer with the U.S. Forest Service Chattahoochee-Oconee National Forest, said that fall is definitely peak season for a lot of use across the forest, from leaf watching to hunting.
"It's a huge economic benefit to local communities, and we work real hard to keep the roads in good shape," Bekkerus said.
 The DNR website lists the top ten parks for leaf watching as Amicalola Falls at Dawsonville, Black Rock Mountain near Clayton, Cloudland Canyon on Lookout Mountain, F.D. Roosevelt at Pine Mountain, Fort Mountain outside Chatsworth, Moccasin Creek close to Lake Burton, Smithgall Woods near Helen, Tallulah Gorge near Clayton, Unicoi near Helen and Vogel State Park near Blairsville.
It lists Red Top Mountain near Cartersville and Sloppy Floyd State Park near Summerville as "hidden gems" within the state park system.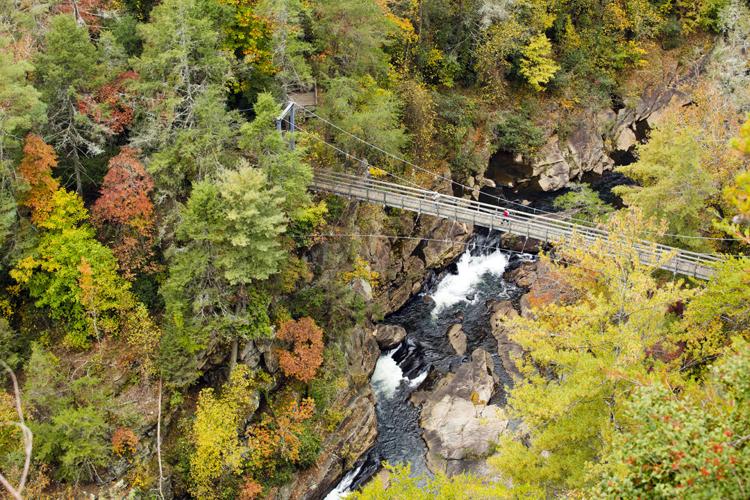 Hatcher said that Tallulah Gorge and Cloudland Canyon may stand out a little more than the others.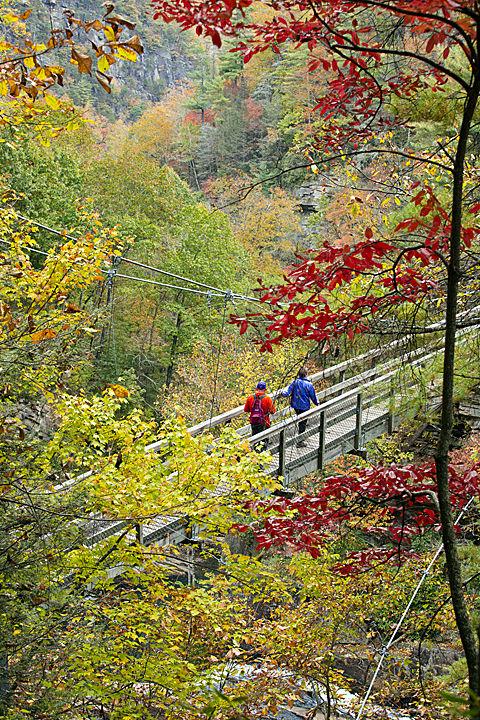 Tallulah because it is right off the heavily traveled U.S. 441 and easily accessible.
"Cloudland, you have to be going there to get there, but people find it so beautiful that it's worth the drive," Hatcher said.
The revenue stream from the gift shops at the various parks has been growing steadily over the last decade.
"We have put an emphasis on improving the gift shops and our visitors like it. We get feedback from them that they want to buy things," Hatcher said. "We're selling much more different, fun things than we were, say, 10 years ago. One of the biggest sellers are cricket chips, food made from insects. People buy them, probably to give to somebody as a joke, but they're big sellers."
The parks have also instituted a rewards system which offers visitors rewards for purchases that can be used to get discounts off shelter reservations, golf and other park amenities.
Bekkerus said the overwhelming majority of U.S. Forest Service recreation sites are available at no cost, but that campgrounds with amenities such as restrooms and showers and a few others with specific day use facilities such as a boat launch do charge a fee. Like the state parks, it's not unusual for some of the campgrounds to fill up early. The fees, which are generally a self-pay cash drop, are minimal, but do help provide additional revenue to keep the sites in good condition for visitors.
There are a number of special events coming up in the mountains across Northwest Georgia in the coming weeks.
A Fall Foliage Hike is set for Oct. 13 at Cloudland Canyon. The walk will begin at 11 a.m. For additional information contact the park at 706-657-4050.
Red Top Mountain State Park will host a Journaling Journeys program Oct. 13 that encourages participants to take notes and write about their visits in nature. Contact park rangers at 770-975-0055 for details.
Rangers will lead an Overlook Hike at the Rocky Mountain Public Fishing Area in the Big Texas Valley of Floyd County on Oct. 13. The hike is slated to begin at 9 a.m. More information is available by calling 706-802-5087
A Movie by the Water program is also slated for the Rocky Mountain project Oct. 20 at 7 p.m.
Native American Heritage Day will take place at New Echota State Historic site in Calhoun on Nov. 3 with special Cherokee guests offering demonstrations of games native youngsters might have played a couple of hundred years ago when New Echota was the capitol of the Cherokee nation. Call 706-624-1321 for more information.