Berry trustees reaffirm decision to hold off on new stadium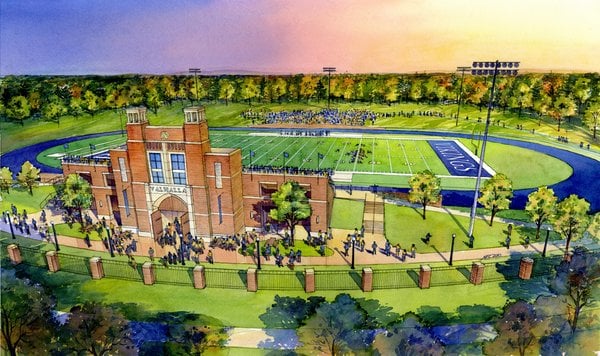 The Berry College Board of Trustees has decided to move forward with renovation to the old Richards gym while waiting to start work on a new football stadium until all of the fundraising for the stadium project has been completed.
The trustees met this weekend at the school.
The Richards gym will include locker room facilities for the Berry football, lacrosse and tennis programs, new offices for those sports programs, and there will be a practice field constructed next door, according to Jeanne Mathews, assistant VP of public relations and marketing.
Berry Athletic Director Todd Brooks said the biggest influence on the whole athletic program in general will involve the conversion of a portion of the old gym into a strength and conditioning center that will be used by the athletic programs and general student population as well.
"The gymnasium that is currently in there, we are going to continue to use that. We're going to renovate the floor," Brooks said.
"We will continue to use it for summer groups. It can be used for basketball camps, tennis can use it during inclement weather and it will serve as a meeting room for large staff activities," Brooks said.
Brooks could not say when contractors would actually begin the work on the Richards gym complex. The new football stadium, to be called Valhalla, will be built between the Berry College Cage Center and the Martha Berry Highway, taking advantage of two points of access, the main entrance to the college and a service entrance slightly to the south of the main entrance.
The stadium location also takes advantage of the existing parking lot for the Cage Center.
The original footprint of the stadium has been shifted approximately 40 yards to the south in order to satisfy terms of a permit from the U.S. Fish and Wildlife Service so as not to disturb a bald eagle nest that is located just off the northern end of the stadium footprint.
At the time the permit was issued, it was not certain that the eagles would continue to use the site after starting nest building activity in March 2012. The eagles returned to the site in late October and are now raising at least two young on the nest, which has been drawing large numbers of onlookers on weekends.
Brooks said Berry football coach Tony Kunczewski hopes to have between 60 and 80 athletes out for the new Berry team this fall. The college is expected to play its inaugural season at Barron Stadium.