MARIETTA — Cobb and Fulton county residents concerned about the industrial use of a carcinogen near homes and schools received a small apology from government agencies Monday night for failing to properly inform them of elevated cancer risks.
The Georgia Environmental Protection Division and the U.S. Environmental Protection Agency are now both promising to better inform the public going forward, representatives told around 900 people who packed the Cobb County Civic Center for a 5 p.m. open house and 7 p.m. community meeting on the issues surrounding ethylene oxide use and emissions at the Sterigenics plant near Smyrna.
Hundreds of people at the meeting displayed bright orange T-shirts and posters made by the Stop Sterigenics Georgia group that recently formed in opposition to the use of ethylene oxide at the company's site, where medical supplies and equipment is sterilized with the toxic chemical.
Many wanted to know why the latest available air monitoring data, published in August 2018, wasn't publicized by government agencies at the time, despite it revealing relatively high concentrations of ethylene oxide in the atmosphere around Sterigenics' Smyrna-area plant.
Instead, Georgia Health News and WebMD published a report citing the elevated levels in late July, alerting politicians and residents alike.
"We at EPA have heard you, we know you're concerned, we take this very seriously," Environmental Protection Agency Region 4 Administrator Mary Walker told those at Monday's meeting.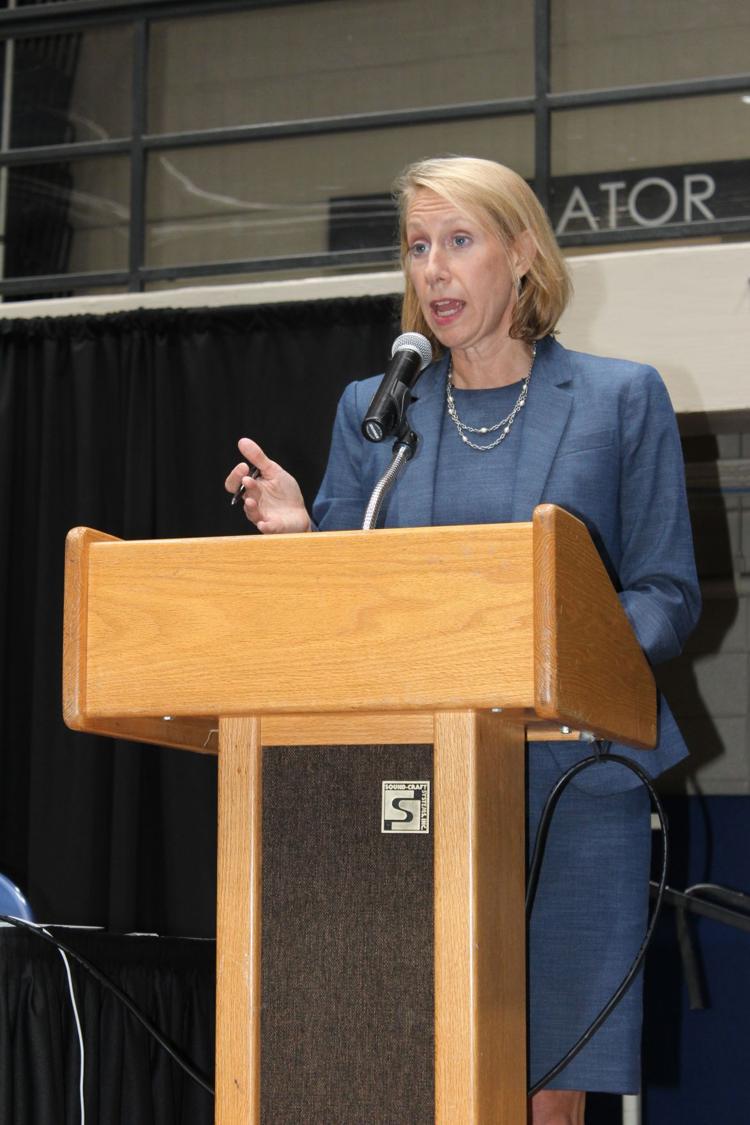 The Georgia EPD is also trying to reassure residents it will do better, having come under fire regarding the lack of publicity or community warning of the August 2018 National Air Toxics Assessment.
The 2018 NATA highlights two Cobb and four Fulton county census tracts surrounding the Sterigenics site, which have some of the state's highest levels of ethylene oxide, and elevated cancer risks.
Karen Hays, of the Georgia EPD's Air Protection Branch, said the agency's focus, right or wrong, was to take the National Air Toxics Assessment results and discover more about the actual risk in Georgia and around Sterigenics in particular before warning the public.
"I hear you, that we should have talked to you long before that," Hays told the crowd. "We found in Georgia the risk is higher than what the EPA considered acceptable and we were completing that project when the article was released," she said, referring to the July news report.
Ken Mitchell, of the EPA's Region 4 Air and Radiation Division, told meeting attendees the NATA results are not locally specific enough to be useful without further analysis, but he too will make an effort to be more engaged with the public.
"As we go forward, we've learned from you that we need to think deeply about how and when we release the metadata and how we talk about it with folks," he said. "The next time the NATA comes out, we will be more thoughtful about how we provide information to communities."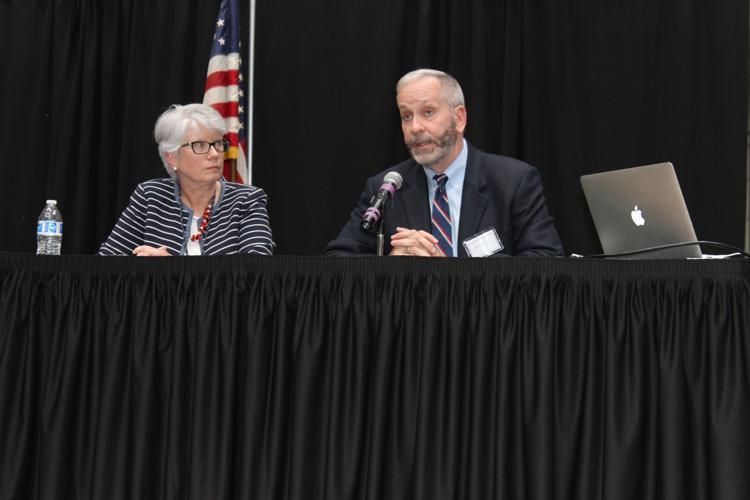 Those responses were met with jeers and snickering from some audience members, who also asked why Sterigenics is allowed to use and emit a carcinogen in a facility so close to schools, houses, churches and other neighborhood facilities.
EPA and EPD staff at the meeting reiterated the company is operating within existing laws, meeting the thresholds in the Clean Air Act.
Despite this, Sterigenics reduced its emissions by over 90 percent in 2016 from the 2014 levels used in the 2018 NATA, Walker said, adding that the company is now legally bound by an agreement with the Georgia EPD to further reduce its current emissions.
That is expected to happen by January, once additional emission-reducing measures have been installed at the plant.
"I want to assure you that we take even the possibility that there are harmful levels of any chemical in our air very seriously," Walker said. "We're committed to ensuring your safety, working openly and transparently, answering your questions, listening to your input and continuing to communicate with you going forward."
Nobody from Sterigenics was at the meeting to address the public's concerns, but Hays said the new measures should drop the company's emissions down to about 40 pounds a year, "which is very low."
"They're going to wrap all indoor air, future emissions in other words, through a controlled device before it exits the building, basically pulling a vacuum on the whole facility and those emissions will be routed through a dry bed system, absorbent-type system, to capture those emissions before that source is discharged via a stack," Hays said. "They're also adding some secondary control device to reduce the emissions from their sterilization chambers and their aeration chambers."
Sterigenics does not have to monitor its emissions beyond its fence line, under the Clean Air Act, but independent air testing is jointly being commissioned by the Cobb County Board of Commissioners and the Smyrna and Atlanta city councils.
The work, to be undertaken by independent firm GHD Environmental and Consulting, Inc., requires about $40,000 each from the Cobb and Smyrna governments.
Cobb commissioners approved their contribution Aug. 13 and Smyrna council members followed suit at their regular meeting Monday night, before they attended the Sterigenics community meeting.
Speaking at the City Council meeting, Smyrna Mayor Max Bacon held out hope the cost of independent testing could be split even further.
"I believe that the Cobb County school board, hopefully, they will become a partner in this and that will reduce our contribution," Bacon said.
But school board Chairman David Chastain told the MDJ on Tuesday that's not the board's job, nor its intention.
"That was him wishful thinking out loud," Chastain said of Bacon's remarks. "We haven't discussed it as a board so I can't speak for the board, but personally I think between the state and local agencies, they're handling it and that's their job."
He said Cobb children's health and welfare is of concern, and he was impressed with the presentations at the Sterigenics meeting, which he attended alongside fellow school board member Jaha Howard.
"I really think that unless we find some gargantuan number in the new testing I don't think we need to panic," Chastain said. "I felt pretty good when I walked out."
Others weren't so relieved.
State Sen. Jen Jordan, D-Sandy Springs, held a press conference immediately after the meeting with House Rep. Erick Allen, D-Smyrna, calling for Gov. Brian Kemp to shut Sterigenics down until the emissions issue can be resolved, citing similar action at the Sterigenics plant in Illinois.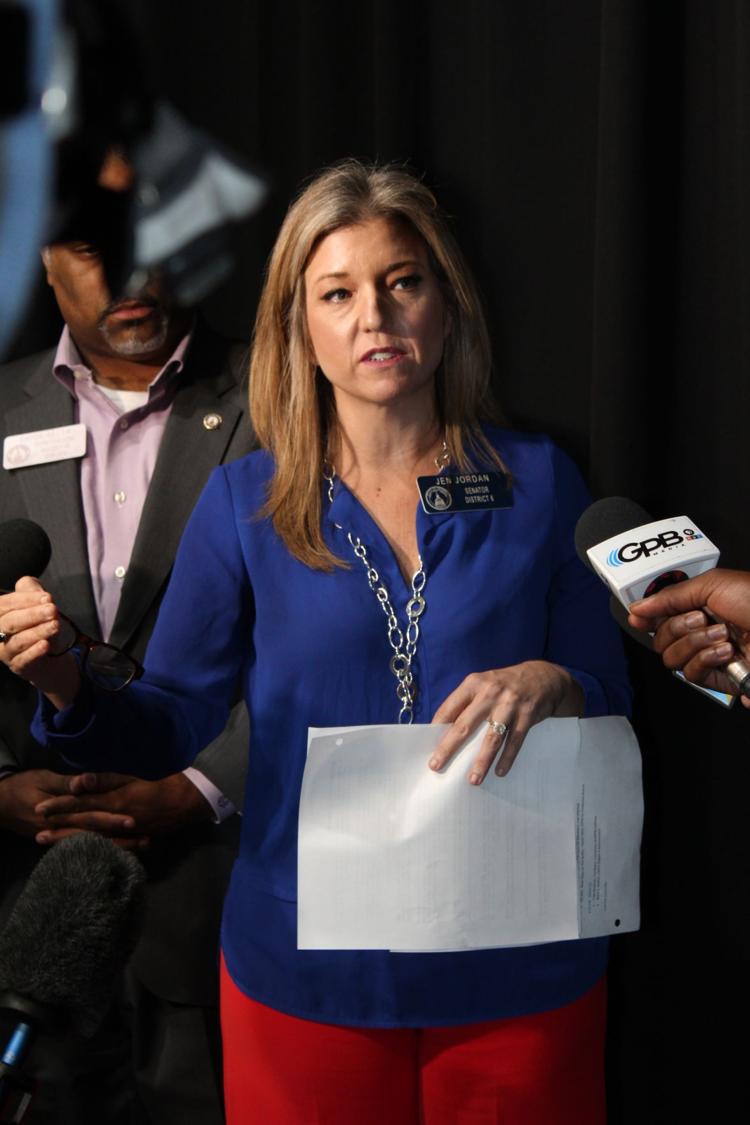 "Sterigenics here continues to operate while we have no clue exactly what's being emitted into our community and that's a problem," Jordan said. "We have a road map for exactly how this should play out here and unfortunately there's been a lack of leadership from top to bottom."