MARIETTA — Watching a film on teen anxiety at The Walker School this week was an eye-opener for junior Andrew Smith. While he hasn't struggled with an anxiety disorder himself, Smith said he's seen the impacts on his peers.
Those impacts are sweeping, according to Jerry Bubrick, senior clinical psychologist at the Child Mind Institute's anxiety disorders center, who participated in a question and answer session after the screening.
Thirty percent of teens will have a diagnosed anxiety disorder by the age of 18, but 70 percent will go without treatment, according to Bubrick, who said "constant and immediate access" to an overwhelming amount of information is partially to blame for the rise. More attention to the problem has also resulted in more diagnoses. The solution, Bubrick said, is preparing children for daily challenges by helping them work through them, not always solving problems for them.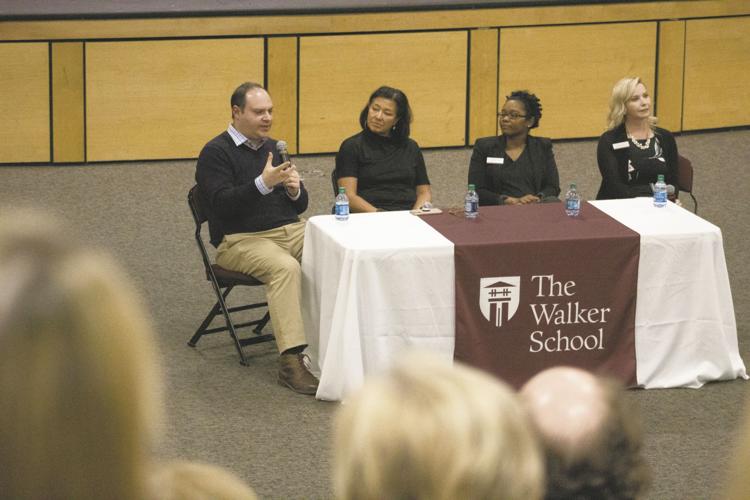 "For me, what it comes down to is the skill set. How capable is your child of dealing with uncertainty? Because that's the hallmark of anxiety," he said.
The 45-minute film, "Angst," which has been shown at more than 1,200 schools and across 22 countries, featured testimony from teens, children and parents and explored the difference between general nerves and anxiety disorders. That difference, the experts said, is in how seriously the anxieties affect the individual's day-to-day activities.
Smith said the anxieties he sees most often in his peers stem mostly from school assignments.
"We go to Walker, and it's a fairly academically challenging school, so we've felt test anxiety," he said. "I don't mean this in a mean way, but when you think of an anxiety disorder, personally, I just think of people being stressed out a lot. But it really opened my eyes to how it can be really debilitating for people."
He added that social media and a constant flow of information are also an ongoing source of stress.
"I know people who are constantly worried about everything from followers on Instagram and Twitter and stuff and how many snapchats they get a day, and that just really stresses them out. They're all worried about having the most and being the best," he said. "I would definitely say it's growing. It's pretty prevalent, both academically and socially, with my group of friends."
Smith said he agrees with the film's suggestion that anxiety is being recognized more in teens, but added that The Walker School, with 872 students, has a good student-to-teacher ratio and programs that promote mental and emotional health.
"While we have rigorous academics, we know the value of social and emotional development. So we really try to provide opportunities to educate and to talk about these issues," said Jennifer Swales, a middle school counselor at the school. "Our main goal of bringing 'Angst' to campus was to have important conversations and sort of destigmatize the experience of anxiety so we're more comfortable talking about it and getting help."
Swales said the school has counselors for every division of its learning programs, which include children as young as 3. She said, as is mentioned in the film, it is important for parents and students to learn about and cope with anxiety together so that children are better prepared for their futures.
"The trend I'm concerned about is how many students are able to get through high school doing well and then hit a wall in college. We want to make sure we're preparing our students for what awaits them after graduation as well," she said. "I really do believe, as hard as it is for your child to struggle, it's so much better for them to have those challenges while they're at home so that parents can help support them and connect them with strategies."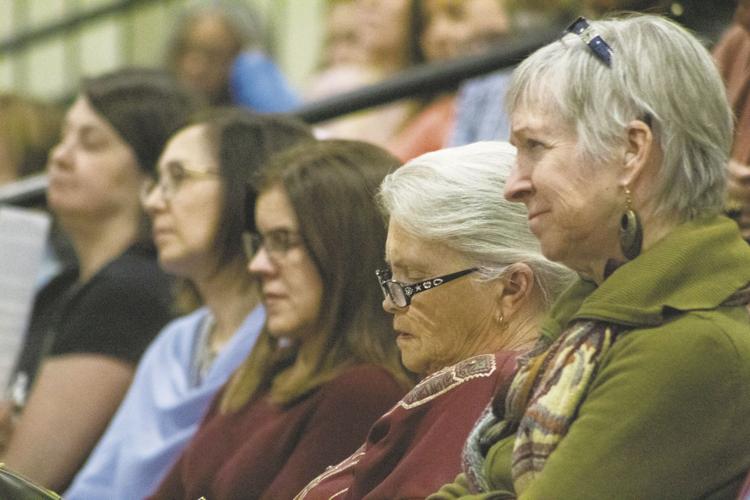 "Angst" executive producer Scilla Andreen and school counselors Swales and Chrystyl Tutt joined Bubrick on the question and answer panel after the screening.
Andreen introduced the film to the 100-plus attendees, saying that she never set out to make a film about mental health but was moved by a friend's suicide to make a film of hope for young people and their families.
"(She) asked me to make a movie about mental health, and I had said no, but then when she died, it became my mission," Andreen said.
She said "Angst" aims to raise awareness of and remove the stigma surrounding anxiety.
Students of all ages described in the film their personal experience with anxiety stemming from school work, tests and social media, and included examples that in some cases kept them home from school.
Mental health experts explored the anatomy of panic attacks, obsessive disorders, avoidance and physical symptoms, explaining the brain's processing and discussing solutions. The film also included an interview with Olympic gold medalist Michael Phelps, which chronicled his own struggles with anxiety and depression as recently as 2014.
Stephanie Myers, parent of a middle school Walker student, said the screening and follow-up discussion was reaffirming for her. Myers said it was comforting to hear that anxiety happens to everyone but "there are ways to get away from suffering."
"As a parent, I think it's just hearing them and not trying to fix it, just having those conversations with our children. That's what we do at our house," she said.
"Angst" will screen at Marietta City Schools this month. Marietta City Schools Superintendent Grant Rivera said Thursday he looks forward to sharing it with his students.
The film is not yet available to view online. For more information on the film, visit www.angstmovie.com For more information on the Child Mind Institute, visit www.childmind.org.