A five-block section of Canton Street in historic downtown Roswell will become a public park on April 28, for Roswell Moves!, an open streets event.
All spaces along this corridor — sidewalks, lawns and the street itself — will be free of motor vehicles and used for complimentary activities, games and demonstrations to promote healthy lifestyles. 
The popular tree-lined, commercial section of Canton Street between Woodstock Road and Magnolia Street will be closed to motorized vehicles from 10 a.m. to 4 p.m. 
The sections of Canton Street which will be used include the south end of Canton Street from Magnolia Street and Elizabeth Way to Norcross Street, the north end of Canton Street from Norcross Street and Plum Street to Woodstock Road.
"This innovative experience aligns with Bike Roswell's mission of creating a more bicycle friendly Roswell and getting more kids, families and people out on bikes and just active in general," said Nathan Sears, chairman for Roswell Moves! and board member of Bike Roswell! "Hopefully we can start a conversation about what the purpose of our public right of ways are, and how can we imagine our streets to be more liveable, walkable and bikeable places. An open streets event like Roswell Moves! is a perfect way to do that."
Some activities at the event include hot yoga, an REI pump track, outdoor games, bike obstacle course, free bike checks and a pop-up library, The Chattahoochee Nature Center will also be present with educational displays and games.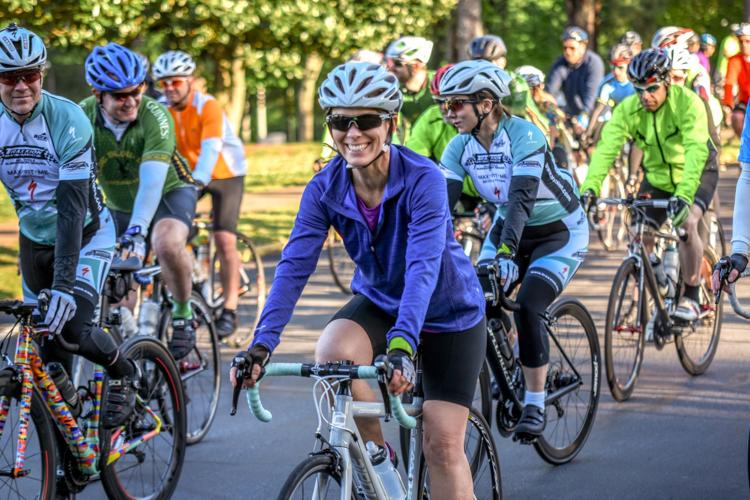 SCHEDULE OF EVENTS:
8 a.m. Bike Roswell! Mayor's Ride begins from Roswell Area Park. This fully-supported, recreational bicycle ride has options of 18, 42 and 64 miles. Regular registration is $45 per rider in April, and $55 day-of event on April 28.
11 a.m. Family Bike Parade. All wheels are welcome as Bike Roswell! leads a bike parade from the Heart of Roswell Park to Woodstock Road and back. Bring your own pedal-powered vehicle, skateboard, scooter or wagon and a helmet.
11:30 a.m. Korsi Yoga will lead "Yoga in the Street" at the south music tent near Heart of Roswell Park
12-3 p.m. Registration begins for Kids Bicycle Safety Rodeo held by the Historic Roswell Kiwanis. Bring a bicycle and a helmet, get a free bicycle inspection from Roswell Bicycles. All kids who complete the rodeo will be certified to ride the REI pump track.
12-3 pm. Atlanta Plays it Forward presents two stages of live music. Featured bands are 120 East and Atlanta Dance Party. One stage will be positioned at Canton Street near Highway 9 on the south end of the festival, and the second stage will be placed on North Canton near Woodstock Road.
"Streets are about more than just moving cars, they are about moving and connecting people and our community and that is exactly what this event does," Sears said. "We were really pleased to see so many folks walk or ride their bikes to the event from the surrounding neighborhoods."
Roswell Moves! officially begins at 8 a.m. with the Bike Roswell! Mayor's Ride at Roswell Area Park.
This full-supported, recreational bike ride offers distances of 18, 42 and 64 miles. The 18-mile option provides a flat route along the Chattahoochee River. All ride options provide pre-ride mechanical support, fully stocked rest stops, and post-ride lunch.
Lunch is sponsored by Lucky's Burger and Brew and Red Hare Brewing Company.
The Mayor's Ride is the largest fundraiser of the year for Bike Roswell! Visit www.bikeroswell.com/rides-maps/mayorsride/ to register for the ride.