MARIETTA — When Angie and Doug Beighley traveled to Florida in September 1993, three months before their son's due date, they thought it would be the final vacation before becoming a family of three. Baby Tim had other plans, and they soon found themselves in the delivery room at a hospital in Ft. Walton.
"Last trip before the baby came, and he decided to come three months early," Angie Beighley said.
When Tim was delivered just 37 minutes after they arrived at the hospital, Angie Beighley said the news got worse. The couple's son was diagnosed with cerebral palsy, a group of disorders that affect movement and muscle control caused by abnormal brain development or damage to the brain.
"He had a brain hemorrhage, a grade 3-4 — a 4 is the most severe," she said. "It kind of gave a whole new meaning to taking it one day at a time. ... I think at first you just kind of go numb. You don't know really what to think."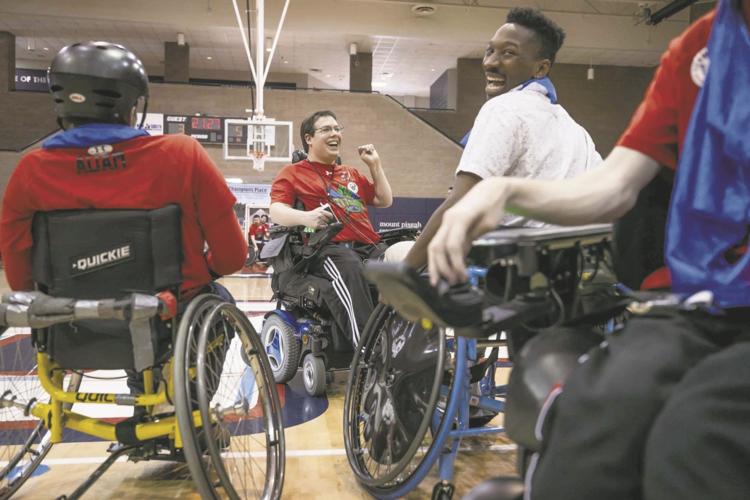 But from the start, cerebral palsy hasn't stopped Tim Beighley, who relies on an electric wheelchair and lives with his parents, from standing out and staying active. He said while he's faced his fair share of challenges throughout his life, "I've always been proving people wrong.
"When I was born, the doctors said I would be a vegetable. They didn't know if I would walk or talk or speak or be cognitively challenged," he said.
Tim Beighley also said because of his challenges with the Common Core math system, he attended Lassiter and Sprayberry high schools before transferring to Eaton Academy, a private school in Roswell, until his graduation in 2012. He said some people questioned how he would do in college.
Since graduating high school, Tim Beighley has earned an associate's degree from Reinhardt University and a bachelor's degree in theology from Aidan University. He also went on to earn his chaplain certification and professional coaching certification.
The 25-year-old said he has always loved to bike and play wheelchair sports, and throughout his life, they have been an outlet to continue proving people wrong. It was by utter chance that he said those hobbies led him to racing.
One day while getting his bike adjusted, he was introduced to brothers Kyle and Brent Pease of the Kyle Pease Foundation, a nonprofit with the goal of raising awareness and money to promote the success of people with disabilities through sports. Kyle Pease also has cerebral palsy, and his brother pushes him, bikes and swims with him through various races, including triathlons.
"The friendship took off. They invited me to race," Beighley said. "The first time I raced, I just loved it, and I've been hooked. I wanted to get more serious with it."
He has since raced in "numerous 5Ks" and will compete in his third Publix Half Marathon on March 17, and this year, the race holds special meaning for him. He and members of his wheelchair sports group, Team Titan, have a goal of raising $100,000 for Champions Place, an independent living residence in Roswell designed for young adults with physical disabilities. The Champions Community Foundation is the nonprofit heading up the project. Competitors who will run the race with and push the Titan athletes in their bikes will be raising money for the Kyle Pease Foundation.
The Titans' $100,000 benchmark aims to furnish and contribute to common areas for Champions Place, including gazebos, outdoor patios, a fire pit and outdoor cooking area, bocce court, raised garden beds, entertainment systems, as well as purchase porch furniture and appliances.
Angie Beighley said the idea for the facility was born out of a conversation between Titan parents, who began to wonder what would happen to their children when they were too old to care for them.
"The only other option besides Champions Place is a type of nursing home. There's no independent living facility for people with physical disabilities," Tim Beighley said.
Ground has already been broken and construction is underway for the Champions Place in Roswell. According to the Champions Community Foundation website, the facility is the first of its kind, will accommodate 16 residents and will include common space for the more than 80 Titan athletes in the community. It is expected to open in January.
Rick Thompson, executive director of the Champions Community Foundation and Titan parent, said once the Champions Place is built and perfected, the organization will plan for more buildings and share its plans with others. Thompson said across the country, there is a shortage of facilities specifically for adults with physical disabilities and the organization wants to start a movement.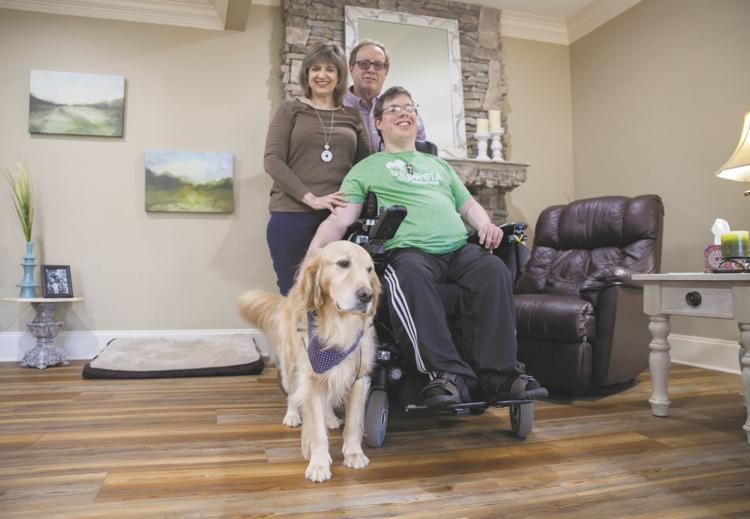 For Tim Beighley, advocacy doesn't end with the upcoming race or completion of the Champions Place. On Tuesday he visited the state Capitol to advocate for people with disabilities. He is employed part-time with Georgia State University's Georgia Leadership & Education in Neurodevelopmental Disabilities program, teaching college students and staff about disabilities.
Each morning he wakes up with a sense of purpose, he said.
"I believe God's purpose for my life is to encourage and inspire others," he said. "I wake up every day and try to fulfill that purpose in my life, and I leave the rest up to God."
For more information on the Champions Community Foundation and Champions Place, or to donate to the Titans' fundraising efforts, visit www.championscommunityfoundation.org.
The Publix Half Marathon will begin at 7 p.m. on March 17 at Centennial Olympic Park in Atlanta.