KENNESAW — Kennesaw State University's fall enrollment grew by 6.7%, or 2,387 students, over fall 2018 to a record high 37,807, the university recently reported.
The latest enrollment numbers from the state's third-largest university bring it within 1,113 students of the University of Georgia, the second-largest university in the Peach State, according to enrollment data from the University System of Georgia released this week. UGA's student body reached 38,920 this fall.
Georgia State University holds solidly onto its position as the state's largest university, with a student body totaling 53,619, according to the USG.
KSU's growth placed second among universities in the USG. The Georgia Institute of Technology, which grew 11.5% from 32,723 to 36,489, was the only university with a greater increase.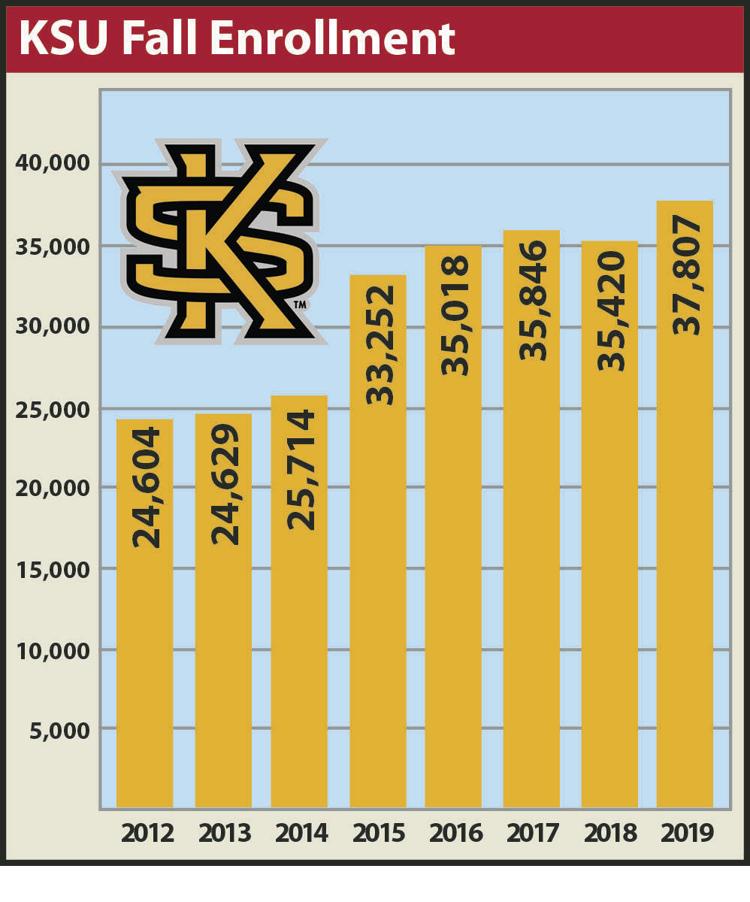 "These numbers are strong indicators that students recognize the immense value and opportunity to be had at Kennesaw State," KSU President Pamela Whitten said in a news release. "As more Owls arrive, we are working to ensure our diverse and talented pool of faculty increases proportionately to that of our student body, and that we continue to fulfill our promise that every student leaves with a world-class educational experience."
In August, KSU also announced it had welcomed its largest freshman class at nearly 6,500. That number represented a more than 30% increase over fall 2018.
To supplement its growth, KSU officials have announced the university will hire more than 80 new faculty members and 30 advisers this academic year.
To address increasing demand for student housing, the university plans to construct a new residence hall adjacent to the existing Austin Residence Complex on the Kennesaw campus, just north of Chastain Road and west of its intersection with Interstate 75, according to its news release.
The proposed residence hall, presented Tuesday at the Board of Regents' monthly meeting, calls for a 514-bed residence hall with a targeted opening of fall semester 2022.
In light of the continued growth, some KSU students say the university should also be expanding parking and dining facilities.
Emily Smith, a fourth-year commuter student and psychology major, said nearly every time she searches for a parking spot in many of the Kennesaw campus's parking decks, there are long lines awaiting her.
Smith also said in the campus's main dining hall, The Commons, students often have to walk around for at least 10 minutes during peak hours looking for a seat.
"Especially on Thursdays, when they have fried chicken, it's super busy in there," she said, adding that lines at the student center eateries often have longer waits and study space at the library is sometimes lacking.
Smith pointed out that even though enrollment at KSU is only about 1,100 students shy of UGA's, the Bulldogs' campus is much larger.
"I definitely think Kennesaw (State) needs to expand," she said. "Our campus is not even half of what UGA is."
KSU was chartered as Kennesaw Junior College in 1963, and welcomed 1,014 students and 37 faculty when it opened its doors, according to a university fact book.