MARIETTA — Northcutt Stadium could be switching from grass to turf as soon as next football season, Marietta School District officials say.
The football stadium, located at Marietta Middle School, underwent an $11 million renovation beginning in 2014 to add seating, widen the field, construct new concession stands and improve lighting. At that time, the school board chose to continue using grass on the field.
But the field's poor drainage has led the Marietta school board to consider spending $750,685.40 from a 1 percent sales tax for education for installation of artificial turf.
"It's not draining properly. It's a muddy mess. When we go later into the season and host playoff games, there's a potential where it's not even feasible to play there," said Jason Waters, school board chairman. "We built a nice stadium, and we need to have the turf that is actually going to be playable."
Superintendent Grant Rivera said installation will also improve the utility of the field, allowing more teams and clubs to use it. Rivera said team sports from both the middle and high school, as well as the middle school band and physical education classes will be able to use the field once artificial turf is installed. He said districtwide events could also be held at the stadium.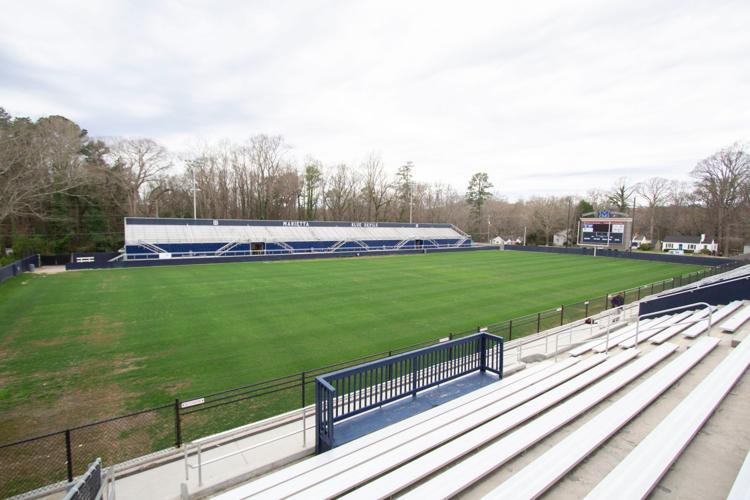 Waters conceded that the natural surface of the field, which was a point of discussion during renovation planning, has not stacked up to expectations. He said the goal of installing the artificial turf is to face that fact and fix the problem.
"When something doesn't work out as planned, you have to fix it. So my goal is to fix it and have it work for football and everybody else," he said.
Revenue from the education sales tax, approved by voters in 2017, includes money for installation of turf on two athletic fields in the Marietta system. The high school soccer field received the first of the two installations. Rivera said the school district had the choice of installation at any other practice or game fields, but Northcutt was selected as the highest priority project, given its "athletic and academic use."
Waters said he is hopeful that installation can begin shortly after graduation and expects the project to be completed before the start of football season. He also said the sod that will be removed during turf installation will be re-purposed around the high school property and on practice fields.
Every other high school in Cobb County has artificial turf football fields. The Northcutt installation project will be completed by R.K. Redding Construction, Inc.