Cafeteria problems at Fairyland Elementary resurrect frustrations over school board policy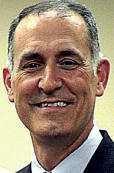 What was expected to be a 20-minute short and sweet routine meeting of the Walker County school board ended up being a nearly two-hour and sometimes bitter and ugly session Monday night, Oct. 15.
More than 100 people — nearly half of them children — from Fairyland Elementary School on Lookout Mountain confronted and bombarded Schools Superintendent Damon Raines, demanding explanations, answers and solutions to an ongoing cafeteria problem.
The school cafeteria has not been totally functional since the major freezer broke down in late June. Though this problem is now fixed, a series of issues has necessitated daily transporting lunch for the students from Ridgeland High School at the foot of the mountain. Since June two other freezers have gone out, the school cafeteria director quit without notice, two other cafeteria workers have quit, and there have been no trained workers to man the cafeteria.
Thus food is transported to the school daily and School Food Nutrition Services Coordinator Michelle Coker has been manning and supervising the cafeteria operations almost daily recently. Coker reassured the parents that "these children are our priorities" and that everything is being done and will be done to keep the cafeteria running until a full staff is trained and until all physical and staff issues are solved.
Superintendent Raines also tried to reassure the parents, saying, "They're currently cooking things in their kitchen every day. It's just limited because their training is ongoing. So we are providing someone from Ridgeland (High School) to come up and work with them every day to make sure that they're specifically trained on everything that they need to do."
Parent comments made it obvious, however, that the issue was about much more that the school's cafeteria. In fact, flyers claiming the school board is "stonewalling" them over cafeteria issues were distributed outside the school encouraging parents to attend a silent protest at a school board meeting Monday night.
One of the major complaints and festering issues Monday night was the lack of communication between parents and school and school system officials. Repeatedly parents pleaded with Raines, "Please communicate with us!" and stressed that "The biggest problem is that we have not had communication."
Raines said he met with some parents about the cafeteria issue approximately two weeks ago, where he gave them a timeline on what happened and a plan on what they'll do to resolve the issues. But parents told NewsChannel9 in Chattanooga that he actually met with only three parents in a closed meeting. The Fairyland PTO organized a parent-driven meeting last week to address the issue, and one school board member attended that meeting.
"We could've communicated more, but we feel like we got that word out," said Raines, as he fielded questions from parents after school board members had left the meeting. "I'm not sure where it's kind of unraveled, but we are committed to getting the kitchen back, fully staffed, with the manager and a freezer that's working."
In additional to poor or no communication with system officials overall is the parents' inability to talk and share issues directly with the school board. "The larger issue here beyond the cafeteria issue at Fairyland is that parents are not given any avenue to speak or address the board," parent Brett Odom said.
As board members rose and exited the board room upon adjournment following their executive session, one parent screamed, "Wait! That's it? You guys are supposed to represent us."
"Why won't the school board stay to hear all this?" another parent asked.
After the board left, Raines explained, "This is a day-today operational issue that has nothing to do with policy. So they're not going to address something that doesn't deal with policy."
He added, "We don't have a public participation policy. So while they're in session, in a quorum, they can't operate outside of that policy. That's why they left."
Raines said a public participation policy that won't be challenged in court as unconstitutional is in the works but has not been finalized yet.
Therefore, Raines and Coker fielded questions and comments from parents for more than 30 minutes. However, some parents were not placated, as one yelled, "You're not the board. You're a tyrant!" Another held a poster saying, "You cannot silence me; you will not shame me!" Overall, most parents were obviously sincere and respectful, though frustrated. "Why don't we have a policy where we can talk and respect one another and not get mad?" asked a parent.
In closing, Raines reassured the parents that he would take what he had heard and relay it to the school board members. Parent Brett Odom summarized the discussion session: "This evening was a good start, but I am concerned that the board was not part of that conversation. By creating an environment where the board is not allowed or not encouraged to hear our input, I think there's a risk of the abuse of power."