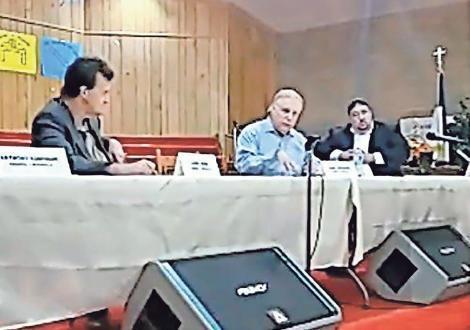 On Thursday evening, Oct. 25, the Wilson Road Neighborhood Group hosted a town hall meeting at New Covenant Baptist Church in Rossville to which they invited all the candidates running for mayor and council in Rossville.
Three of the six candidates attended: Gary Anderson, who is running for mayor and told the audience he is a retired banker; Michael Hicks, the incumbent who is running for council; and Larry Rose, owner or Rose Powersport, who is running for council.
Jason Walker moderated the hour-long question-and-answer session.
The first question Walker posed to candidates had to do with crime in Rossville: how would they address the problem?
Rose said that he has been a victim of crime in the city – his shop has been shot at and a window shattered with a bullet. He said crime is a major problem in the city and that there is a tendency to whitewash it.
Rose cited information he said he got from a website called neighborhoodscout.com that compiles statistics for investors and others. According to Rose, the website said that Rossville has one of the highest crime rates in the country. There's a one in nineteen chance of becoming a victim of a violent or property crime in Rossville, Rose said.
Rose said he believes Rossville needs to aggressively address its crime problem.
Anderson said he has also been a victim of crime in Rossville – when some men broke into his home and he shot at them multiple times. He said one way to deal with the crime problem would be to deal with the drug problem.
Hicks said he too has been a victim of crime. He said there is a lot of transient traffic in the city that makes tracking down criminals difficult. Hicks also said he'd like to see a holding facility in the north end of the county. He said officers currently waste a lot of time running back and forth to LaFayette with prisoners and dealing with paperwork.
The next question Walker posed had to do with businesses considering Rossville as disadvantaged compared to other nearby cities like Fort Oglethorpe, which he referred to as a destination city, and Chickamauga, which he said has a town square. What, he wanted to know, would have to be done to compel travelers to stop in Rossville?
Rose suggested lowering the speed limit going through the city and commented that Rossville doesn't have any branch roads.
Anderson said that the city had made a good move in hiring a full-time codes enforcement officer to help improve the appearance of properties. He also said older buildings need to be renovated.
Hicks said that Rossville has been gaining businesses due to decisions made by the council and that more businesses will give people a reason to stop in the city to visit and shop.
Walker next asked candidates about the condition of McFarland Avenue. He pointed out that TSPLOST funds were being used to pave other streets and asked if candidates thought funds needed to be used for McFarland Avenue.
Anderson said a friend of his just signed papers on two properties on McFarland Avenue. He said the area needs to become more upscale and the street needs better sidewalks and lighting
Rose said that a number of buildings on McFarland Avenue come right to the edge of the street and that telephone poles block pedestrian traffic in some places. He said the situation is not acceptable as it is now and that sidewalks need to be upgraded.
Hicks said McFarland Avenue definitely needs attention but other streets need it more. He said all the streets in the city have been graded according to their need and that the city is plugging away at getting them fixed. He said sidewalks on McFarland Ave. would be a priority for him.
The next question Walker had for candidates regarded Peerless Mills and its future.
Rose said that when a person drives down McFarland Avenue and looks at the old mill it doesn't look like much but that driving around it reveals that a lot of work is being done. He recommended patience with the new owners.
Anderson said the renovation of the property is imperative in order to save Rossville. He said as change occurs at the mill, the name Peerless will return to good stead.
Hicks said Peerless made Rossville and it took Rossville down with it. He said the current owners have good intentions and have made big improvements. He agreed that renovation of the property is critical to the city and said that Peerless is the heart of the city and its fate will determine how the city will grow.
Next, Walker asked candidates how the city can deal with blighted buildings and properties while still recognizing and protecting the rights of property owners.
Anderson said that driving around the city, it's easy to tell the difference between rented and owned property. He said that hiring a full time codes enforcer had helped and mentioned that he felt the closing of Rossville High School had cost the city some of its pride.
Hicks said that the situation is complicated, that some property owners were hanging on to blighted buildings and lots hoping for something better in the city. He said that when the city condemns a building it must take possession of it and often demolish it. When the city condemned the former LaDean Shop, said Hicks, it had to be demolished and that cost the city $120,000.
Rose suggested looking for new avenues for cleaning up and improving properties, including prison labor.
Walker wanted to hear the candidates' views on the county-owned athletic complex in Rossville.
Anderson said he remembered a time when Rossville had great athletic programs and that he would like to see the facility run by the city again.
Rose said he thought the current people running the complex were doing a good job.
Hicks said the Rossville Athletic Center on Williams St. is in poor condition and the roof is leaking. He said he'd like to see the county deed the building to the city and he'd like to see it turned into a community center with activities for children. He said that as long as it's privately run (the county leases it to an individual), it is not eligible for grants.
Which do you think would be better, Walker asked candidates next: the current form of government in Rossville, which lacks a city manager, or one in which someone is hired to run the city?
Rose said he is not educated on a city manager form of running a city but that he had talked to Sen. Jeff Mullis about it and was told it was the cheapest form of government.
Anderson said that when he knew he would run for mayor, he started to attend council meetings and was at the meeting when the council voted 3-2 against having a city manager. He said as it is there is no one running the city full time and he believes having a city manager would be cheaper than the current approach.
Hicks said having a city manager is less expensive and more efficient. He said a plan to pay for a city manager had been available to the council – one full-time employee had left and her salary, along with changing the mayoral position to part-time, would have provided the necessary funds.
With his round of questions finished, Walker opened the floor for questions from the audience. One lady asked candidates to share who was backing them financially, addressing Anderson in particular and commenting on some of the people who are backing him.
Anderson said some backers recently hosted a fundraising event for him and 27 people wrote checks to back him. But, he said, he felt the question was unfair since his opponent, current mayor Teddy Harris, had not shown up at the debate and would not have to answer the question. Anderson made a point of saying that local businessman Emerson Russell, while attending the fundraising event, had not donated any money to his campaign.
Hicks said he didn't feel a council campaign required financial backers – that he had purchased 40 signs that he paid for himself. Rose said that his campaign funding was coming from his own pocketbook.
A man in the audience asked how candidates planned to communicate with citizens if they were elected.
Anderson suggested that people show up at council meetings where, he said, there are question and answer sessions at the end. He said that at the two budget meetings he had attended, only two citizens had showed up.
Rose said the city needs a more informative web site where citizens can see the agenda and have the items on it explained. He said that if you try to lead people in the dark, you'll stay in the dark.
Hicks said he would like to see more information on the city's web site and Facebook page, but he said people can call city hall for information or to lodge concerns, and they can message the codes enforcer via Facebook or call her. He also said he would like to see more people at council meetings. He commented that there were more people in the room for the town hall meeting than he had seen at council meetings in the entire four years combined that he's been serving.
One gentleman asked for a yes or no answer to the question: would you give your donors preferred treatment if elected. All three candidates said no.
The same gentleman asked the candidates if they would "clean house" – fire employees and bring in new people – if elected.
Anderson said a city employee told him that the current mayor, Teddy Harris, has been telling people at city hall that that is what would happen. Anderson said he called Harris about it and that Harris told him "Welcome to politics." Anderson said that when he asked Harris what he meant by that, Harris said, "Well, la-de-da" and hung up.
Hicks said each employee is always evaluated based on performance.
Candidates were given the opportunity to make final statements.
Anderson said his personal reported income last year was $27,800, but that knowing people with money is an advantage in bringing significant investors to the city.
Hicks said he is a business owner in Rossville, that he has seen a lot of progress in the last four years and that the city did not get in the shape it is in in four years but in 40 years. He said he would like to continue the work of the last four years, apply for more grants, continue to work with the economic development coordinator and make the community stronger. He said he sees more potential and energy in Rossville now than he's seen in 15 years and he's excited about moving forward.
Rose said he would like to work for more openness and honesty and published agendas. He said at one point the city held three public hearings and two council calls within 11 days. You can't tell me there's honesty there, he said.
Walker, and David Roden of WRNG, closed the town hall by thanking the candidates for accepting the invitation to address the public and invited candidates to mix with crowd afterward.