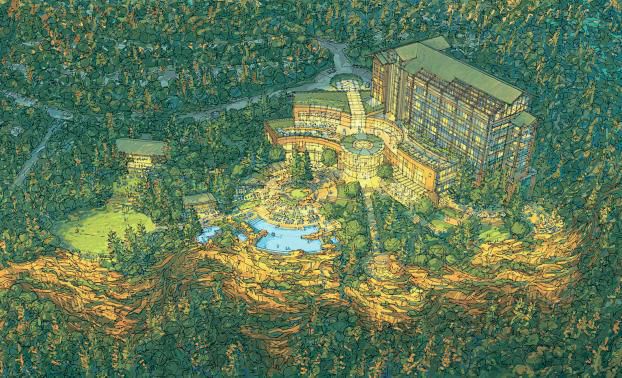 A $106 million hotel-resort planned atop Lookout Mountain must employ at least 180 full-time workers if it wants a tax break.
Slated to be built and open by the end of 2019, Canyon Ridge Resort could receive a 30-year tax abatement — pay no property taxes for the first five years and 10 percent of the current tax rate for the remaining years — Walker County Commissioner Shannon Whitfield said during press conference Monday, May 15.
The hotel-resort would be built on a shelf of the eastern brow of Lookout Mountain overlooking historic McClemore Cove and will include a 178-room upscale hotel, conference center, spa and infinity pool. An existing golf course will be renovated to compliment the overall development, according to developers. Whitfield, when announcing the project on May 14, said, "It is ... important to note that (this project) do(es) not include any financial contributions or risk backing from Walker County or the Development Authority. Even though it was never requested, we made it abundantly clear from the beginning that Walker County is not in a position to take on any financial investment or risk at this time."
Canyon Ridge homeowners have agreed to a special tax district that will bring tax hikes — as much as double the current rate — for properties within the district. Those funds would be used to provide government facilities and services for public roads, street scapping, lighting, fire and EMS facilities and equipment, public recreations and parks, walking trails, as well as water, sewer and other county-owned utilities.
This is a private investment, Whitfield said, one without any county financial involvement.
The project has been considered in the past, but this time the county is not offering public investment, he said.
"The county would have been on the hook, under the original proposal, for up to $50 million of co-signing loans for the project in the past," he said. "And also, they (the prior administration) were going to leverage one mill of property tax in support of this project.
"They were also looking for funding from Chattooga County and also Dade County to make the project work.
"As the project is now, there's no funding from any county. It's 100 percent of private-invested money and they will only receive tax abatements once they have completed their $100 million investment and they will have to maintain at least 180 fulltime jobs to be eligible for the tax abatement."
Whitfield said the developers must earn their lower tax rates each year,
that there will be a callback on the tax abatement any year that the full-time employement figures fail to meet the specified goal of 180 full-time employees working at least 35 hours per week and having benefits.
"They feel like they are going to generate 280 fulltime jobs, but they will have to maintain at least 180 fulltime jobs to be eligible for the abatement," he said. "So basically they have got to show proof of performance."
The facility must be built and show the $100 million investment as well as give a complete annual report showing the level of fulltime employment.
Construction on the site is beyond the scope of local expertise, Whitfield said, so an outside general contractor with experience in building mountaintop resorts will required..
Project engineering will also be outsourced, he said.
"There wasn't anyone here locally that had that kind of experience. So once that general contractor is here, then they will be working with local general subs on different aspects to build the project," he said.
Whitfield said that, aside from "a couple of top managers," local residents will comprise most of the work force.
"This creating local jobs," he said.
Whitfield said the project will help generate about $1 million annually in new tax revenue for Walker County.
"That will help take the burden off of the citizens for the financial position the county is in. So if we can generate this $1 million dollars in new income for the county, we can use that money to help pay us out of debt," he said.
The impact will be greater, as the $1 million per year in additional revenue is based on projections of direct revenue collections — not on any trickle down economics from worker wages and increased spending throughout the county.
That money will also help with local infrastructure, such as roads, Whitfield said.
Asked about the influx of traffic and wear-and-tear on roads leading to the new facility, Whitfield said one of the beauties of having a hotel resort is that not everyone comes in and out of the area at the same times.
Whitfield said he has heard concerns about traffic that the hotel-resort could create, but said there would be multiple points of entry to the resort, including entry from Dade County, off of state Highway 59, state Highway 136 and from Chattanooga.
"Not everyone will actually come into the facility at one given time, or leave at the same time, so we don't feel like the traffic is going to be a problem," Whitfield said.
The commissioner said upgrades will be conducted to the existing infrastructure as well as the potential additions of roadways in that area.
Whitfield said he does not know at this time if environmental studies have been conducted on the property, but said since it is a private investment, the company must follow all local, state and federal guidelines.
Asked where the water would come from, Whitfield said there is currently a sewerage package plant from the earlier Canyon Ridge project that has extra capacity and the opportunity of expansion. And since an 8-inch water main currently serves the site, the commisisoner said this new project should be amply served by the Dade County Water Authority.
In addition, Whitfield said TVN, a company in Trenton, already makes one-gig internet service available in the area.
"This project will be 100 percent in Walker County, but it is right there on the Walker-Dade line, so you could see development in years to come that may encompass property being developed in Dade County as well," Whitfield said.
The county will seek legislation in the 2018 Georgia General Assembly to create a hotel-motel tax within the special tax district that will be used to promote tourism, conventions and trade shows within the county.