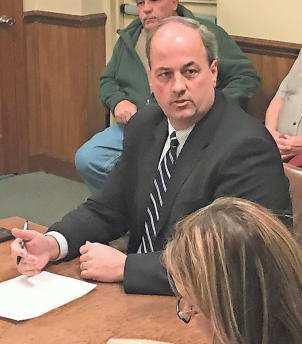 Walker County Commissioner Shannon Whitfield last week announced that the partnership between the county and an onsite employee health care clinic will come to an end Dec. 29.
Southern Clinic Solutions has been the health care provider for both the county and the city of LaFayette for the past several years.
LaFayette on Dec. 11 announced that its partnership is coming to a close with the current clinic at the end of the year.
Meanwhile the county listed the employee health clinic on the agenda for the Thursday, Dec. 14, commissioner's meeting. But Whitfield tabled the matter until a future meeting because more details must be worked out, he said.
"The county has, for several years, provided an on-site health clinic for the employees. There has been a contract in place with a local provider. We have given them notice that we are suspending that contract as of the end of the year, so their service will run through Friday, Dec. 29, 2017. We will continue with a clinic for our employees and their coverage dependents, so anyone that is on the county medical insurance program as an employee —and if they have their covered dependents
on there — we will still be able to provide them with clinical services," Whitfield said.
The commissioner said "there are a few more things to do" before an agreement is finalized.
"Once we get the agreement finalized, we will have another meeting publically and announce those changes. But we did want to assure all of our employees that we will be ongoing, still providing a clinic for them," Whitfield said.
Whitfield said a new focus will be on wellness care, preventative care and programs to help county employees in quitting nicotine addictions.
Whitfield did not announce who the new provider would be. But the services he described are similar to those being offered to LaFayette by CHI Memorial.
He said the county was searching for a "higher level of care" with more space, onsite equipment — outside of the county office— without the liability risk of dispensing prescription drugs.
Whitfield said the county was also looking to extend the hours of service for county employees and their families.
"The provider that we had, for what they had to work within this facility, provided a good service. We are not upset with them at all. They did well with what they had to work with that was provided here for them, but we've been able to study this over several months and to take that to a higher level of care to increase our benefit offering to our employees, we are going to make that change."
LaFayette goes with CHI Memorial
During a Dec. 11 LaFayette council meeting, the city voted 2-1 to end the city's partnership with Southern Clinic Solutions and will now be partnering with CHI Memorial effective Jan. 2.
Mayor Andy Arnold called it a tough decision, but one that had to be made.
The city praised the work of the current clinic, but said they are elected to make tough decisions.
CHI offers the city extended hours — including Saturdays — which will be able to conduct X-rays and lab work "on the spot," Councilwoman Judy Meeks said.
Councilman Ben Bradford voted against the motion citing that he has nothing against CHI, but he feels this move hurts small businesses as larger corporations continue to move across the country and affect small businesses.
Bradford said the current provider has a more personal touch.
"I think it is going to be a little more cost-effective ... and there are two locations," Arnold said.
Not only will both locations be available to the city employees, they will be better equipped, Arnold said.
Arnold said the original clinic did a "great job" and served its purpose, but the benefits of change would be best for the city.
"It is with some reserve that I have, but it is just what has to occur," he said.