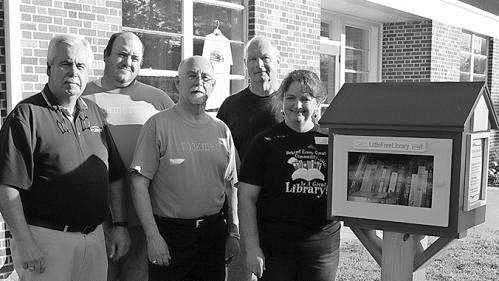 Visitors to downtown Rockmart — whether local or just passing by on the Silver Comet Trail — can now find something new to read in the first Little Free Library in Polk County.
Sharon Cleveland, the director of the Rockmart Library, decided it was about time that local residents get involved in the international project to bring books to where they are needed.
"I had seen them, and I thought that it would be a good way to connect with the rural community and potentially start up community libraries like these," she said.
"Sometimes it takes someone taking the first steps to get people interested, so I thought it was a good first step to take and get the ball rolling."
The spirit of the Little Free Library is to lend out books without requiring the requirement of a set date to return, like you would in a traditional library lending system.
Instead, patrons of Little Free Libraries are asked to instead swap a book, keeping literature of all different types circulating in the community.
Cleveland said that already the idea is taking up steam.
One of the first patrons of the Little Free Library — a four year old whose name she didn't catch — agreed to give one back from her collection for taking a Dora the Explorer book.
"Inside the books, we have information about the program to help people understand and get them interested," Cleveland said. "But it's a lend one, give one back program."
The Little Free Library — located right at the Silver Comet Trailhead at Seaborn Jones Park — is open all the time and books can be swapped out or donated at the Rockmart Library for future circulation within the box, which is shaped like a colorful, large birdhouse.
Cleveland said the Little Free Library is not officially affiliated with the Rockmart Library or the regional library system, but that she will take donations of books if people are interested in giving to help keep the stock up.
Her hope is that with the formation of the first Little Free Library box in Rockmart, others will take up the cause of building their own around the community and forming small lending groups to maintain them.
It's not hard to make a box, and so long as it is registered at littlefreelibrary.org, it can join thou sands of others around the globe.
Cleveland said the boxes can be any kind of shape people want to try out, so long as they have a door that can protect the books from the weather, and a way to ensure that books are kept stocked within.
Boxes can also be purchased from the Little Free Library website and can be put up within a day. Cleveland purchased a box pre-made from the website so it would be easy for the city to put up.
"I would really love to see people get really creative with their designs," she said. "People have made them look like old phone booths and other things, or even used old phone booths repurposed, bookshelves repurposed. Everything about this is repurposed."
Information about upcoming Rockmart Library events and programs are also being posted on the side of the Little Free Library as well, Cleveland said.
Any kind of book can be shared in the library, so long as it is appropriate for all audiences, Cleveland said.