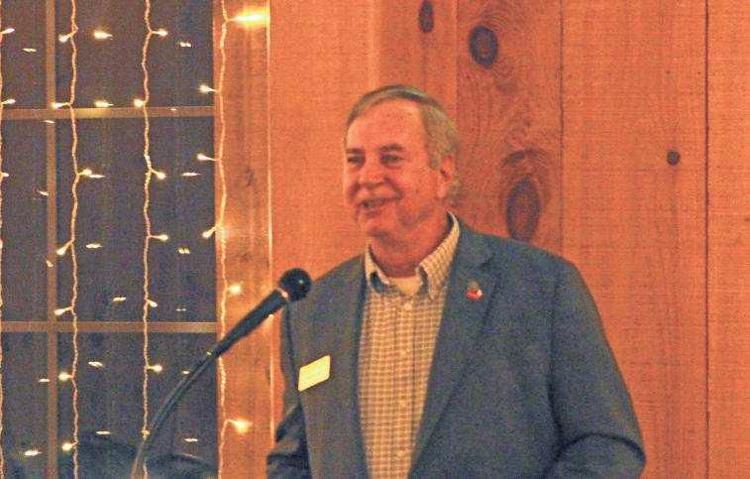 GOVERNMENT | STATE OF THE COMMUNITY
A lot of good has come out of a busy year for local governments, from big announcements that included a trip from Governor Nathan Deal to Polk County, to seeing new business growth being completed in Cedartown and Rockmart.
These accomplishments and more were just some of the topics covered during the annual State of the Community event held as October was coming to a close, with a number of local officials providing reports back on items of note for the county as a whole.
If there was an unofficial theme for the night for 2018's event, it came down to this: growth. Everywhere Polk County is seeing new houses, new food options, the potential even for new hotels. Those who talked about the projects accomplished now are looking at what's to come, and they see positive results from projects put into motion in the past.
Here's a rundown of where representatives from the state and local governments hold are the top achievements of 2018:
Kelley seeks to pave the way for Polk
State Rep. Trey Kelley can enjoy knowing that investments of his time and politicking at the Gold Dome have borne real fruit for Polk County. During his address to local leaders during the State of the Community event, the 16th District representative talked about all the good things happening on the state level.
He touted recent positives like record low unemployment both locally and across Georgia, increasing graduation rates and one item that lawmakers love to mention: the state is No. 1 in the nation for business for the fifth year in a row.
Among the state business Kelley touted for 2018 was another strong state budget that included erasing the austerity measures take in education in past years during the previous recession, the first changes in the state's adoption code since the 1980s, and helping with elder care.
The highlight Kelley was most proud to talk about was the state's inclusion of funds to increase the length of Cornelius Moore Field, allowing Polk County to play host to small business jets alongside aircraft already utilizing the runway for skydiving and flying for personal reasons.
He said the project allows Polk County to truly be part of a "globally competitive environment, and we're going to be able to better highlight – Missy (Kendrick) at the Development Authority will be able to highlight – all the good things about our community."
Kelley also talked about the quick change of purpose coming soon to the former home of the Department of Labor in Cedartown's Northside Industrial Park to be utilized by Georgia Northwestern Technical College, and the Rural Healthcare Tax Credit program that matches dollar for dollar donations to hospitals like Polk Medical Center as a match for covering state income taxes.
"This is something each of you can take advantage of to help offset your tax income liability here in Georgia," he said.
The program has a $60 million limit annually, and Polk Medical Center can only take in $4 million of earmarked donations.
Kelley also talked about the need for additional work on rural high speed internet access, making the market competitive again for brick and mortar retailers with new online tax parity, and his goal to continue to bring down the state's income tax percentages.
Changes still underway in County Government
Commission Chair Jennifer Hulsey presented information from Polk County's government in 2018, and talked about many ongoing efforts underway by both the board and administration.
Those include a review and need for pay increases for employees across the board being conducted by the Carl Vinson Institute of Government at the University of Georgia, so as to be better competitive in pay with surrounding municipalities and counties.
Husley said the last review of pay happened in 2007, and needs addressing.
"Our employees are Polk County," she said.
Hulsey also talked about the county's updated aerial photography, the board getting more involved in the day-today operations of the county to be better informed, updates of fees that are set to be decided this week after press time, and even ongoing ordinance and zoning updates.
One of the biggest projects she touted for the year involved increases in paving throughout the county, including the repair and resurfacing of Cherokee Road with the help additional Local Maintenance and Improvement Grant funds from the state thanks to the help of Kelley.
"And Rockmart: Marquette Road is on our radar. You're next on our list," she said.
Among other areas that Hulsey addressed were a new camera system at both Polk County Courthouses, the Polk Drug Prevention Alliance, and a new accountability court being setup by Judge Mark Murphy within Juvenile Court to help keep families together.
She also addressed the Quality of Life projects proposed during the October's work session, where committees from Cedartown and Rockmart would work together to determine what those projects would entail. Each side of the county would get $300,000 out of the 2020 SPLOST to spend, and she promised twice that "No government officials will be involved."
Cedartown focuses on Recreation and Business
Cedartown City Manager Bill Fann is real proud of where Cedartown sits today. Compared to what he faced when he took on the job earlier in the decade, Cedartown is running smoothly and is on track to see new growth in the year to come.
Already the city is seeing some of their longtime projects coming to the construction phase. For instance, the Goodyear Park Soccer Complex is set to get underway this fall in hopes of being open in time for the spring and allow for the growing youth program to utilize it instead of baseball and softball outfields.
He said that project was about to go to bid when he addressed local officials during the Oct. 30 event, and also talked about the forthcoming project at Turner Street Park to cover the basketball goals, updates to Biggers Field and much more in Cedartown's overall community involvement.
Fann also talked about participation rate, with 649 youth signed up in programs in 2018, and 289 of those in soccer alone. He added that youth from unincorporated parts of Polk County made up 56 percent of the overall participation in Cedartown youth sports.
The city also made sure some 3,800 students in the area were well aware of fire safety thanks to the efforts of the Cedartown Fire Deparment's clowns visiting local schools. Fann touted that program as one that "everyone should experience at least once" during his address to community leaders.
"Take advantage of the opportunity when you have it," Fann said.
He also touted the city's public safety upgrades over the past year in the form of new air packs for firefighters, testing of hydrants and hoses, body cameras for police officers and the inclusion of Narcan nasal spray in patrol cars, much of that thanks to grants provided by the city's liability insurance provider GIRMA.
Citywide, business expansion is taking a lead as well. Norax and Cedarstream construction is on its way to being completed, the city is looking toward the possibility of hotel development around the Highway 27 corridor, and some 69 new businesses opened their doors in 2018.
Fann closed out the year's accomplishments with his praise for the Cedartown Welcome Center and Depot's inclusion as a regional visitor center this year, two recent television productions utilizing downtown Cedartown, visits from tourism and economic development officials and forthcoming wastewater upgrades for lift stations, underground piping and equipment at the wastewater treatment plant totaling $3 million.
New neighbors continue to join Rockmart community
Every day it seems like some new project is starting in Rockmart. Whether it be the now-finished Koch Foods feed mill reconstruction, or Captain D's opening their doors, the city continues to see real growth – especially along the Nathan Dean Parkway corridor.
Mayor Steve Miller talked about these new neighbors joining the Rockmart community in 2018, especially with the inclusion of new restaurants within the city limits like the still under construction Popeye's Chicken, or the long awaited arrival of the car wash next door to Martin's.
There's more. A new nursing facility is coming soon, industries like Meggitt are expanding, and the long awaited completion of the rebuilding and expansion of the feed mill on Highway 101 owned by Koch Foods is wrapping up which finishes a $24.5 million investment in Rockmart.
"We've come a long way from a little textile town," Miller said.
In the coming months work on the Church Street Manor property is set to get underway thanks to Appalachian Regional Commission grant and a Department of Natural Resources Rails to Trails grant to connect Van Wert Church to the Silver Comet Trail.
"We believe it will help enhance our community and bring more events to Rockmart," Miller said.
Miller also touted 40 new homes either finished or under construction within the city, inclusion in the Georgia Initiative for Community Housing and the cooperative efforts by Council member Sherman Ross to get Polk County's land bank started with the other cities and county this year.
No news from Aragon
The only local government or organization who didn't participate with a presentation at this year's State of the Community event was the City of Aragon.
Last year, the city provided updates on their increased recreation opportunities and goals toward doing more work this year. For the 2018 address, no officials came to provide information on Aragon's progress since the 2017 address.