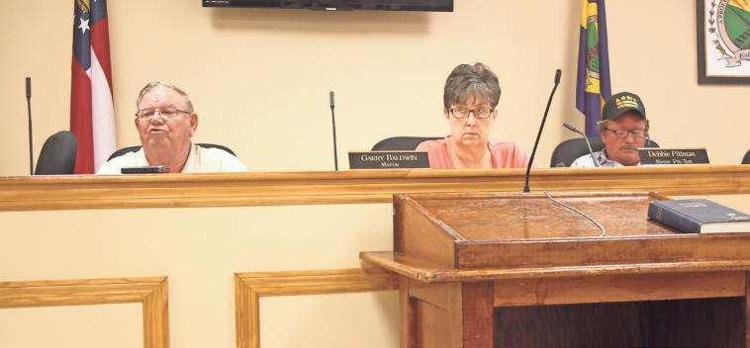 The City of Aragon has a new interim police chief, and the force is down to only three staff members after the most recent officer in charge Brad Loyd turned in his resignation.
Loyd came into work to start the week on June 16 and handed in a letter of resignation to Mayor Garry Baldwin, who afterward said that he had no clue the move was coming.
"It beats me (why he quit)," Baldwin said. "I'm still trying to figure it out."
But by the end of the Aragon City Council meeting on Thursday night, July 19, an answer was provided for why both Loyd and Aragon's K-9 Officer Gene Brown had both resigned from their positions.
By the end of that meeting, what started as questioning of the interim chief Allison Taulbee devolved into a shouting match between the council and Baldwin over why the two officers left their jobs, and whether it was voluntary or not.
Taulbee, appointed by Baldwin earlier last week when Loyd turned in his resignation, was asked about her past experience and how long of a gap she had in her law enforcement career after she admitted leaving the Rome Police Department via a resignation to avoid termination in 2017.
She'd recently joined the Aragon Police Department in 2017 as a part time officer, and fully joined the force when she took over a full time position in April.
She added that she had a lot of plans for working to protect both current and new residents of the city, and went over her law enforcement career that spans more than a decade and a half in several departments. She also earned a degree in criminal justice.
Taulbee at one point during her statement and questioning by the council addressed her resignation from the Rome Police Department, and gap in employment as a peace officer. She said that she was being written up for failing to respond fast enough to a call for an officer needing assistance in 2012, and chose to resign.
"They felt I didn't respond quickly enough," she explained, and added that audio and video from the incident was available for review by the council if necessary.
She also talked about her work
the Dekalb Police, the City of Brazleton's Police Department and her work for the U.S. Post Office as well.
Council members had questions about what happened during her previous service, and whether she was qualified to hold the chief's position at all as well.
At one point, Aragon's Municipal Court Judge Terry Wheeler got up to explain that officers usually jump from one department to another depending in their quality as an officer and what pay is being offered, and that not to look at Taulbee's record as negative since officers leave departments or are terminated.
During their questioning of Taulbee, the council also touched on another sensitive subject addressed briefly during the work session and discussed further in the council's meeting.
What should the city do with the working German Shepherd Nero?
The K-9, which joined the force just a few months ago as the new drug-sniffing officer for the Aragon Police Department, is now sidelined and spending a lot more time in a kennel at city hall instead of working out in the department.
Taulbee said during her questioning that she wants to keep Nero if at all possible, meaning the city needs to hire a new officer who can also be a K-9 handler and quickly 0r sell the dog to avoid it losing valuable training to another entity looking for a new pup to join their force.
She said it was likely "better off to sell the dog."
"I hate that, because not only am I attached to Nero, but it's another tool to eliminate the drug problem that is here in Polk County," Taulbee said.
She argued once taking the emotion out of the decision, council members would recognize the city can't at this time afford the short term costs of training a new handler, and the long term costs of caring for Nero and paying for veterinary bills.
Council member Judd Fee asked why the city couldn't just hire another officer to take over the position as a priority and get Nero back to work. Baldwin responded that a timetable for bringing on a new hire is somewhere around two months, and it might be too late to be able to get Nero back with a new handler and have him respond to commands and get back into his job of sniffing out drugs.
Losing that training before a new handler could be hired and become accustomed to Nero would mean the city would lose a total of $12,500, not including the platform. $7,000 of that was spent on Nero alone, along with $5,500 for handler training.
Nero for now has been kept at an outdoor kennel at city hall under the supervision of Public Works Superintendent Daniel Johnson, who got to take the German Shepherd out for a run around a city field for the first time since he was turned back over by his former handler, Gene Brown, on Saturday, July 14.
Johnson spent $450 last week of city funds as well to build a platform for Nero to sit on since he is being kept outdoors.
Baldwin, the council and Taulbee all praised Johnson for doing the job, and council member Debbie Pittman said she wanted to be sure that he was being compensated for taking care of Nero until a new handler.
"I don't mind doing my job," Johnson said of the work.
As the discussion continued over whether the city should sell the dog, or wait to find a new handler and avoid losing the valuable training it has already received. Council member Judd Fee was in favor of trying to keep the dog if at all possible considering the expense.
"We've spent a good bit of money, and now we've got egg on our face, and it's just my opinion, but is there no way that we can at least hire someone and make them sign at least a 1 year contract," Fee said. "It cost the city $12,000 and we're just totally out in the dark now."
After the council went back and forth on questioning of Taulbee's record as an officer and what to do about Nero, one local resident finally asked the obvious question: why not ask Brown and Loyd to come back to their jobs?
Upon answering that he would refuse to hire back Loyd and Brown, and tried to avoid a conversation about the potential to bring them back by pointing to personnel discussions that should have been kept private. They did call for an emergency meeting to discuss it with the city's attorney, Zach (Burkhalter,) and Baldwin. He told them that they would have to have candidates to consider, but Baldwin after Fee asked why they wouldn't be considered as candidates.
"It would take a personnel discussion to explain why," Baldwin said. "And first off, these gentleman weren't fired. They resigned."
The council decided otherwise, and began a line of discussion as to why Loyd and Brown left their jobs. Baldwin said "go ahead and tell Kevin (Myrick, Editor) and he can put it in the paper," which then prompted council member Debbie Pittman to launch into an explanation she said came from Baldwin himself behind closed doors.
"We were told that he (Baldwin) was going to can them, and they got word that they were going to be canned, they had no choice but to resign to not hurt their certification," Pittman said. "What would you do if someone was going to can you? Would you not resign, especially if you have families to take care of? Did you not tell us that?"
Baldwin tried to defend his position by citing the request from the council to investigate a matter later revealed during the argument between the council and the mayor.
"We were not guaranteed that," council member Amy Causey shot back, and Pittman then added "the word was out that you wanted to can them."
"I discussed with you all the options," Baldwin said, before he was shouted down again by several members that they were never given options as to what was to happen with Loyd and Brown.
Baldwin then requested that City Clerk Christie Langston provide a copy of an e-mail he chose to release to the Standard Journal from Judge Wheeler over an incident that happened in his courtroom involving a prisoner being left unattended in the room that also acts as the council meeting room at city hall.
His e-mail ordered that court would not convene without an officer present any longer, and mentioned no request for disciplinary action within.
He again stated that he had presented the council with options, which Causey then shouted back again "there were no options, there were no options, it was stated that they were going to be fired.... We never got that option."
As the argument continued, Pittman asked a question that Baldwin couldn't answer.
"Garry, let me tell you something. If it was you or your family being treated like that, and go ahead and smile," she said before her statement was cut off by Candace Seiz, who stated that it wasn't funny that both the officers were now out of a job.
"They have families," Causey added.
"And they are fantastic police officers," Seiz finished the statement.
Additionally, the council questioned why Brown was involved in the issue presented in the e-mail from Wheeler at all.
"He had nothing to do with it, and you said you weren't going to do anything to him," Pittman said. "But in the beginning you said you were going to can them, and then you had a change of heart, but you didn't have a change of heart... you have not have said anything until you reviewed it."
Causey added that "I will not sit on this council and not stand up for what is right for these gentlemen."
Baldwin did try to calm tempers and remind the council the situation was getting out of control, but one reply from Causey was "it's been out of control."
He tried to end the meeting by asking for a motion of some kind, and the argument continued as Baldwin replied to a response that the argument wasn't over by saying "I did not force anyone to resign."
Several comments overlapped one another at that point, and Baldwin also reminded the council of the legal jeopardy the city was now in for discussing the matter outside of executive session, where personnel matters are usually handled and kept confidential. The group also argued about the merits of the rules of the charter, giving Baldwin more power over personnel issues than the council has.
Baldwin later in the argument claimed that he had presented information to the council about what happened, and that before he could act further on what he'd found by looking at surveillance video and creating a timeline that Brown had already resigned.
"He abandoned that dog," Baldwin said before being shouted down by council members again that "he did not abandon that dog."
Seiz additionally said that if Brown and Loyd were given the courtesy to discuss it and not "threaten their jobs behind their backs, they got word of it and quit."
"If you would have just been open with them like should have happened, none of this would have happened," she said. "Instead of going straight for their careers."
Baldwin also backpedaled when he was asked directly whether if a full set of documents would be made available about his investigatory efforts into what happened in the courtroom incident, and said that he was only able to provide a timeline.
The meeting ended shortly after without any resolution as to what will happen with Nero, or what the future status of Loyd and Brown's jobs are.
Polk County Police Chief Kenny Dodd cited his concerns earlier in the week that with Aragon's department numbers having decreased again, it will be harder for his command to pick up the slack.
He said after hearing the news of Loyd and Brown's resignations that his officers will have to take up the increased workload of responding to 911 calls in the area, since scheduling issues will be a factor for the Aragon Police Department.
"They previously reduced the department to just a single officer, and that really increased the workload on my officers," Dodd said. "The people in Aragon pay county taxes, so we can't refuse them services. When they call, we have to go."