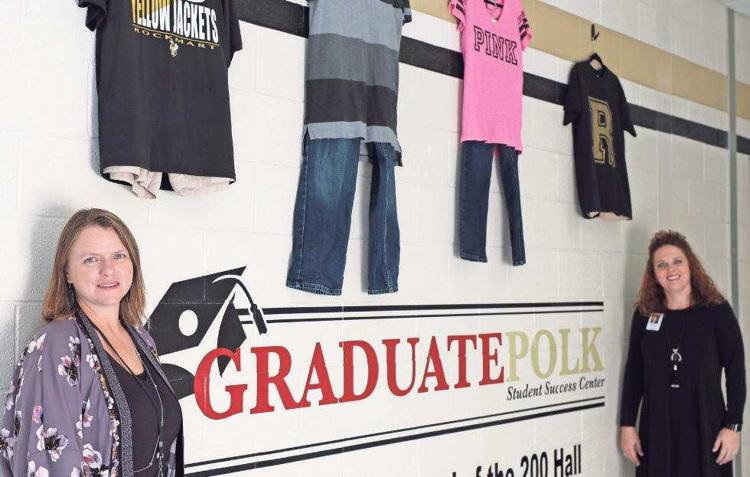 Every day, there are dozens of children who come to school and find there a refuge on campus from the chaos of daily life at home. It isn't a new problem by any means, and one that schools across the country have experienced for decades.
After all, there are things a school can't exactly control. For instance, they can't make a parent act in a responsible manner, and send their youth to classes well rested, fed and ready to tackle whatever subject matter is coming up before them.
Children who get off the bus at school today could ride home later in the afternoon and not have a place to sleep when they leave one of ten campuses across the county, or even a home to go to at all.
The struggle to cover basic necessities is daily for dozens of Polk County's youth. Now they have some additional help from Polk School District to ensure they have what they need to complete their education.
Need something to wear? Or maybe there's not enough food at home to go around for everyone? Maybe it's a simple as a blanket and pillow to use while they've taken up residence on a friend's couch.
It is the simplest things in life that can make a big difference in the success and failure of a student. That's why educators are stepping up to ensure children of all ages can take home many of the resources they don't have now.
The Graduate Polk: Student Success Center covers a wide ranging area of help for children and teens throughout the district, and upon it's official launch ahead of the start of the school year was already generating excitement from area and state officials in other districts seeking to do similar programs.
Assistant Superintendent and Polk County College and Career Academy CEO Katie Thomas said too the first success stories have come about in the months since Graduate Polk was announced, with a student at both Cedartown and Rockmart High Schools earning diplomas after they completed credit hours utilizing spaces set aside for learning at both high school campuses.
Both completed their coursework and received diplomas in August, Thomas said.
"Those are students that normally would have been considered a dropout, but now were able to earn their high school diplomas within the first month of school," Thomas said.
As of their end of August census, some 135 students between the two centers at Rockmart and Cedartown High Schools had utilized clothing closets, and 126 took home food bags. An additional 138 students or families also got help from the two school's food pantry.
Thomas said that within two hours of the program launching they had 120 signups online for students requesting help, and after 24 hours the number was up to 300 students.
It's not just food and clothing. Some 51 students were also reported to have received school supplies between both campuses. Even some have taken home pillows and blankets to use for bedding.
And for those who need clean clothes, the program has it covered as well. Students can fill up laundry bags provided by the school, and then that is taken care of by Special Education students as one of the life skill lessons they undertake.
"It's going far better than we ever expected," Thomas said. "We're able to serve kids in all areas, from clothing to food to academic needs to hygiene products. You name it. We've been able to help kids and families as well."
Specific needs for students can also be fulfilled by individuals in the community, and instead of having to go to the bother of shopping and dropping off a donation, there's now an app for that.
Purposity, as Thomas explained, allows for the Graduate Polk program to post a list of needed items, say pillows or tennis shoes for students. People who install the app and sign up to the Graduate Polk list can then go through an pledge to purchase one of the needed items on their own, and everything is purchased via Amazon then shipped directly to Cedartown or Rockmart High
Rockmart High Schools. Find the app's homepage for more at Purposity.com.
"We've created a most-needed donation list, mostly food items," Thomas said. "We've had a lot of businesses and industries also help with this and have food drives within as well to help us."
Additionally, a need's list is available on www.polk.k12.ga.us of needs for the program.
In preparation for the winter season and a new set of clothing to go in the closets, an event was held over the weekend on Saturday and will come up again this Thursday for those who are in need to have a chance to "shop" for some items to clear space. Students and parents can visit either campus from 3:30 to 6:30 p.m. to take part.
Also the help to families extends to parents as well, especially those where English is a second language. Classes are coming up starting on Oct. 16 through next March free of charge thanks to Gildan Yarns, who purchased materials for the class and provided additional funds to cover the costs of an instructor. They'll be held Tuesday or Thursday evenings at Cedartown High School, with one class per week.
Those interested can contact Susan Oswalt at 770-7482510, at extension 110 for more information on how to participate.
The help isn't limited to just the students on campus at Cedartown and Rockmart High Schools. Youth at Cedartown Middle School are receiving help via The Dawg House program already established last school year (a recent update on the program was available in the Sept. 12 edition, and still online – see the link in this story for more.)
Students at the elementary and at Rockmart Middle School also have access.
The program is confidential, just like with the Dawg House program at Cedartown Middle School, and will remain so for all students. The hope is that they'll ask for help, but won't have to experience the stigma sometimes created in the school environment when youth receive donations from the food pantry or clothing closet, for instance.
It isn't just about the physical needs of students either. The program also seeks to meet the needs of students academically by giving them flexibility in courses, so if they have to work to help make ends meet they don't miss out on the opportunity to earn their high school diplomas.
This is how the two students who graduated in August were able to finish their requirements by being able to tackle coursework when they can.
So as Thomas explained, if students need to work two hours a day here, or a longer amount of time later while in a non-traditional classroom setting, they have that flexibility.
Additionally, with the partnership with Willowbrooke at Tanner to provide help to students suffering through mental health problems, it allows for the district to reach their goal of not just focusing on academic issues, but what they can do to help the whole of a child.
Thus far, some 51 students district-wide utilized those services in one capacity or another.
Officials have also created the space and time for students to have group therapy sessions as well. Those include groups for students who have a family member who is incarcerated, battling substance abuse and who have mental, physical or emotional problems that impact the student.
Individual counseling services cover a wide range of topics, from cutting and selfharm, depression and more.
Surveys have been given out previously to see what kinds of needs Graduate Polk can fill, and additional surveys are going out to students to see what more can be done.
"One of the things we realize here is that we can't meet their educational needs until their basic needs are met," Thomas said. "We want to serve that whole child, and this has enabled us to do that, and we're grateful for our success so far and we look forward to many more opportunities to serve Polk School District students and families."
There's a wide range of services available to youth right now through Graduate Polk, but families can receive help too. Those who fill out request forms and get parental permission to participate can get help they need right now. (Those forms are available with this story online, and can be sent into Graduate Polk Coordinator Lacey Tuck, or Thomas.)
Tuck, a recent addition to the school system, said she was glad to be taking part in the program.
"We are excited to be able to provide wrap around services to our students," she said. "We want to be able to meet their basic needs and help them prepare for the future."
Anyone who wants to donate clothing, food or other items in need and don't want to use the app can make deliveries to either Cedartown or Rockmart High School front offices during school hours, or call Tuck at 770-845-9539.
Visit fb.me/graduatepolk to learn more also about upcoming volunteer opportunities as well.