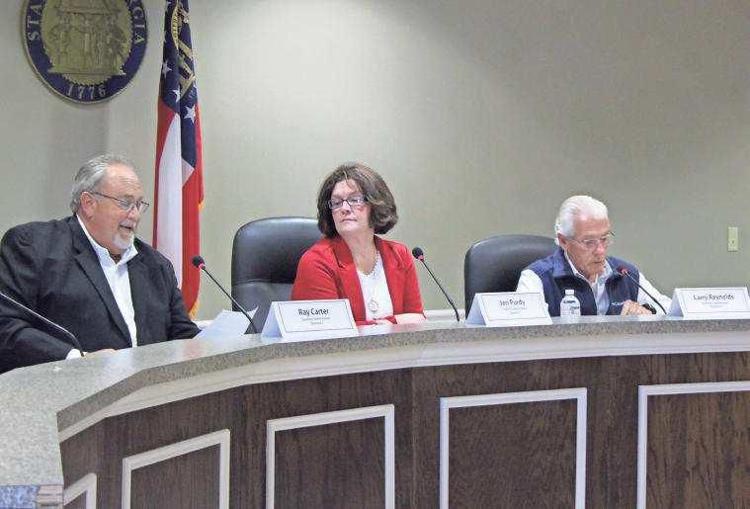 Local and state candidates on the 2018 ballot got the chance to voice their opinions, tell voters about themselves and field questions on a variety of topics, ranging from the future of fire protection in Polk County to how best educators should assess the progress of students statewide.
As the final days of the 2018 midterms come closer to an end, it came down to differing visions over the direction Polk County wants to take in the future for a trio of local candidates, and a statewide vision for a pair of educators who have opposing ideas of what direction schools should take in educating children.
District 2 Polk County Commissioner Jennifer Husley – who is running for a second term as incumbent – was joined by a trio of District 3 candidates and incumbent Republican State School Superintendent Richard Woods and his challenger Democrat Sonia Francis-Rolle. Though Commission of Agriculture candidate Fred Swann had agreed to come, he was absent from the night's forum.
Since Hulsey's challenger Ricky Clark wasn't present either, she was given five minutes to make a short address to the audience about what she felt were her accomplishments since she was elected in 2014, and what she hoped to continue onward in achieving in the years to come if she wins another term in office.
Among those areas where she's already involved in the future for Polk County is the expansion of broadband. She cited recent sessions with other leaders within the Northwest Georgia Regional Commission about ways they can seek to increase connectivity and reliable service across rural communities, and that in the forthcoming months she expects that input from local residents will be critical in determining the next steps forward, specifically through surveys and individual comment.
"It's time that we have better internet access," Hulsey said.
Hulsey pointed to positives in her remarks that have come about since her time began in office, like the completion of the County's Public Works facility, 911 operations center, and ongoing work toward renovations being completed on Polk County's courthouses.
She also covered other initiatives she's sought to organize with the help of the community, like the Polk Drug Prevention Alliance with the goal of curbing drug abuse and distribution locally, and Take Back Polk, a middle school mentoring program she organized in 2017 and is now in its second year.
"The drug problem we have here is a dark cloud that we need to address," Hulsey said of the efforts on the Polk Drug Prevention Alliance. "I feel strongly about this, and our drug dealers need to know – we're putting them on notice – we want you off our streets."
She added in her address that the county is working on concerns over the landfill and the role of the administration and commissioners on its operations under the Waste Industries contract. The company just announced on Oct. 18 the company is being sold off to a Canadian company, GFL Environmental, for an undisclosed sum.
"The bottom line is this: accountability is very important. I want answers just like you do," Hulsey said.
After Hulsey was given five minutes to address the audience, it was time for the real question and answer session to begin for a trio of District 3 commission candidates who are seeking to take over the term left on the seat.
Jerilyn Purdy, Ray Carter and Larry Reynolds were all given a few minutes each to introduce themselves to those who came out to hear the views of candidates and ask them about what they thought of the future of Polk County.
Purdy, a resident of Polk County for nearly three decades with her husband of 35 years, is the office manager for the Chick-fil-A of Rockmart and a 2017 graduate of the LEAD Polk program.
"My past experience is nowhere near what Mr. Carter or Mr. Reynolds have, but I've been deeply involved in Polk County for a long time," she said.
Her leadership experience extends into the current Lieutenant Governor for the area for the Kiwanis Club, board membership for the Rockmart Farmers Market, and serving as well on the board for the Georgia Initiative for Community Housing.
Carter and Reynolds are also both longtime residents of the Rockmart area. Carter, who works for IBM in IT management and also a former Rockmart City Council member, said that he and his family have been longtime residents of Polk County. Though Carter was born in Cedartown, he's lived in Rockmart for more than two decades.
Reynolds, a former Polk County Commissioner himself, a veteran and Ford Motor Company employee for 31 years, added his own love of Polk County and his hometown of Rockmart during his opening address as well. He said that "most of my family is still in Polk County" and that his activities to help locally include his membership in the Rockmart Lion's Club, and on a larger scale with the Georgia Republican Party's state committee.
The trio all had similar and differing thoughts on the direction the county should take depending on the topic. Here's a rundown of their question and answer session provided by the audience:
SPLOST
All three of the candidates support extending the Special Purpose, Local Option Sales Tax for another six year term. Reynolds kept his answer short, saying only that "I absolutely do" and providing no explanation as to why.
Purdy felt that SPLOST is necessary for a county that "wants to grow. It needs money."
She ultimately felt the importance of the financial help provided by SPLOST was especially needed for improving Polk County infrastructure.
Carter gave the longest response in support of SPLOST, and said that voters should consider it since it along with the Local Option Sales Tax are "essential tools to offset the ever-increasing cost of government."
"Everyone benefits from it," Carter added. "And it alleviates the single burden from property owners."
County Fire Service
The debate over what to do about making sure that when people go to bed at night they are safe and secure in knowing their house won't be left in ashes by the morning due to unforeseen hazards remains real.
What the future of Polk County's Volunteer Fire Department looks like is a real question that any current or new commissioner will have to face in the forthcoming term in office.
All of the candidates agreed that improvements are needed within the fire department. How to get there is a different question.
Purdy, who said her grandfather was the first fire chief for Paulding County and a resident on Vinson Mountain, said that she well understands the problems on both sides of the issue.
"I do understand what volunteer firefighters do and go through," she said.
But she does ultimately support increasing fire protection for Polk County residents through some sort of mixed-department strategy.
So does Reynolds. He said that in his long time in Polk County, that he sees growth coming and therefore the need for a countywide fire service that is paid.
"At the same time, I'm totally in support of volunteer firefighters," he said. "We're not there yet for a paid system."
So what he sees as a potential model to move forward is how Polk's neighbors to the south in Haralson County handled moving from a strictly volunteer to a mix of paid and volunteer firefighters.
"If Haralson can do it, we can do it and still keep the volunteers," Reynolds said.
Carter said in his response that the need for consolidation of fire services countywide is growing greater than ever, especially since mutual aid and automatic aid agreements made with the City of Rockmart in the past with the idea that Polk County would pursue increasing fire services.
"If we don't pursue it, then there's going to come a time when they pull out of that agreement," Carter said.
He also made the argument that all homeowners can agree is good: lower insurance rates.
"Having better fire services will reduce home insurance costs for everyone," Carters said.
The Grady Road Landfill
Purdy might have expressed the feelings locally about where to start with the Grady Road Landfill best of all during last week's Candidate Forum.
"Oh, the landfill..."
She said in her response to what to do about the facility off Highway 278 have been framed around just going through the contract made with past operators who were since bought out by Waste Industries, who itself is now under new ownership but will retain its name.
She has her own questions about the landfill, and said that she has sought out to take a tour of the facility and get her own questions answered. However she placed no blame on the board as it stands now for their handling of the situation thus far.
"This current commission is not responsible for the landfill," Purdy said. "This current commission inherited this landfill. Is it a positive? Is it a negative? Is Waste Industries and the County doing everything according to contract?"
She said she hoped to get these questions and more answered and to avoid the misconceptions going around about the facility.
"I think that the lawsuit from that standpoint is going to help us find out," Purdy said of her questions.
"The Landfill is a tough situation, and none of us can find good," Carter added with his own thoughts.
He admitted that no location is ever going to be perfect for a landfill – especially not one right next to the primary connecting highway between Cedartown and Rockmart – but that the facility is there, and it isn't going away.
Carter sought a more pragmatic approach with his answer. Rather than trying to shut down the facility that does generate revenue for the county annually, he instead believes what should be done is tackling it from a different direction and try to limit what can and can't be buried within the facility grounds.
"A lot of communities have enacted laws to restrict certain materials from within their boundaries," Carter said. "They also restrict materials that can be dumped."
He said so long as Waste Industries and the county were in compliance with the contract and both parties are moving forward within legal means available, restricting what waste can come in can be a positive means to control the landfill.
Reynolds did point to the sale of Waste Industries in his answer, and that the county is going to have a long uphill battle against a company worth more than $3 billion (he did not provide information on where he got the figure for the sale.) He did add that so long as both parties were operating within the contract, he did not immediately see a resolution for how to deal with current and future complaints, like previously reported smell and water runoff issues.
Future Ag Center
The trio of candidates were also in support of moving forward with a potential agriculture center proposed previously to the commission.
All three pointed out that there's not quite enough information public thus far about the proposed Ag center to make determinations about specific support just yet, but they like the idea.