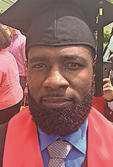 Second chances in life aren't born from luck, but hard work. That's a lesson that Mychael Frazier has taken to heart following the latest milestone he's taken on getting control over his future.
Frazier, who joined graduates in the past weeks at Georgia Highlands College walking across the stage to receive an Associate's degree in Criminal Justice, with plans to continue his studies later this summer.
What makes his story different from other graduates this year is where his education first started out: in prison.
Frazier's story begins in the late 2000s, when he was still a Cedartown High School student and athlete hoping to go to college on a scholarship and following in the footsteps of his mom, who graduated from Georgia Highlands when it was still Floyd College.
But then she died while he was still in high school, and his support network for keeping up his education fell apart.
"I went a whole other direction from my brothers and sisters," he said.
Frazier went down a dark path which ended up landing him in prison after he was convicted in 2008 of cocaine possession, and was sent off to prison. That's when he ultimately decided enroll in a GED program and begin down a path of trying to better his situation.
"When I enrolled this time, that's when I said no matter what I'm going to finish," Frazier said.
He finished the program while still in prison, and when he got out on an early release on parole, Frazier got help and guidance from retired police officer and Cedartown resident Patrick McNally.
Frazier started classes at Georgia Highlands in January 2014, and through the past three years has seen much change in himself.
Originally his plan was to look into a career as an criminal attorney, but through his experiences in school he's looking more at business law now.
"I didn't really have any ideas of which way to go," he said. "I started operating in a professional setting, and that changed the way I looked at things."
He said the opportunity to develop his communication skills, networking, and getting employment.
Currently he's working at an area mill, but he's gone through several jobs since starting school trying to balance priorities and keep a budget, while still helping raise his daughter who is now 13.
"At first I enrolled in school because I didn't have too many options," he said. "And then once I got started, it opened my mind to ideas of how to get a job and how to pursue a career. It really opened my mind up."
He said he spent years thinking one way, and then when in Highlands his ideas of how he wanted to move forward in life began to change as well.
Frazier said these days, he's more focused than ever before on moving forward and finding a direction in life. Where it will take him is still an open question.
Each day after getting out of prison and getting into school has sometimes been one step at a time, taking each day on its own merits for Frazier. But over time, he said that he's started to see differences in the way that getting an education has changed him.
It hasn't always been easy, Frazier admits.
"It seemed like at first I couldn't find a job," he said. "I don't know if I was going about it the wrong way, or approaching it wrong. But now it's easy, and maybe that's because of the education I've had."
He said help in writing out resumes and better understanding of how to approach job interviews has also brought about new opportunities for him.
"When I first came home in 2012, they gave me this long list. I called every job looking," he said.
The heightened anxiety at the time of not being able to find employment after calling and being told each time "no, we're not hiring right now," didn't help Frazier's situation.
However, he said that once he was well on his way at Georgia Highlands, the situation got better.
"Learning and going to school kept me calm and focused," he said. "Even when I'm not at school I still study. People will be like 'what are you studying now?' and it'll be something that someone asked me a question about and I didn't know it, so I'll go find it."
He's also made sacrifices along the way.
Keeping jobs while also going to school has been difficult, Frazier said. And when he first started out, he would have to get rides from family and friends to get to class, or hitch rides from gas stations and stores to make it to campus on time before 8 a.m. classes.
"I didn't let anything stop me," he said.
"It was a sacrifice, but it makes you feel good after all those nights sitting up writing papers. Sometimes I would be up writing on a paper until it felt like my eyes were bleeding, tying to get it done. Writing the paper so long you feel sick."
Understanding that education can also help in connecting with his daughter has also been a big help. Some nights during the past years, Frazier said he's sat and studied alongside his daughter and been able to talk to and help in her education while he's working to better himself.
"Even when we're just having a conversation, because a lot of time when she's studying, I'll be studying too," Frazier said. "And I'm able to have a conversation with her about it. One time we were studying the same thing, and I was able to have a conversation with her about it. She was studying the Cold War, and I was able to talk to her about it because at the same time we were too."
He recognizes that people are beginning to look to him as an example of success, but said he hasn't sought out to become a role model. Frazier said that when others come up to him telling him about their own trials at getting an education and going to school, he offers encouragement.
Frazier said though he mainly is trying to remind people it takes a lot of hard individual work to succeed.
"It has to start with the individual, because they have to prove and show this is what I want to do," he said.
However he points out he wouldn't be where he is today without help from the community and family, and that is important too.
"Sometimes people don't have a strong mind to push on their own without a team to help them achieve. So when the community, friends or family or whatever don't stand behind them, they give up," he said.
"That's when the community should pick them up, but at the same time if you don't have families pushing them, it doesn't help."
Despite his trials and tribulations, Frazier said he's all ready to get back to class in August.
"I took a semester off and it's been killing me. I've been going so long with school I have to find something to do," he said.
And in the meantime, he's savoring the accomplishment of earning his degree.
"I hadn't worn a cap and gown since I was in pre-school," he said. "When I graduated and got my GED, I was in solitary confinement. So it was real important to me to wear a cap and gown and walk across the stage. When I started across the stage, the president of the school didn't even shake my hand. He wanted a hug. When I walked up to him, he was already hugging me. And he said to me 'you really made it.'"
'Sometimes people don't have a strong mind to push on their own without a team to help them achieve. So when the community, friends or family or whatever don't stand behind them, they give up. That's when the community should pick them up'
Mychael Frazier
GHC graduate