• David Chandler is running through Rome today as part of his 2,900-mile journey from California to North Carolina to raise money for kids with mental health and substance abuse issues to afford wilderness therapy.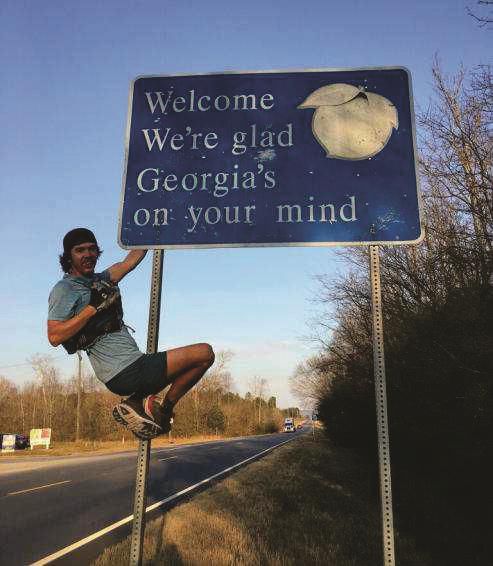 Anyone spotting a man running while pushing a baby stroller through Rome today need not worry about his sanity — despite what some may have said — he is just finishing a trek he started over 2,000 miles west, on a pier etched into film history.
On Sept. 25, David Chandler, a native of North Carolina, began his 2,900-mile journey on the Santa Monica Pier in California. It's the same place where Forrest Gump, in a movie by that name, looks out over the Pacific Ocean for a moment before deciding to just keep running.
After spending seven months as a tour guide, traveling around the U.S., Chandler left his last group in Los Angeles, close to the pier. He had the idea of running back home. And he decided to do it for a specific purpose — to provide kids with mental health and substance abuse issues the opportunity for wilderness therapy.
Just before 5 p.m. Monday, Chandler reached the Alabama-Georgia line, snapping a selfie of him hanging from the welcome sign. He joked that he has never taken so many selfies and he is running out of ideas. The photos are uploaded to his Instagram page, where he documents his journey and has a link to his donation page.
He is aiming to make it to Cary, North Carolina, before Christmas to be able to relax with his family. He is averaging 32 miles a day, including his slow start and rest days, but he has been hitting 40-mile days and last week he ran 300 miles.
His stroller contains all of his belongings, from his tent and camping supplies to packages of freeze-dried food.
For the majority of the trip he has camped out wherever he finishes for the day, including a rest stop in Arizona where 15 cows, just feet away on the other side of a fence, made an impromptu visit. He had been roused from his tent wondering why he heard huffing and puffing and footsteps around him. But other times he has gotten a hotel, which strangers have paid for on occasion, or staying in other people's homes.
There is no better way to see the country, he said, seeing the beauty of the rising and setting sun each day — the shining stars in the desert sticks out to him. It certainly hasn't all been easy, but it has brought new experiences on after another.
"It's just the biggest ups and the biggest downs," he said.
The people he has met through the small towns and back roads across California, Arizona, New Mexico, Texas, Oklahoma, Arkansas, Mississippi and Alabama have thought its awesome what he's doing or are completely surprised. However, one Cabela's cashier in Texas had his favorite reaction.
Chandler had been staying with a friend and they went to the outdoor outfitter for more camp meals. His friend told this young cashier what Chandler was doing. The cashier went silent for 20 seconds or so before emphatically repeating "why" about 10 times, finishing it off with a "you're crazy."
"He couldn't believe it," Chandler said, adding that he burst out in laughter.
So far, Chandler has raised $5,500 on his Sky's the Limit Fund and has a goal of reaching $10,000 before he reaches the Atlantic shore at Wrightsville Beach in his home state. Sky's the Limit Fund will match what he raises. He said at least two kids will be able to take a wilderness trip if he meets his goal.
Previously he was a field staffer with SUWS of the Carolinas, a treatment program based right outside of Asheville that engages youth in immersive 40-to 60-day trips into nature for therapeutic purposes. These programs aren't cheap and aren't covered by health insurance, excluding kids from low-income families, Chandler said. But he knows the tremendous benefits it has on kids, taking them out their comfort zone and instilling wilderness skills and practicing selfsufficiency.
When he finishes his trip he plans to go back to work at SUWS, which will be the beneficiary of his cross-country fundraising efforts.
" That s definitely where my heart's at," he said.