• Rome and Floyd County commissioners want the state legislature to give local jurisdictions help with collecting the revenue.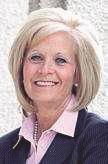 Rome and Floyd County officials are asking state lawmakers to look into ways to stem the loss of sales tax revenue in local jurisdictions.
"I know we're losing money somewhere," County Manager Jamie McCord said. County Commission Chair Rhonda Wallace noted that expected bumps haven't materialized from big events such as the recent air show and tournaments at the Rome Tennis Center at Berry College
."We didn't have a sales tax holiday this year, and our collections were down that month," Assistant County Manager Gary Burkhalter added.
The problem is threefold, according to the Association County Commissioners of Georgia: internet sales, sales tax exemptions and the state Revenue Department's sole control over the distribution.
County and city commissioners asked for help in the 2018 Georgia General Assembly session during meetings last week with Sen. Chuck Hufstetler, R-Rome, and Reps. Katie Dempsey, R-Rome, and Eddie Lumsden, R-Armuchee.
Two bills that passed the House and are awaiting Senate action would require out-of-state vendors to collect tax on the items they sell in Georgia, and require the DOR to provide more specific information to local governments.
Hufstetler also is chairing a study committee examining every tax exemption allowed by law to determine if they are cost-effective.
Internet sales, however, may remain a sticking point.
At the City Commission's session, Joel Wiggins of the Georgia Municipal Association said local brick-and-mortar businesses also are losing sales to online retailers that are not collecting sales tax.
"It's a question of marketplace fairness," Wiggins said, adding that "It is a shame that someone who won't put a building up in Georgia, we give them a 7-percent break on taxes."
Hufstetler said the Legislature's ability to address that problem is limited, since regulation of internet sales is a federal issue.
South Dakota lawmakers passed legislation last year requiring online retailers that sell more than $100,000 worth of merchandise in the state to collect sales tax. However, their state Supreme Court threw out the law in September and the case is being appealed to the U.S. Supreme Court.
Drew Ferguson, a field representative for U.S. Rep. Tom Graves, R-Ranger, promised to look into the status of any pending legislation in Congress.
Ferguson said he could see both sides of the coin: While sales tax is "an infusion to communities," he said, the responsibility to collect and distribute it to the appropriate jurisdiction "is a barrier to burgeoning internet commerce."
Hufstetler noted that state law already requires Georgians to pay their own sales tax to the state if business doesn't collect it. However, he acknowledged that the payments rarely happen.