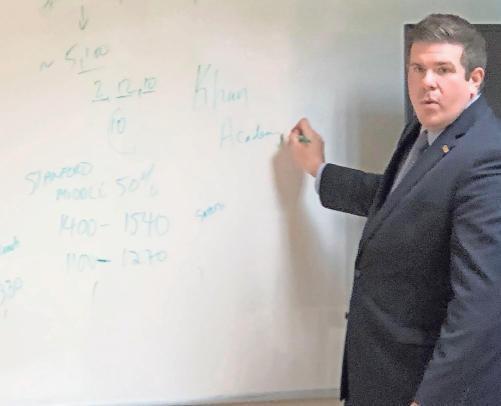 It's Grace Watters' 14th year at Darlington School and she's the 14th member of her family to attend the prestigious private preparatory school.
Yet Monday's College Boot Camp for seniors like her still seemed a bit surreal.
"It doesn't really feel yet like I'm a senior," said Watters as she waited in line for a lunch of pizza and salad during the day-long boot camp at Huffman Center for the school's 122 seniors. "This is definitely going to give me the right mindset for preparing for college, though."
The annual event featured 11 admissions officials from some of the most desirable institutions of higher education
in Georgia and beyond who gave special breakout sessions throughout the day for small groups of students.
They included LSU Director of Admissions Danny Barrow, University of Georgia Senior Associate Director of Admissions Melinda DeMaria and Southern Methodist University Regional Director of Admissions Carol Morris.
Barrow, who gave a breakout session on improving ACT and SAT scores and provided tips on admissions essays, told students they are fortunate to be attending one of the most rigorous college prep schools in the country.
"Just being a Darlington student gives you an edge," Barrow said, stressing, however, that that doesn't mean they don't have to work hard to get into the colleges they want. "If your grades drop in your fall semester here, you still have a competitive advantage, but you still need to be as laser-focused as possible because that will reflect on how well you will do once you get to college."
Barrow recommended students tune into the Khan Academy YouTube videos on strengthening skills for the ACT and SAT and also being mindful of the kind of essay they submit when applying to colleges and universities.
"Most students tend to write about challenges they have overcome in their lives," Barrow told them. "If you wrote an essay about gaining knowledge outside the classroom, your essay is more likely to stand out."
In another breakout sessions down the hall, Morris talked to students about their essays, as well, but she focused on the importance of their words and how they are put together. Reading the essay instructions and sticking to word count also is critical, she said.
"Admissions staff only have about six minutes to read over each application, so you want to be sure you are grabbing them from the very beginning and not wasting one word," Morris told students. "Use active words. Show — don't tell — your story."
Seniors already submitted drafts of their admissions essays when they checked into the Boot Camp Monday morning, along with their resumes, a list of colleges they plan on applying to, copies of any college confirmations and a letter explaining any disciplinary violations on their school record.
After Morris wrapped up one of her sessions, she told students she'd be happy to look over their essays if they wanted feedback from her. In her more than 40 years in the college admissions field, she estimates she has read more than 80,000 essays.
Alana Dame, 17, did not hesitate to take her up on that offer. Dame said she had written about lessons she learned overcoming obstacles at home.
Dame, who plans on playing soccer in college, said she would like to become an athletic trainer or go into sports medicine. She said she's been particularly inspired by an athletic trainer she had who has since passed away.
"He's in my essay a bit," Dame said.
Morris told her her essay would be even stronger if she went into more detail about the obstacles she faced and how they directly impacted her.
"I want to know you better," Morris told her. "I'm feeling bad for you, but you need to be more specific. I need to know where you were and how you felt."
Dame said she appreciated all the advice and that the Boot Camp was definitely beneficial to her.
DeMaria said during her session on making the transition between high school and college as smooth as possible that she gives students the same advice she gave her own children.
"How you present yourself and the connections you make matter. You never know where those connections will lead," DeMaria told students before showing them her last PowerPoint slide, which happened to be a blank screen. "You are a blank page. You need to decide who you want to be. It's all up to you."