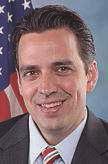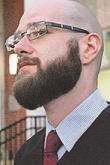 A younger politically-minded generation is showing up, with new technology-based ideas to challenge what appears to them as a fixed system.
For instance, a 28-year-old music major at Dalton State University is moving to challenge U.S. Rep. Tom Graves, R- Ranger, for the 14th Congressional District seat.
Brian Rosser said Tuesday he's decided to defer his career to run for office as a Democrat in 2018.
The filing deadline is March 19 and the primary is in May.
"I wanted to be a rock and roller, but these are extraordinary times," Rosser said. "I'm tired of seeing everybody at each other's throats and nobody stepping up to do anything."
The district covers 12 counties in the northwest corner of the state: Floyd, Gordon, Polk, Chattooga, Walker, Catoosa, Dade, Paulding, Haralson, Murray, Whitfield and half of Pickens.
Graves has held the seat since 2010 and the Democratic Party has not fielded a candidate for the past two elections.
The region is heavily Republican, with 76.7 percent of the electorate turning out last year to give Donald Trump 75.2 percent of the vote. In comparison, Trump netted just 51 percent of the votes cast statewide.
However, Rosser said his exploratory work convinced him he could tap wide support and bring new voters to the polls. Social media and other new technologies are now available to help get his message out, he said.
" Congressmen and women on both sides of the aisle — it seems like everybody knows what they should be doing except them," he said.
" Especially Tom Graves, who talks in broad platitudes but caters to big industry over small business."
The "hotel incident" still rankles people in Calhoun, Rosser said, and shows Graves puts himself before the community.
As state lawmakers in 2007, Graves and Chip Rogers took out a $2.3 million loan to buy and remodel the Oglethorpe Inn off Interstate 75 at Red Bud Road. But they ended up being sued for defaulting in early 2010.
The two countersued and, ultimately, there was a settlement. But locals were affected by the bank's later failure and the dilapidated abandoned hotel stood as a reminder of the deal until it was demolished in 2013.
"I could see that as an indicator of how Tom Graves handles himself," Rosser said. "And then they put him on the (U.S. House) subcommittee dealing with financial services.
"To me, it's wrong. A lot of people here are counting on him but partisanship gets in the way. This district is not being represented," he added.
Funding a campaign
Graves has drawn challengers in the Republican primaries but pulled more than 70 percent of those votes in 2014 and 2016. He also had $1.4 million in his campaign chest as of the end of September, according to filings released Tuesday by the Federal Elections Commission.
Rosser is in the process of setting up an account. He said statistics on the cost of running a campaign are discouraging, but it's a new day. He referenced Danny Grant, a Democrat who spent just $33,000 to win 27 percent of the vote when he ran against Graves in 2012.
"I don't think a lot of people understand the power of the internet," he said.
Crowd-funding sites such as CrowdPAC can pull in donations from around the country, and Rosser said he's already formed a core group of campaign workers with innovative ideas.
Facebook, Skype, telephone town halls and other electronic venues are the way to connect with young voters, he said, along with getting out to community events and, possibly, holding some concerts.
"I've also reached out to some Democratic coalitions and there's a lot more support there than I thought I would get," he said.
Rome City Commissioner Wendy Davis is a longtime Democratic Party strategist. She currently works for VocalFi, a telephone town hall service for candidates around the country.
Davis said Wednesday she wouldn't be surprised to see at least one credible challenger in every congressional race next year.
"The interest in running for office across this country has never been stronger," she said. "A lot of people are frustrated with the politics of division; a lot of people want to see things get done."
Technology also is boosting grassroots movements. In her recent commission race, Davis said, she held two telephone town halls that reached 6,000 voters each.
"The tools of modern democracy are many and varied. Some of them are extremely affordable," she said. "Gone are the days when there had to be a smoke-filled room where candidates are selected."
Davis said at least five Democratic challengers are lined up to run in the Gwinnett-based 7th Congressional District, "which is almost as red as we are," and there could even be a contested primary in the 14th.
Rosser is, so far, the only one on board.
"I don't have a background in politics; I'm literally a janitor in a church right now. But I do my research. I know what I'm talking about," he said. "I've been wanting to enter politics for about two years. I'm sure there are more qualified candidates, but if nobody's going to take (Graves) on, why complain on Facebook?"