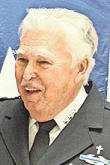 In his final remarks during a Veterans Day event at Coosa Middle School, Lt. Gen. Billy Brown instilled in the audience the message that it is not by those who exhibit the freedoms of our nation who gave them to us, but by the veterans who served and sacrificed to ensure that they could.
"It is the veteran — not the preacher — that has given us freedom of religion," he said. "It is the veteran — not the reporter — that has given us freedom of the press."
Brown, of the U.S. Corps of Chaplains, enlisted in the Army with only an eighth-grade education. He joined the 5th Infantry Division as a 14-yearold, the same age as some of the students in the audience listening to him speak in the school's gym.
By the age of 16, he was a squad leader in the 187th Airborne, Regimental, Combat Team serving in the Korean War — the youngest member of the group.
He was tasked with leading fellow Army Paratroopers who were 4 years older than he was.
"Those that fight the war are the young men and women," he said.
They were facing an unknown enemy who spoke a foreign language in a nation they hadn't heard of, Brown said.
"This is insane what we're doing to one another," he recalled, having lost eight close friends and acquaintances in combat.
But to save one's own life, and the lives of fellow brothers in arms, it meant having to do them harm, he continued.
Plenty of people ask, "Why war?" Brown said. Because someone wants what you have, he continued. Freedom is not free "because somebody wanted what we have." Somebody wanted our assets, our freedom, our country, he said.
From their initial oath of allegiance to defend the constitution before going into service, "They lay their life down, then, they take on a new identity," he added. "They hang up their uniform but they don't hang up their experiences.
"All veterans are heroes," not just those who saw combat, he said.
When Brown came out of the military he was an expert on weapons and explosives, he said, but he couldn't pass a math exam or a driver's test. But he wanted something better than destruction.
Brown earned his GED while serving, but he knew he needed to further pursue education, and he encouraged students to do the same.
"I learned how to study and find answers in school," said Brown, who has gone on to receive a number of degrees.
"I'm open to learning anything that I can't."
Not everyone needs to be a soldier to be a hero, Brown said, and he prodded them to not follow his example and leave eighth grade to join the military.
A lot of things in the U.S. need improving, he said, as he turned to the youth in the room for the answer.
"It's in your hands," he said. "What kind of country do you want?"
The heroes of education, he said, are preparing students to be the catalyst of bettering our nation.
"I wasn't that prepared," he said. "I see hope in you for a better world."
Even though Brown didn't want to get too political, he wanted to convey his thoughts and perhaps add depth to the conversation on the topic of NFL players kneeling in protest during the playing of the national anthem before games.
"I still get close to tears when I see the flag," Brown said, as do many veterans.
It bothers him to see players kneel before the flag, he said, "but this is the freedom we have." It's something he has discussed with his "assistant" Leslie Schoonover, who is also a member of the U.S. Corps of Chaplains.
He painted the audience an image of the ghosts of fallen service members, who died under the flag, marching onto the field and standing before players, telling them, "I'm stronger than you are.
"I died for your freedom," they would say.
Brown said Schoonover told him, "They have a right that you earned in freedom."
Dooly County 56, Trion 35
"It isn't about our opponent, but about how well Rockmart continues this season," Parson said.
The Jackets put up big numbers with Markus Smith and Zabrion Whatley combining on the ground. Rockmart will host Callaway — coming off a 28-8 win over Douglass — next Friday night.
Logan Blevins scored three touchdowns for the Trion football team Friday night, but it wasn't enough for the Bulldogs in a 56-35 loss to Dooly County in Class A Public state playoffs. Blevins scored on runs of 20, 2 and 5 yards. He finished the night with 103 rushing yards.
Brett Brown scored on a 23-yard pass from Jarrett Gill, and Tanner Railey scored on a 4-yard run. Gill finished 65 rushing yards and 127 passing yards.
Dooly County's Desi Lester posed a problem for Trion all night. Lester finished 310 yards and five touchdowns on 14 receptions.
The Bulldogs finish the season with a 7-4 record. Dooly County (5-6) will face Clinch County in the second round.
Rabun County 49, Chattooga 6
Chattooga's football team faced a tough test Friday in undefeated Rabun County, the result being a 49-6 loss to the Wildcats in the opening round of the Class AA state playoffs.
The Indians finish the season with a 4-7 record.
MORE ONLINE
For prep coverage throughout the season, including scores, stories and photos, visit RN-T.com.