• HB 205 sets regulations for the oil and gas extraction method that could be used in Floyd County.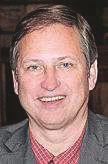 A bill to protect Northwest Georgia's water from the effects of fracking is awaiting a vote in the Senate before heading to Gov. Nathan Deal for signature.
House Bill 205, deferred from the 2017 session, was resolved by a conference committee made up of three members of the House, including Rep. John Meadows, R-Calhoun, and three from the Senate, including Sen. Chuck Hufstetler, RRome. It passed the House on Monday.
The measure updates the state's 1975 mining law to regulate hydraulic fracturing. The comparatively new technology shoots pressurized fluid into underground rocks to crack open fissures and extract natural gas or oil.
"Any oil and gas exploration to identify new sources of energy should not occur at the expense of the state's important natural resources, such as residential, municipal and industrial supplies of fresh water," the bill reads in part.
Just eight Northwest Georgia counties, including Floyd, are expected to have natural gas or oil reserves.
Under HB 205, the Georgia Board of Natural Resources will have until July 1 to adopt a set of regulations that include — for the first time — public notice of any applications for fracking permits. Permit applications will go through the Georgia Environmental Protection Division, which must allow for a 30-day comment period.
Applicants will have to identify any groundwater within a half-mile of the proposed drilling site and tell the EPD and public health commissioner what is in the liquid they'll be using.
The bill also confirms that local land-use regulations apply.
About a decade ago, the Floyd County Commission adopted what County Manager Jamie McCord called "one of the strongest regulations in the state." It limits all mining operations to heavy industrial properties of at least 200 acres and a special-use permit is required.
HB 205 also provides for some revenue. The state gets 3 cents per barrel of oil and 1 cent per thousand cubic feet of gas extracted. Cities and counties can levy up to 9 cents for the oil and 2 cents for the gas.
Meadows sponsored the bill last year and Floyd County's delegates, Rep. Katie Dempsey, Eddie Lumsden and Christian Coomer, signed on as co-sponsors. It easily passed the House but ran into a roadblock in the Senate.
The hold-up came from a provision tacked on by Sen. Burt Jones, R-Jackson, that increased the local government surcharge on private landfills. Senators passed the amended bill but the House balked and time ran out.
Jones, who later promised to pull his provision and put it in a separate bill, also served on the conference committee that resolved the differences.