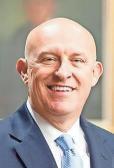 Recently-appointed Georgia Bureau of Investigation Director Vic Reynolds knew, when he served as Cobb County's district attorney, that Cobb had a gang problem.
After the former Floyd County police officer turned attorney stepped into the state's top law enforcement position in February, he quickly realized Georgia's gang issue is far more widespread than in just one are, Reynolds said Wednesday, and reaches into hundreds of communities across the state.
"Contrary to what a lot of folks may believe, criminal street gang issues aren't limited to urban areas; they're in suburban areas, they're in rural areas," Reynolds said. "The Georgia Gang Investigators Association, GGIA, did a survey in the summer of 2018 — the soft numbers on that survey show about 71,000 validated gang members in our state, from north to south. What I've seen and given the fact that some law enforcement agencies did not respond, I'm convinced that those are soft numbers."
In light of those numbers, and in an effort to make the state safer under his directorship, Reynolds said the GBI is now increasing its focus on gangs and dismantling their organizations, piece by piece and member by member.
And, while he's only been at the GBI's helm for several months, Reynolds said he's convinced a gang crackdown is necessary, and will produce results.
"Just recently, GISAC, our information sharing analysis center, sent out a survey statewide to law enforcement agencies," Reynolds said. "We sent it to 159 sheriffs — every sheriff's department (in Georgia) — and we got 153 responses back. We sent it to over 560 police departments; we got about 510 responses back. We're talking about 655 or so responses, and we asked them, 'Tell us the number one issue, or the top issues facing you as law enforcement agencies.' Around the state, regardless of the area — urban, suburban, rural — the number one issue facing them is criminal street gangs."
While the GBI is seeing an increase in the more commonly known gangs, such as sects of the Bloods and Crips and MS-13, one particularly violent gang that's estimated to have 30,000 to 50,000 members worldwide, it's smaller organizations, too, that Reynolds said deserve attention, given they're just as lethal.
It was one such smaller outfit, Kutt Throat 53, whose leader, Tafahree Maynard, shot to death Gwinnett County Police Department Officer Antwan Toney in October, Gwinnett County District Attorney Danny Porter said last month when announcing a gang task force his office has implemented.
So, just how does the GBI plan to tackle the gang problem?
It starts with charging suspected gang members under the state's criminal street gang statute, which Reynolds said is one of the strongest in the country.
"What I think has happened in the past, and I don't mean just with the GBI but with law enforcement in general, is let's say hypothetically, we respond to a homicide case and investigators get there. They tend to focus, as they should, on investigating and solving the homicide," Reynolds said. "What we've done previously is even though there may be a gang connection, a gang nexus, law enforcement has tended to step over the gang charge and go directly to the underlying charge and predicate charge, whether it's murder, armed robbery or drug trafficking, without pursuing that gang connection. That's what we're going to change ... no longer will we step over that; we will investigate the gang connections, and if we can make the gang charges under the gang statute, we will do that."
Arresting and charging people alone won't solve the problem, though, Reynolds acknowledged.
"As a society, we have to provide kids who are vulnerable, who are recruitable, who are at a point in their life where they could go street A or B, (the resources) to make sure they go down the correct street," he said. "That's a task that churches, community groups, civil organizations, schools are all involved in day in and day out. We need to do that as fellow human beings for the next generation."
"But the truth is, sometimes people enter into gangs, they commit acts, and the only way to deal with it is with an aggressive, assertive law enforcement approach," Reynolds continued. "That part of the equation I believe the Bureau can do (well)."