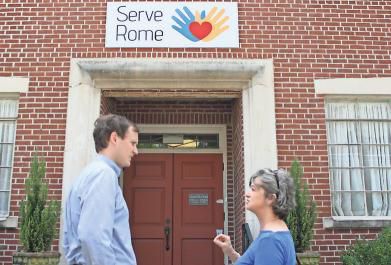 The Exchange Club Family Resource Center won't need muscle for its September move to new offices in the Serve Rome building at 202 E. Third Ave.
But the charity dedicated to preventing child abuse can always use money.
"The more investment we have, the sooner we can start applying the savings to our parent education and in-home Parent Aide programs," executive director Tina Bartleson said Monday.
Rome First United Methodist Church is renovating its administration building as the Serve Rome center, offering space to local nonprofits agencies that help children and families.
Among the tenants: Lutheran Children's Services, Hospitality House for Women, Rome Action Ministries, One Community United and a Murphy Harpst Children's Center satellite office. Good Neighbor Ministries — a collaborative clearing house for local church assistance — has been on the church complex for a number of years.
Bartleson said the space is rent-free — just a pro-rated share of the cost of utilities and maintenance — and she expects it to mean about $6,000 more in the Family Resource Center program budget each year.
Plans are to move from their longtime location at 5 Professional Court to Rome Serves on Sept. 10 and 11. The church has a grand opening ribbon-cutting scheduled for 10 a.m. Sept. 10.
Lee Niedrach, president of the Family Resource Center board, said they'll be the largest agency in the building, taking up the whole third floor. Since the elevator only goes to the second floor, they'll hire a professional moving company for the heavy-lifting.
"We'll have some volunteers, though," he added. "We have a lot of Exchange Club volunteers. You just have to ask and they
raise their hands."
A group was over at their Rome Serves space last week to paint all the rooms and hallway. The church had more electrical outlets installed and the Rome High Junior ROTC put in hours cleaning and washing the windows.
"Was that part of their Service Day?" Niedrach asked.
"No," Bartleson answered. "I just asked them to help and they said yes."
The Family Resource Center averages about 50 families at a time in their Parent Aide program, which sends trained aides into homes of at-risk children with educational and support services. Bartleson said they can help for a year but most graduate within eight months.
The organization also offers various types of parenting classes to the community at large.
Bartleson said she's already discovering new resources in talking with the other agencies in the center. Lutheran Children's Services runs a program for people with developmental disabilities, she noted, and Hospitality House, which helps battered woman, has a counselor on staff.
"We'll be able to better connect people with the services they need," she said. "I'm also exploring ways to partner more with Good Neighbor, which has done so much for decades."
While much of the Resource Center's work is done in people's homes, officials also are looking forward to their new location across from the Midtown Transit Station.
"We're hopeful that such a central location in the heart of downtown Rome will make us more visible to people in the community who need help," Niedrach said.