• The jury doesn't reach a verdict following closing arguments Wednesday in the murder trial of John Henry Wetherington Jr., 28.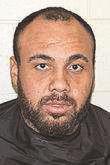 The jury in the trial of John Henry Wetherington Jr., who is charged with robbing and murdering a Summerville man on April 2015, is set to pick up deliberations this morning.
Jurors didn't reach a verdict during the third day of the trial Wednesday, but will get back at it at 8:30 a.m. today in Floyd County Superior Court.
Wetherington, 28, of Dalton, is accused of killing 42-year-old Nicholas Shropshire on April 18, 2015. He also is accused of robbing him of $1,500. Shropshire's body was dumped on the side of Floyd Springs Road and a passerby reported it to 911.
According to information presented in court:
Shropshire had made plans to buy methamphetamine from Wetherington through Eric Jordan Hunter, 25, of 2014 Wesley Court in Rome, who has admitted to being the driver of the car. Shropshire had his windpipe crushed, with the primary cause of death being strangulation.
The two audio recordings of Floyd County police investigator Chris Fincher interviewing Wetherington were played by Assistant District Attorney Hal Goldin. The first interview was on April 22, 2015, and the last was in early 2017.
Goldin used the first interview, along with a receipt, to show Wetherington was not at Walmart during the time of the murder, 6 to 7:30 p.m., as his girlfriend and mom had told police. From Fincher's investigation, he found video of him entering Walmart at 10:31 p.m. and a receipt indicating he checked out at 10:54 p.m.
Wetherington's attorney, Arnold Ragas, asked Fincher why he told his client he didn't commit the crime in the first interview. Fincher said he was attempting to level with him, something typical in investigative work.
Ragas continued to press Fincher in regards to his recollection of the case's details, considering the over two-year span between the crime and trial, after he used a copy of the receipt to reference while testifying.
"I also ate several times, but I can't tell you where," Fincher said.
By the time of the second interview, Fincher told Wetherington, "We've got a good case against you," though he didn't believe he set out with the intention of murdering Shropshire. Wetherington had to have reached behind him to strangle him because it couldn't have been done from the front seat, Fincher said in the recording.
"The story is I got out of the car," Wetherington replied to Fincher, referring to his claim he wasn't in the car with Hunter and another unidentified person when they met Shropshire.
Wetherington had sold marijuana to Hunter earlier in the day on April 18. He contended he never sold any hard drugs, though, like the meth that Shropshire had gone to purchase.
Fincher confirmed for Ragas that Hunter, who is the prosecution's main witness, had previously set people up for drug deals.
Both Hunter and Wetherington are charged with felony murder and robbery. Hunter was arrested two weeks after the incident occurred and Wetherington was arrested in February. Hunter will be sentenced at a later date.
Goldin also is seeking to include an involuntary manslaughter charge in with the murder charge.