• The city plans to file a multijurisdictional lawsuit against manufacturers this week.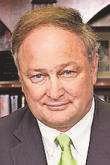 Doctors at Floyd and Redmond Regional medical centers aren't objecting to the lawsuit against opioid manufacturers that local attorneys could file as early as this week.
"Knowing we rank very high for opioids in the state is very concerning," said Dr. Julie Barnes, chief medical officer at Redmond. "We want to contribute to the conversation and contribute to the solution."
At the heart of the issue is the claim that pharmaceutical companies intentionally marketed the painkillers as desirable and safe while ignoring signs of a growing epidemic of addiction.
"In one county alone they've seen over 9,000 prescriptions per person," Rome attorney Bob Finnell said. "They know what's happening."
The Floyd County Commission is expected to join the case Finnell and Andy Davis are preparing to add to the MDL — multijurisdiction litigation — consolidated in a federal district court in Ohio. Rome city commissioners are already on board.
Finnell said they've also been contacted by Chattooga and Whitfield counties, Cartersville, Dalton and other local governments, along with a hospital chain in six states and a Kentucky association of rural healthcare providers.
The Floyd County board acknowledged the opioid crisis as a national public health emergency and local public nuisance in January, but has held off official action pending talks with the medical community.
"The number of deaths are on the rise. The costs to our community, our health care providers, police department and hospitals are all on the rise," Commission Chair Rhonda Wallace said. "We must all come together and do our part to stop this crisis. We're just trying to make sure when we say yes ... we're doing the right thing by our partners."
The board is slated to meet Monday at noon with physicians from Redmond and Harbin Clinic. Commissioners heard Wednesday from Sheila Bennett, chief of patient care services at FMC, who holds a doctorate degree in nursing.
Taking action
Bennett said Georgia hospitals already are taking action, including a new requirement to check a statewide prescription database before prescribing opioids to patients.
They also talk with surgical patients about the level of pain to expect during recovery and look for non-narcotic alternatives to get them through it. Except in cases such as terminal illness, cancer and chronic pain, prescriptions are for three days at a time.
"A lot of people who get addicted had a legitimate reason to use the medication," Bennett told the board. "People don't wake up one day and say 'I want to be a drug addict.' They don't realize how powerful this addiction really is."
In Georgia, she said, the in-patient group most commonly affected is age 60 and older. For out-patients, it's the 25 to 45 age group.
Bennett said FMC has seen an increase of involuntary commitments, with more than 1,000 presenting last year. That's an average of four to seven a day.
"They're not all related to drug overdoses, but it's common," she said.
FMC also has seen a rise in babies born addicted to opioids. Bennett said addicted babies can be cured but should be monitored as they grow up.
"Those babies are inconsolable," she said. "We have to hold them, get volunteers to come in and just hold them."
"And then they go into foster care and have long-term effects," Commissioner Allison Watters added.
Commissioners indicated that settlement money from the lawsuit could be used to establish local programs aimed at addressing the problems. Finnell said the Ohio judge has signaled that he is on the same wavelength.
"We're not trying to put the medical companies out of business. ... It's a multifaceted problem and the focus is on long-term solutions," he said.