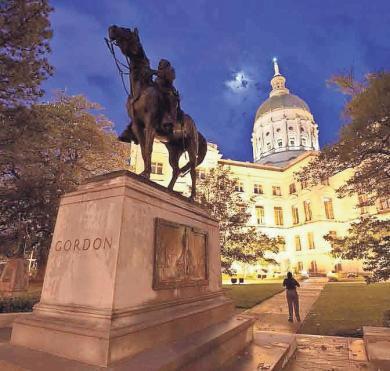 Lobbyists are required to file reports disclosing gifts, including meals, to state lawmakers every two weeks while the Georgia General Assembly is in session.
But it's not always easy to determine the issues they're pushing.
A number of firms billing themselves as governmental affairs consultants represent scores of firms and industries. Increasingly, their employees list the firm, not the client, in the section of the report asking who they're lobbying for.
Contacts with Floyd County's legislative delegates reported between the Jan. 14 start of the session and the April 2 end give a snapshot of the variables involved.
Sen. Chuck Hufstetler, R-Rome, was cited in just two lobbyist expense reports.
The Professional Association of Georgia Educators gave each senator a box of crayons valued at $1.50. Hufstetler also had a meal meeting, at $19.61, with Robert Elliott, vice president of Switch, a Nevada-based data center design firm.
In the House, Reps. Katie Dempsey, R-Rome, and Eddie Lumsden, R-Armuchee, were among the lawmakers who got $6 T-shirts from the Alzheimer's Association.
Dempsey and Rep. Mitchell Scoggins both attended the April 10 Georgia Municipal Association District 1 listening session in Rockmart, with GMA spending $8.57 each on their meals.
Spending was higher by the for-profit entities, which often share expenses for a one-on-one meal or a large legislative
dinner and pro rate the cost among attendees.
January
Lumsden met Jan. 28 with a representative of the Southeastern Carpenters Regional Council for a $52 meal.
Scoggins attended a Jan. 28 Emory University tour and dinner with a total cost of $56, split by an Emory lobbyist and the Georgia Alliance of Community Hospitals. Two lobbyists with consultants Smith Gambrell & Russell shared the cost of a $125 dinner on Jan. 29.
Dempsey attended a Jan. 22 dinner given by the Georgia Society of Interventional Pain Physicians at $12 per person. She had a Jan. 23 meal with an AT&T lobbyist, valued at $52, and an $11 lunch on Jan. 30 paid by consultants CPS Strategies.
February
Lumsden went to a Feb. 7 dinner with GMA representatives who reported spending a total of $126. He met twice with a lobbyist working for McGuire Woods Consulting, for a $20 lunch and a $73 dinner. He also had a $73 dinner with a lobbyist for AT&T.
Scoggins attended a Feb. 7 dinner given by children and family healthcare lobbyists. The $109 pro-rated cost was shared by Together Georgia, Lifepoint Health and Multi-Agency Alliance for Children, Inc.
Dempsey had a $37 meal with a lobbyist for Charter Communications on Feb. 4 and consultants Connect South Public Affairs also reported spending $74 on food and beverage for her on that date.
She also had an $18 dinner on Feb. 5 with Georgia-Link Public Affairs Group and a $57 dinner Feb. 7 cost-shared by consulting firms W.L. Clifton Political Consulting, Georgia Work Net and Commonwealth Group Partners. Dempsey also attended a dinner Feb. 26 that cost consultants Mathews & Maxwell Inc. and Bristol-Myers Squibb Co. a combined $160.
March
Lumsden met with several consulting firms in March. He had a dinner with Southern Strategy Group valued at $70; a dinner with Joe Tanner and Associates valued at $61; and a $72 meal paid by Cornerstone Governmental Affairs.
He also met twice with Monty Veazy of the Georgia Alliance of Community Hospitals, for meals costing $62 and $28.
Scoggins had a $24 dinner on March 11, split by lobbyists for TitleMax of Georgia and consulting firm Holland & Knight LLP. Two lobbyists listed meals for him on March 13: AT&T at $20 and Georgians for Lawsuit Reform at $35.
He also had a $5 meal with a firm representing Cancer Treatment Centers of America and Searles Consulting Inc. spent $37 on a meal and entertainment.
Dempsey had a $22 meal with W.L. Clifton Political Consulting in March and attended an $88 dinner costshared by lobbyists with the Georgia Bankers Association and Melvin Weaver Consulting. Another $21 meal was split by CTCA and Navicent Health.
On March 20, Georgia Power and Troutman Sanders shared the cost of a $57 meal for Dempsey; Georgia Power spent $28 on March 21; and Troutman Sanders spent $32 on March 25.
A March 26 dinner costing $100 was shared by the Georgia Society of the American College of Surgeons, Georgia Association of Community Service Boards and the Metro Atlanta Chamber.
Dempsey also attended a March 28 dinner for Republican women legislators sponsored by the American Council of Engineering Companies of Georgia that cost $10 per person.