• But insurance groups are pushing back against Sen. Chuck Hufstetler's proposal.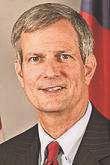 Legislation sponsored by Sen. Chuck Hufstetler adds greater protections against surprise out-of-network medical bills than its counterpart that passed the House.
"The House bill deals with transparency and that's good ... but we need more than the fact that it's very obvious (patients) are getting hosed," the Rome Republican said.
Senate Bill 359 requires hospitals to notify patients ahead of time if a scheduled procedure will involve a contract provider outside of the facility's network.
Physicians and insurance companies also would be responsible for ensuring the charges are known up front.
But, unlike House Bill 678, it also includes caps on out-of-network reimbursement rates for emergency services, based on the independent FAIR Health database. Currently, contractors set their own rates.
"The issue is to level the playing field, so physicians and groups would rather be in-network than out-of-network," said Sen. Ben Watson, R-Savannah, a physician and co-sponsor of the bill.
SB 359 passed out of the Senate Health and Human Services Committee on Thursday with unanimous support and is expected to be scheduled for a full Senate vote next week.
However, it's opposed by a number of insurance groups, who contend it puts their members at a financial disadvantage.
The issue most often affects radiologists, anesthesiologists, pathologists and emergency room doctors, according to Graham Thompson, a lobbyist for the Georgia Association of Health Plans.
"I know this is to protect consumers in ER situations when they cannot be a savvy shopper ... The problem for the Georgia Association of Health Plans' self-employed and small businesses around the state is how we go about accomplishing that," he told the committee.
Thompson and Allan Hayes, who represents America's Health Insurance Plans, both said they want a different standard for the charges that can be billed to a patient.
"It's the same discussions, the same objections, the same concerns we've had for the last couple of years," Hayes said.
The two said they support the competing House bill, but were willing to keep working with lawmakers on a compromise.
Hufstetler's bill is backed by the Medical Association of Georgia and a coalition of physician groups that hailed it as a bipartisan move to take the patient out of billing disputes over unexpected out-of-network care.
"Surprise insurance gaps require a comprehensive — not piecemeal — solution, and SB 359 provides exactly that," said Dr. Brett Cannon of ApolloMD, a board member of Physicians for Fair Coverage.
Bills have through Wednesday to pass at least one chamber of the Legislature, and the deadline for final passage is midnight on March 29. Hufstetler said he expects there to be negotiations between supporters of the House and Senate bills in the coming month.
"We know this bill won't go all the way through the way it is," he told the committee. "My preference is to keep it as it is for now."