• Denver Allen is accused of killing his cellmate and a jury is hearing testimony on his competence to assist in his own defense.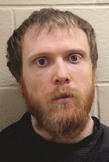 "I ain't never said I didn't kill that dude ... He's dead and there was only two people in that room," Denver Fenton Allen yelled during one of his outbursts Monday in Floyd County Superior Court.
Today, a jury is expected to decide why he said it.
Assistant District Attorney Luke Martin contends that Allen is trying to be declared mentally incompetent to stand trial for the 2015 murder of his cellmate in the Floyd County Jail.
Local attorney Dan Morgan, Allen's public defender, is arguing the 32-yearold Cartersville man is unable to assist with his own defense.
Allen made national headlines in June 2016 following a heated and profanity-laced exchange with Superior Court Judge Bryant Durham. The transcript was made into a cartoon video that quickly went viral.
Following a state diagnostic report, Superior Court Judge Billy Sparks — who took over the case — declared in April that Allen was temporarily unfit for trial. He was sent to Central State Prison in Milledgeville for evaluation.
Psychiatrists from Central State are expected to testify at the civil trial continuing today that Allen's competency is restored.
If jurors agree, Allen will face a criminal trial at a later date in the Aug. 26, 2015, murder of Stephen Rudolph Nalley. If they don't, he'll be committed to a state mental facility.
Allen sat quietly for much of the daylong proceedings Monday.
However, he interrupted Sparks and both attorneys several times with sexually based profanities and claims of "falsified records, multiple health issues and a court pedophilia ring. Twice he described how he'd like to go to someone's home with a shotgun and kill that person and his family.
Sparks had Allen removed from the courtroom at least twice after repeatedly admonishing him.
"I don't want you to miss your trial, but the only way you can stay is to follow instructions and let your attorney represent you," the judge said.
Martin tried to keep the focus on the legal definition of competency: Can the defendant understand the nature of the proceedings and the consequences of the trial, and is he able to help in his defense.
"Competency is a very fluid thing," Martin told jurors, adding that the doctors would explain how it could be controlled with medications and other treatments.
Morgan's strategy appeared to be to let Allen rant. He also brought in his sister, Mika Pederick, from Minnesota to testify about an abusive mother and a father who wasn't around.
"We saw him a couple of times when he got out of prison, before he was murdered," Pederick said.
She said their mother beat them and gave them impossible tasks "when she was high, or just angry because she wasn't high," and that Allen had been in and out of state facilities since he was 13.
Another of Morgan's witnesses, state forensic psychologist Dr. Sam Perri, was questioned about previous times he evaluated Allen after violent episodes while he was incarcerated.
However, Allen berated Morgan — "he's lying about me" — and asked for another attorney, which Sparks refused to grant.
Morgan is Allen's second public defender, appointed when he accused the first of propositioning him and working with the state to convict him.