• Attorney Brian Bojo says his role in the Floyd County Schools RICO case stands out not only in its scope but in how it hits home.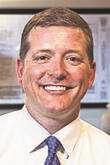 Sure, attorney Brian Bojo has handled RICO cases before as a court-appointed receiver — seven to be exact.
In 2013, he was the receiver for a case — filed under the Georgia Racketeer Influenced and Corrupt Organizations Act — involving the seizure of gambling machines from local convenience stores. He did the same in 2015 for another gambling machine case. But in that same year another case came up, the largest he has personally dealt with to date.
It's the case involving an alleged de cade-long scheme carried out by Derry Richardson, the former maintenance director for Floyd County Schools, and at least 12 others that led to $6.3 million in losses for the school system.
"It's been the biggest on a number of fronts: The biggest in terms of community impact, the biggest in terms of, certainly, assets that are involved," Bojo said. "I think the most important is to the health of the community."
EDITOR'S NOTE
This is the first report in a two-part series on Rome attorney Brian Bojo's role as the court-appointed receiver in the RICO case involving alleged decadelong thefts from Floyd County Schools. Part Two will run in Monday's Rome News-Tribune and will focus on Bojo's setup of a court-appointed auction of seized and forfeited items in the case.
This case is personal for the Coosa High graduate, particularly due to his experience of growing up with a teacher for a mom.
"You get a real sense of what kind of sacrifice teachers make and the work they put in and the hours that don't end when the school bell rings," he said. "I mean they bring papers home to grade and they have lesson plans to prepare, and they're on the phone with parents late into the evening.
"It doesn't stop. They're woefully underpaid and overworked," he said. "The teachers in Floyd County are so committed to their jobs — teaching, coaching, mentoring — and to have this happen was just a body blow," he said.
His past provided context to what this case meant for his community. Bojo recalled the reduction in force some school system employees were dealt in 2013, while the thefts were reportedly occurring, and stories emerged of families being put into financial difficulties.
"With all the uncertainty that was in the air at that time, for so many teachers, coaches, administration members, staff members of the school system to know that this was done to such an extent breaks your heart to think about those families," he said.
"I have a real sense of what that's like having grown up in that type of home," he said. "And being married to a teacher now, my wife taught while I was in law school and we lived on a teacher's salary during that time.
This backdrop to his responsibility in this case meant coming to work "with a little bit of a fire in the belly." It meant working "to account for every penny, find every asset, follow every lead.
"You have a little bit of a sense of a mission that you can see tangibly what you hope these things accomplish," he added.
And now, with Floyd County Schools reaching a settlement with Johnson Controls Inc., which will pay out $2.3 million and provide additional services, Bojo is hoping to be part of the healing process for the system to put the past behind and move forward. Part of this process is a court-ordered auction of the seized and forfeited items from defendants in the case — it will start at 11 a.m. Saturday at the Coosa Valley Fairgrounds.
"The theory behind RICO is you've got harm against the community, that these assets are going to be used to attempt to heal the community," said Bojo. "Unfortunately, money is the only remedy the law can give. That's part of the design."
RICO cases have components both criminal and civil, Bojo said. He only deals with the civil element.
Chris Jackson, an attorney at McRae, Smith, Peek, Harman & Monroe LLP with Bojo, described a receiver as a "Switzerland-type of an individual.
"Instead of the judge having to go and follow down a lead on a bank account or deal with an auction, she appoints Brian to make sure that the assets are properly managed," said Jackson, who is representing Bojo through their firm. "And, sometimes, that involves making tough decisions."
Ultimately, it's about being a good steward of the money taken in and preserving the condition of property as to return as much money as possible back to the school system upon being sold, Jackson said.
Bojo is currently finishing up his LLM — Master of Laws — degree at one of the top tax programs in the country at New York University, where he travels to on occasion for classes. This coupled with his already-held tax knowledge has had an immense impact on his current case, and carries over in his role with the firm, Jackson said.
"There are tax consequences for all of these transactions," he added.
When accounts are liquidated it helps to have someone like Bojo exhibiting his knowledge to meet that final goal of providing the utmost restitution, Jackson continued.
Bojo shrugged off the juggling of responsibilities as simply "the job of a lawyer in Rome," but he did convey his receiver role in the RICO case has absorbed much time and effort. Working on other things is just part of the job, "like a physician, you have other patients and you want to take care of everybody."
RN-T.com
Read this story online to see a gallery of photos showing the piles of items slated to be auctioned.