• Jason Coffman, the 2018 Floyd County Schools Teacher of the Year, explains how he got into teaching, his philosophy and why he continues to teach.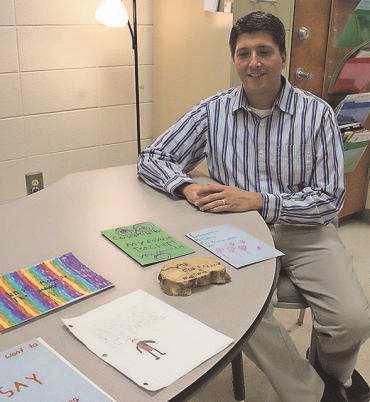 There is a rainbow-colored, lined sheet of paper Armuchee Elementary School teacher Jason Coffman keeps in a folder inside his desk. It expresses a sentiment in black marker, that his classroom is the best in the school.
It is not alone in this folder, as it rests amongst congratulation cards, essays and artwork — remnants of former students and the memories he holds of them. And it is there as a reminder of the purpose that leads him to the classroom — an affirmation of why he does what he does.
But this piece stands out among the rest because of the sheer surprise of its manifestation. The student came from a bad home life and everything he drew before was dark, evil-like, Coffman said. This one time, though, he did something different.
It blew Coffman away, he said, recalling his immediate reaction of scribbling down the date and time on the back of the drawing when he received it.
The rewards and fulfillment Coffman, who is the 2018 Floyd County Schools Teacher of the Year, finds in these small tokens of appreciation drive him to continue doing that which wasn't always his chosen pursuit.
As a 21-year-old, Coffman, like many others at that age, didn't have his whole life figured out. But he knew he wanted to make an impact on the world.
He had just finished getting his associate degree as a business major. However, sitting in a room, at a desk, looking at numbers all day long didn't exactly fit into his plan for life.
Alongside his wife, Coffman then began teaching Sunday School. Something clicked, he said, and the cloud shrouding his future cleared. He was going to be a teacher, even though his mother, who had three daughters go into the profession before her only son, pushed him to go where the money is.
While he was completing his bachelor's degree at the University of West Georgia, Coffman had a student-teaching experience in a pre-K classroom. It was a completely chaotic experience, he said, and he learned then that pre-K was not his ideal situation
What was an ideal situation was landing a job in the same school district he grew up in and graduated from in 1994, all before leaving college. The trouble was, to get the job at Glenwood Primary, he had to teach pre-K, taking over for a teacher in the middle of the year.
In thinking back on those seven years, Coffman said all that really comes to mind are "gross potty stories."
Keeping with the theme of wanting to teach where he was invested, his home, Coffman left Glenwood for Armuchee Elementary, where he has taught fourth grade for five years and is in his second year of fifth grade.
However, once again the place of employment trumped the type of employment. Coffman remembers sitting down during his interview and being asked what he would like to teach. He said either math or science. ELA was what they gave him.
Coffman said he has always felt a strong loyalty to this place he calls home. A feeling that isn't the easiest to explain, he said.
"I love it. It's just a special place," he said. "This is where I wanted to teach."
Knowing every community member in some way or another is the norm, he said. There were 75 kids in Coffman's graduating class, and about 90 percent of them had gone to school with him since first grade. That's family.
Having such a close-knit community helps in fostering the personal relationships with students and parents that Coffman believes are central to his role. Of course, he loves to see academic growth from his students, but playing a part in developing their personality and character is just as important.
"You're not just teaching their brain but their heart," he said, adding that growth in academics and behavior come from showing love and care for students.
Whether it's high-fiving a student in the hallway, jesting with another as they wait for the bus, or letting his students socialize during the start of class, each is part of his philosophy on teaching the whole child.
This last year's graduating class at Armuchee High had students who were in Coffman's pre-K. It's something special to see his students grow as individuals, from the pre-K carpet to the graduation stage.
"It can't get any better for a teacher than that," he said.